St. Mary's Stadium is all-seater, with a capacity of 32,689 home ground of Southampton FC. Construction started in December 1999 and was completed at the end of July 2001, with work on the stadium and improvements to the local infrastructure costing some £32 million. The stadium is totally enclosed by 4 single-tier stands of equal height.
At the rear of the Chapel (South), Kingsland (West) and Northam (North) Stands, there is a continuous, translucent panel designed to allow light to access the pitch. There are two large screens at either end that can be seen from all parts of the ground. About a half of the Northam Stand is allocated to away supporters.
How to get to St. Mary's Stadium
Getting to St. Mary's Stadium By Road
St. Mary's Stadium is located in Britannia Road, Southampton SO14 5FP.
Drivers should exit the M3 at junction 14, joining the A33 towards Southampton. Follow the A33 as far as its junction with the A3024, turning left towards Northam. Turn right onto Britannia Road (B3038) where the stadium is located.
Getting to St. Mary's Stadium By Rail
Southampton Central station is about 1½ miles and a 30-minute walk from St. Mary's Stadium.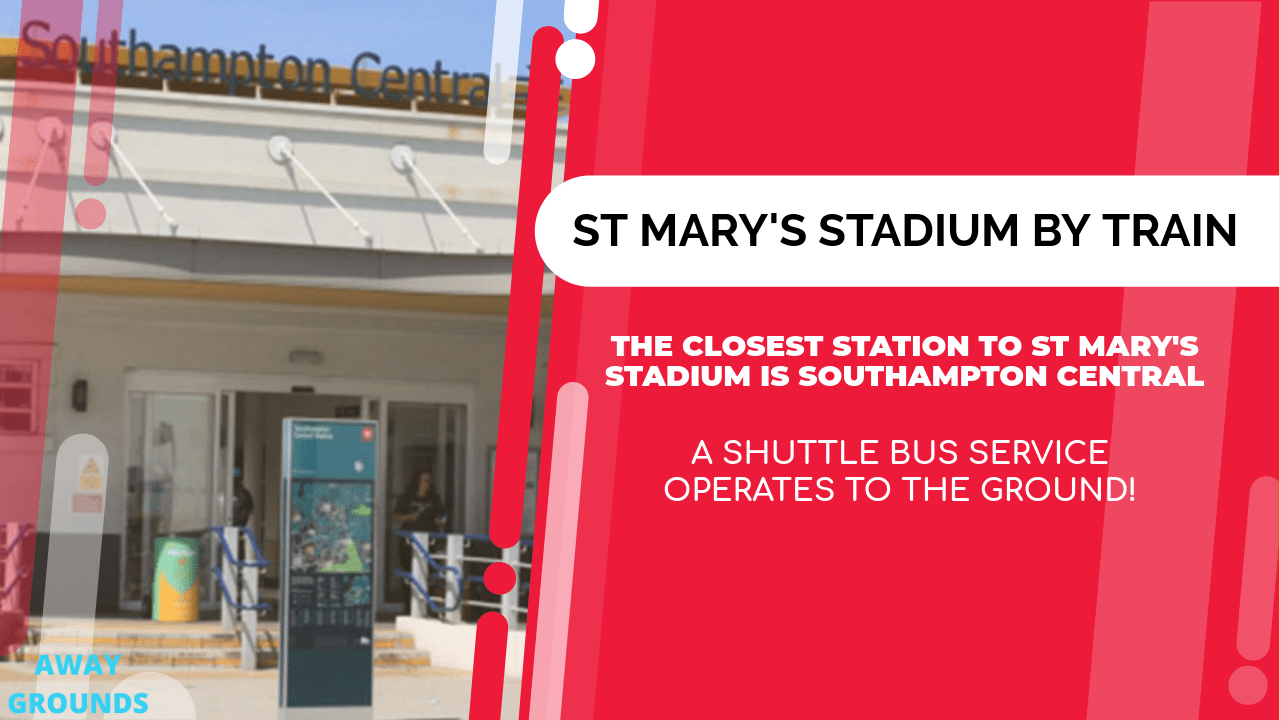 A shuttle bus service operates to the ground from the bus stop immediately outside the station. Click here to check the current train timetables
Getting to St. Mary's Stadium By Air
The nearest airport is Southampton, within 3½ miles of the ground, with regular rail connections to Southampton Central station. Click here to check the current flight times
Getting to St. Mary's Stadium By Taxis
There are several taxi companies in Southampton that can take you to and from St Marys stadium. You can always prebook a private hire taxi, or hail a black cab on any highway.
Calling all Southampton Taxi Companies – Why not advertise your company here?.
Where to Park at St. Mary's Stadium?
There is little parking available on the ground and restrictions operate around it on match days. As a result, many visiting fans use car parks in the city centre. However, traffic after a match is horrendous, leading to lengthy delays in getting away.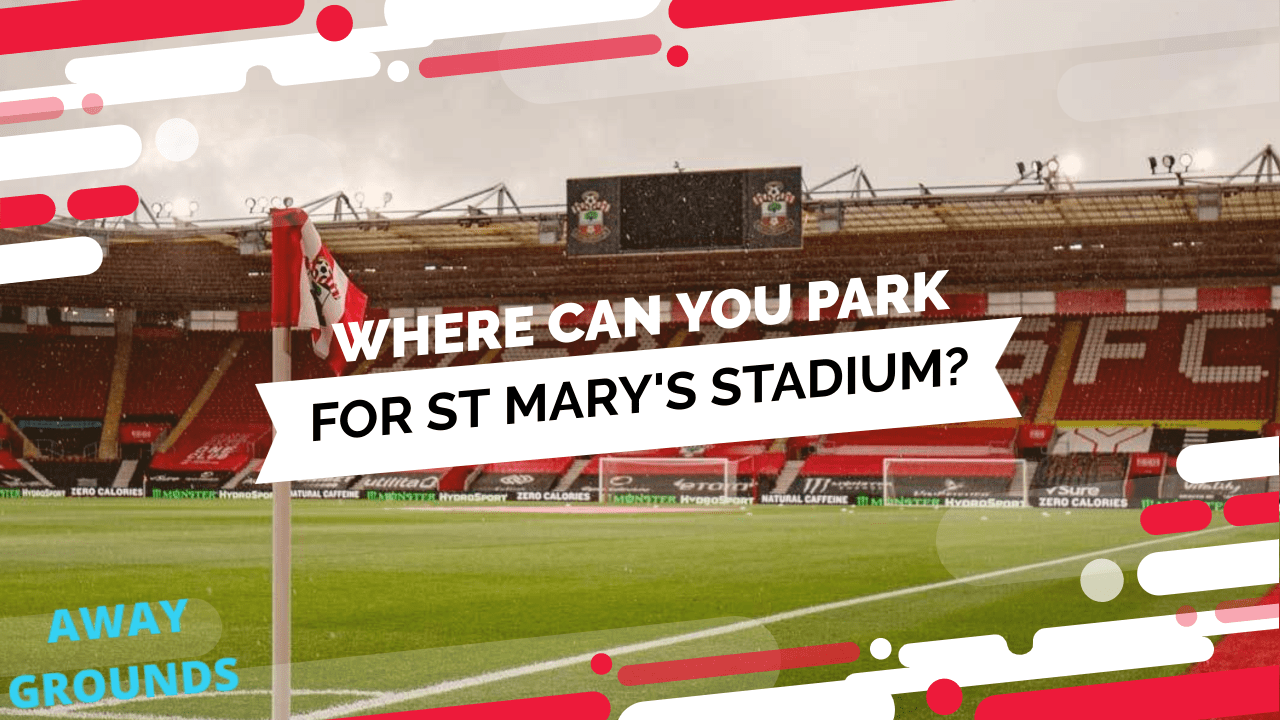 Several fans have recommended parking in the marina area known as "Ocean Village." This can be reached by heading along the coast on the A3024 and M271/M27 and is only a 10-minute walk for the ground. Parking is plentiful and there is a pub on the complex along with several food outlets.
Away Friendly Pubs near St. Mary's Stadium
Choice of pubs for away fans is limited as there are few near the ground. However, several visitors have recommended the Coopers Arms, on Belvedere Road, about 10 minutes from the stadium. Other nearby recommendations include the Admiral Sir Lucas Curtis and the Waterfront Bar, both of which offer a hospitable mix of home and away fans.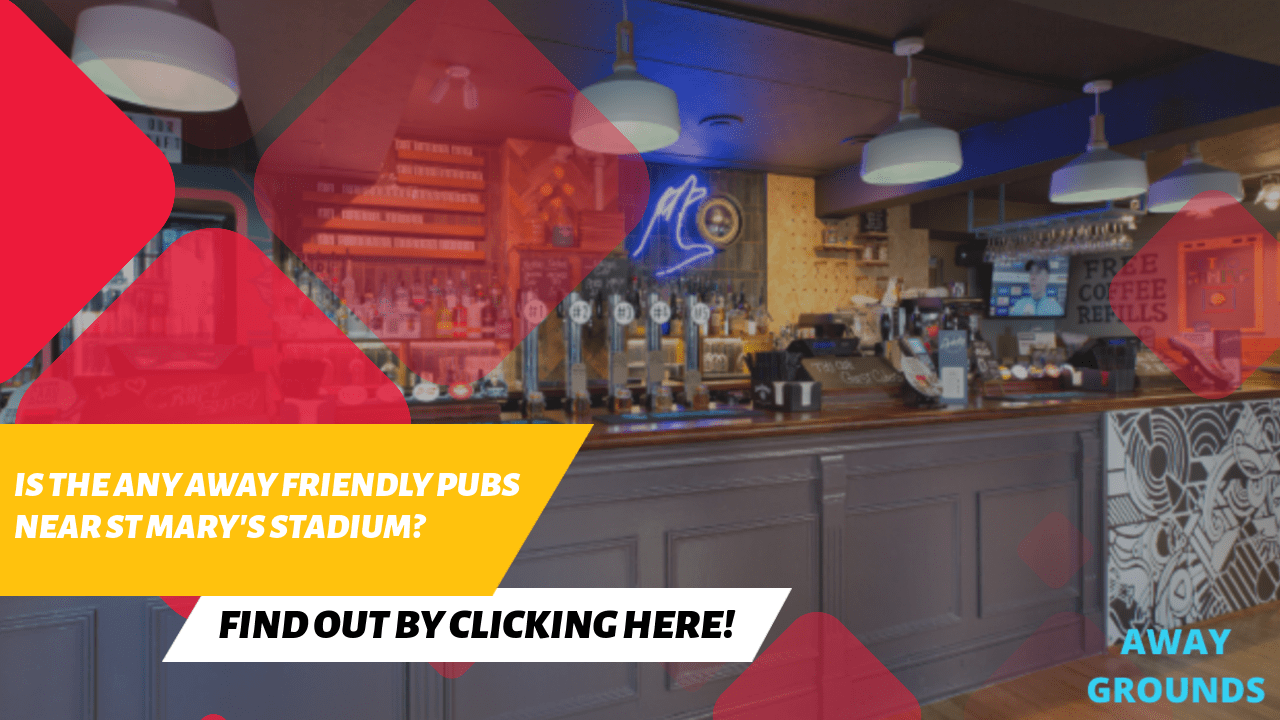 Alternatively, the city centre offers several pubs recommended by visiting supporters. Away fans can be assured of a friendly welcome at the Station, the Prince of Wales and the Eagle. However, it is worth remembering that these are a good 20-minute walk from the ground. Otherwise alcohol is served within the ground.
Hotels near St. Mary's Stadium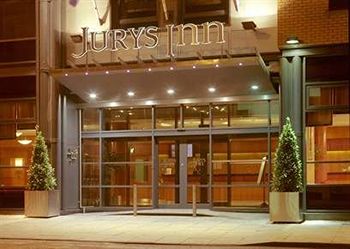 Opened in 2005, the Jurys Inn, 1 Charlotte Place, Southampton SO14 0TB is located in the city centre overlooking East Park, one mile from Southampton Central Station. Its air-conditioned rooms feature modern decor with blond wood furniture and warm-coloured fabrics. All are equipped with satellite TV, tea and coffee trays and high-speed Internet connections. Guest reviews suggest this hotel offers excellent value for money.
The Holiday Inn Southampton, Herbert Walker Avenue, Southampton SO15 1HJ is also centrally located, with air-conditioned rooms and free parking, offering panoramic views of Southampton Waterfront. Located close to the M3 and M27 motorways, this modern hotel offers en suite rooms, a health and fitness club, restaurant, bar and lounge.
Getting tickets for Southampton
At St Mary's, you can catch Premier League football and live the drama of a matchday. Nothing compares to a matchday's atmosphere, drama, and passion. Adult tickets start at £15 and junior tickets start at £5.
St Marys Stadium Tour
What have other Away Fans said about their trip to St. Mary's Stadium?
Most fans appear to have enjoyed their visit to St. Mary's. Many have commented on the excellent view of play from the away section, with no supporting pillars and seats with ample leg room. Most report an excellent atmosphere within the ground, but this has not been the case for all.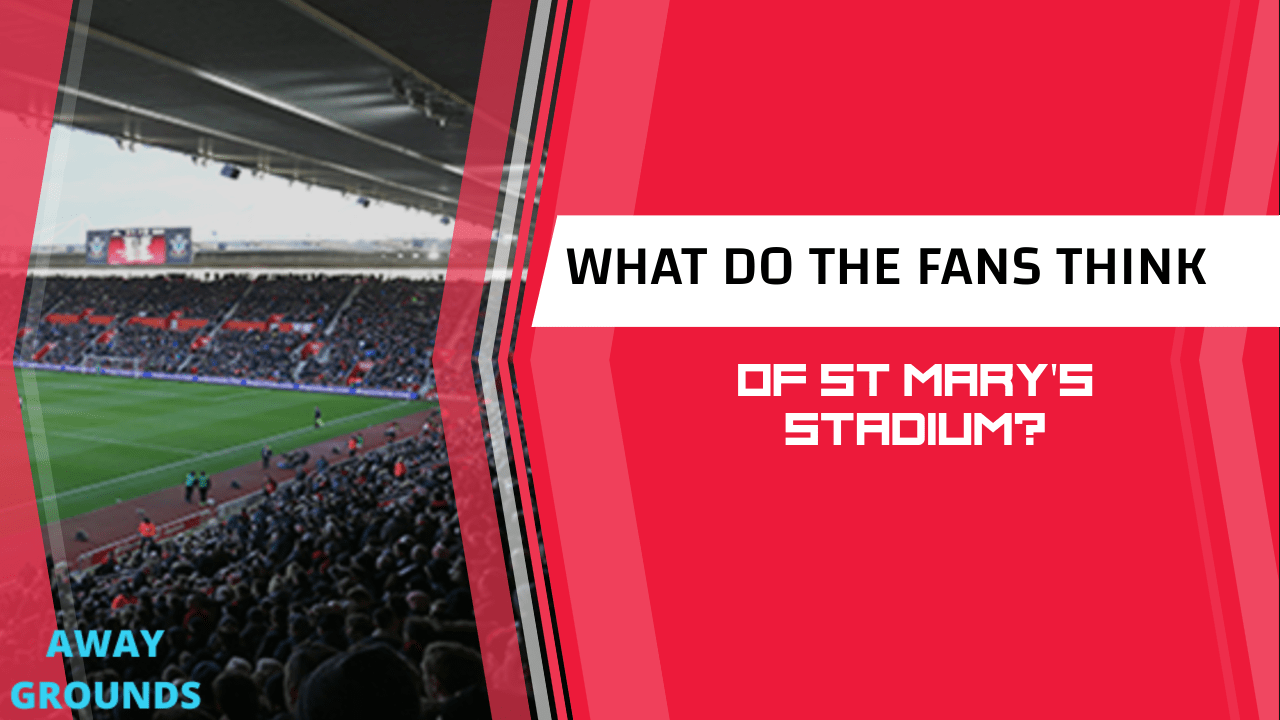 Several away supporters have reported being intimidated by the extremely vocal home fans who are only separated by netting on the seats. Others reported a complete lack of stewards in the away section. Facilities are generally described as good, though several visitors have reported the lack of room for getting to toilets and catering outlets, while others have highlighted the potential danger of blocked access areas.
St. Mary's Stadium Reviews
Visited St. Mary's for the first time to watch a premier league game of Southampton last February. Quite satisfied with the design and the view. Comfortable seats, well trained and polite stewards and fast and easy movement of supporters. Lovely atmosphere. Would like to go back again.
Fabulous tour to all areas of the stadium. It was a memorable experience for me to take my two football-mad grandsons.
The staff were very friendly and informative, we had a few laughs along the way, and some good photos to cherish.
St. Mary's Stadium History
Southampton has called St Mary's Stadium home since 2001 when the club transferred from The Dell, where they had played for the previous 103 years.
St Mary's Stadium cost £32 million to construct between December 1999 and July 2001. It was formally opened on August 1, 2001, with a friendly match between Southampton and Espanyol from Spain (3-4).
As part of a sponsorship contract, the stadium was known as The Friends Provided St Mary's Stadium until 2006.
In recent years, Saints have considered extending St Mary's Stadium, however, these plans have been put on hold until the team can consistently sell out.
Outside St. Mary's Stadium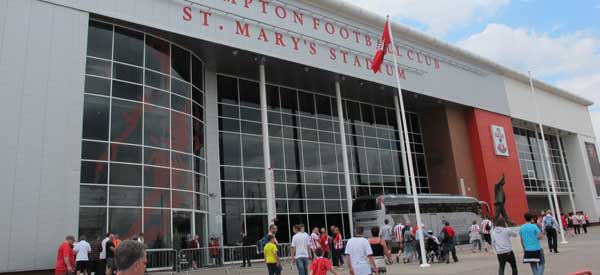 Events at St. Mary's Stadium
St Marys suites' variety and versatility make them the perfect choice for all types of events, with 15 diverse event venues and 30 conference rooms.
Their choice of adaptable packages is intended to accommodate any event aim, with unique touches like stadium tours and presentations by ex-Southampton Football Club players to give your event that additional flair.
St. Mary's Stadium Seating Map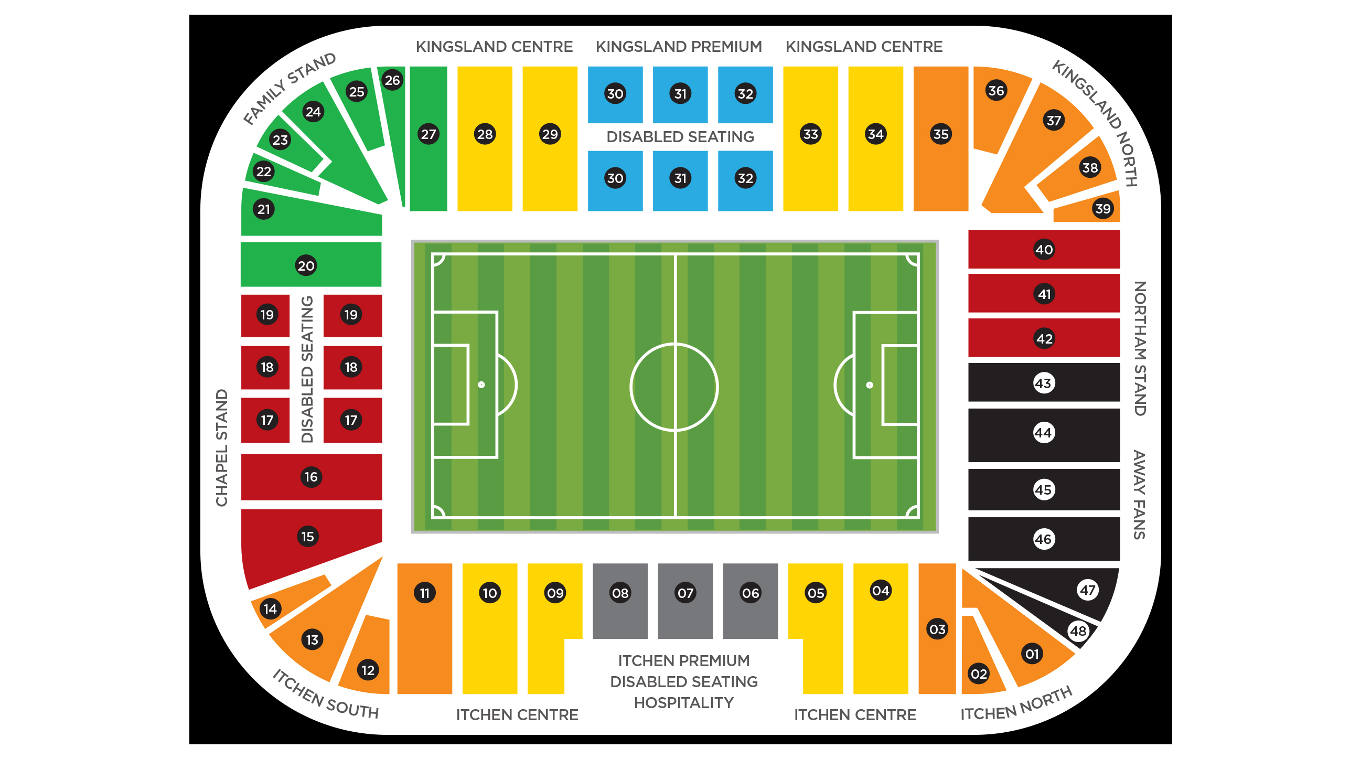 St Mary's Stadium Wikipedia
St Mary's Stadium Directions
Southampton FC Twitter
Stadium Key Facts
| Stadium | Key Facts |
| --- | --- |
| Capacity | 32,505 |
| Address | Britannia Rd, Southampton SO14 5FP |
| Telephone | 0845 688 9288 |
| Fax | 0845 688 9445 |
| Ticket Office | 02381 780 780 |
| Rival Club | Portsmouth FC |
| Pitch Size | 105 by 68 metres (115 yd × 74 yd) |
| Pitch Type | Desso Grass master |
| Year Ground Opened | 11 August 2001 |
| Record Attendance | 32,363 |
| Club Name | Southampton F.C. |
| Rival Club | Portsmouth FC |
| Official Website | https://www.southamptonfc.com/ |
| Facebook | Southampton FC Facebook |
| Club Nickname | The Saints |
| Construction Cost | £32 million |
| Owner | Southampton F.C. |
| Coordinates | 50.9058° N, 1.3910° W |
St. Mary's Stadium FAQ's
When did Southampton move to St Marys?
Southampton moved to St Mary's in 2001.
How old is St Mary's Stadium?
St Marys Stadium is 20 years old.
What is the capacity of St Marys Stadium?
The capacity of St Marys Stadium is 32,505.
What is St Marys Stadium away end capacity?
The Southampton away allocation at St Marys Stadium has an estimate of 3200.
Which is the away end at St Marys Stadium?
Away fans may be seen in the Northam Stand, which is located at one end of the stadium.
Summary
St Mary's Stadium has a capacity of 32,384, making it the largest football stadium in South England outside of London.
Having a fun day out at St Marys Stadium has been made possible even if you're not a Southampton fan. You can book one of the tours for only £20 for adults and £15 for kids on non-matchday weekends and during school holidays.
Other Premier League Grounds