Anfield is an all seater stadium, with a capacity of 45,500. It is of course home to the famous Liverpool FC.
The legendary Kop terrace has been replaced by a large single-tiered stand. The most recent addition is the Anfield Road Stand, at the opposite end of the ground, some of which is allocated to away supporters.
Notable features of the stadium include gates named after former Liverpool managers, namely the Bob Paisley Gate and the Bill Shankly gate. In addition, a statue of Shankly is situated outside the stadium. Also on Anfield Road is a memorial to the victims of the Hillsborough disaster.
Stadium Key Facts
| Stadium | Key Facts |
| --- | --- |
| Capacity | 53,394 |
| Address | Anfield Rd, Anfield, Liverpool L4 0TH |
| Telephone | 0151 264 2500 |
| Fax | 0151 260 8813 |
| Ticket Office | 0151 260 6677 |
| Rival Club | Manchester United F.C. |
| Pitch Size | 101 by 68 metres (110.5 yd × 74.4 yd) |
| Pitch Type | GrassMaster |
| Year Ground Opened | 28 September 1884 |
| Record Attendance | 61,905 |
| Club Name | Liverpool F.C. |
| Rival Club | Manchester United F.C. |
| Official Website | https://www.liverpoolfc.com/ |
| Facebook | Liverpool Facebook |
| Club Nickname | The Reds |
| Construction Cost | £60 million |
| Owner | Fenway Sports Group |
| Coordinates | 53.4308° N, 2.9608° W |
How to get to Anfield
Getting to Anfield By Road
The Anfield stadium is located in Anfield Road, Liverpool L4 0TH. Anfield is easily accessible from all major routes into Liverpool. The ground is only 4km from the city centre and 6km from the M62.
Away fans driving from the North should exit the M1 at junction 42, following the M62 towards Manchester, exiting at junction 12 towards M6 / Warrington / Liverpool / Chester. Follow the A5058 (Queens Drive) for some 3 miles, before turning left into Utting Avenue. After ½ mile, bear right to continue on Utting Avenue and Arkles Lane. Anfield Road is about 100 yards further on, on the right.
Fans driving from the South are advised to follow the M6 as far as junction 21a, exiting onto the M62 towards Liverpool / M57 / Warrington / Southport. After some 15 miles, bear right in to Queens Drive. Directions to the ground are then as from the North.
Getting to Anfield By Rail
Liverpool's main Lime Street station is in excess of 3 miles from the stadium, so probably a little too far to be a comfortable walk for many visiting fans. A better alternative is to get a connection, via Liverpool Central, to Kirkdale or Sandhills station. Sandhills station offers a bus service to Anfield, running approximately 2 hours either side of the game.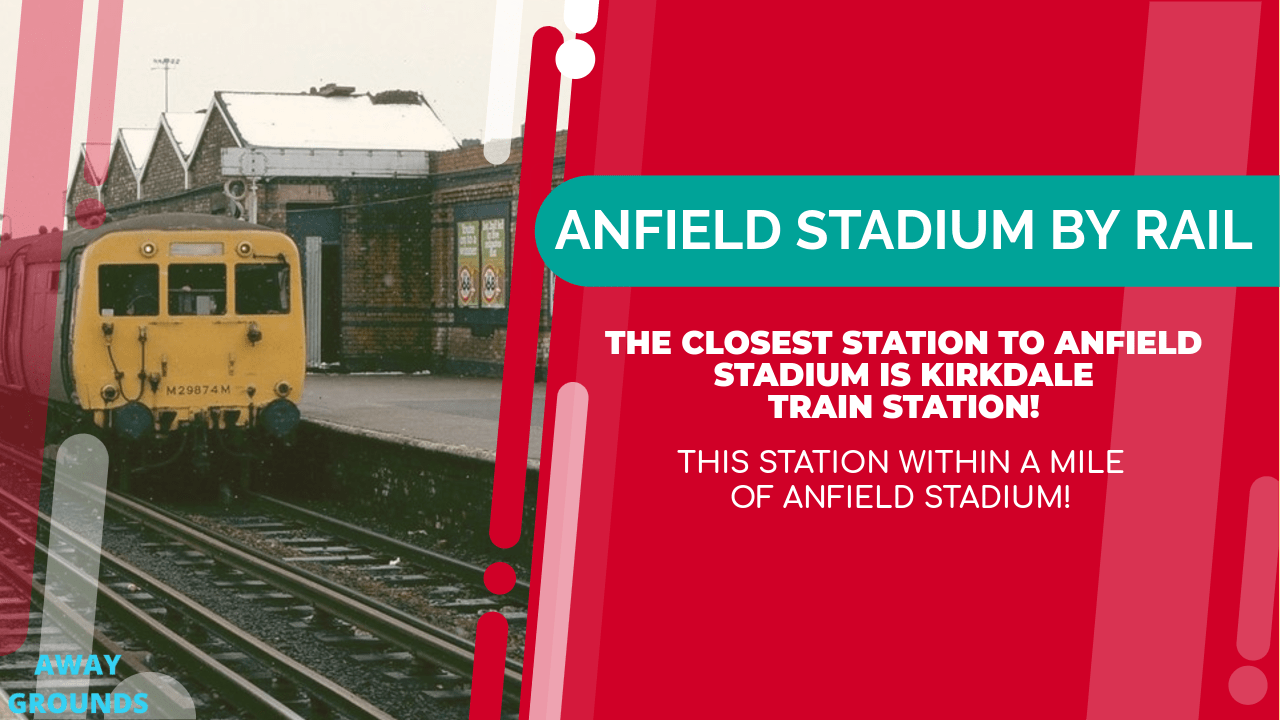 Kirkdale station is closer to the ground (within a mile). On exit, turn right across the railway bridge and along Westminster Road. Turn left into Bradwell Street and follow this until reaching County Road. Cross County Road and take the road to the left of the Aldi supermarket, until reaching Walton Lane. Goodison Park is visible on the left. After crossing Walton Lane, continue through Stanley Park, exiting onto Anfield Road near the away end. Click here to check the current train timetables
Getting to Anfield By Air
Liverpool John Lennon is the nearest airport to Anfield, at a distance of approximately 10 miles. The 80A and 86A buses run from the airport to Liverpool South Parkway bus/rail interchange, with connections to Anfield. Click here to check the current flight times
Getting to Anfield By Taxis
There are several taxi companies in Liverpool that can take you to and from Anfield. You can always prebook a private hire taxi, or hail a black cab on any highway.
Calling all Liverpool Taxi Companies – Why not advertise your company here?.
Where to Park at Anfield?
Street parking is available near the ground for early arrivals.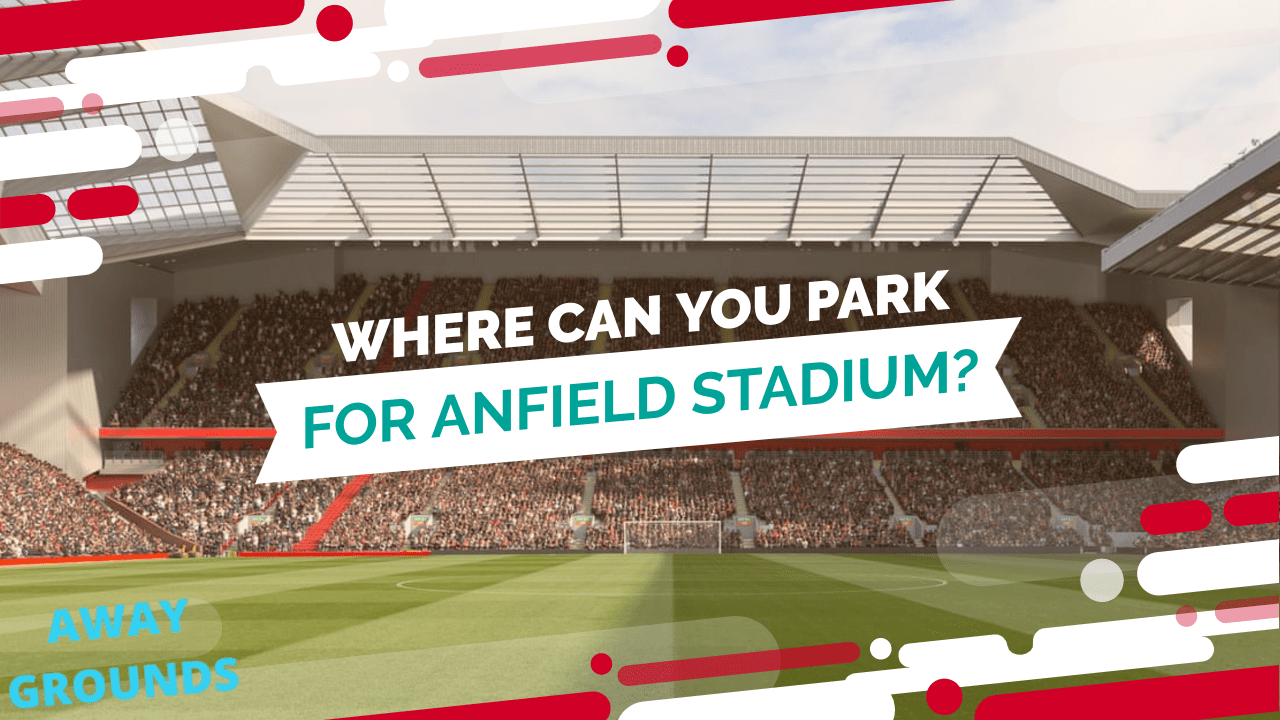 The car park behind the Anfield Road Stand offers on-site parking. Reasonably priced parking is also available at Goodison Park.
Anfield Directions
Getting Tickets For Anfield
Tickets for Liverpool matches are available through a variety of sources, depending on the particular selling specifics stated for each match.
All Premier League and cup tournament ticketing information will be available on our website
For the vast majority of games, demand for tickets far outnumbers supply, with most games selling out well in advance of game day.
Anfield Seating Map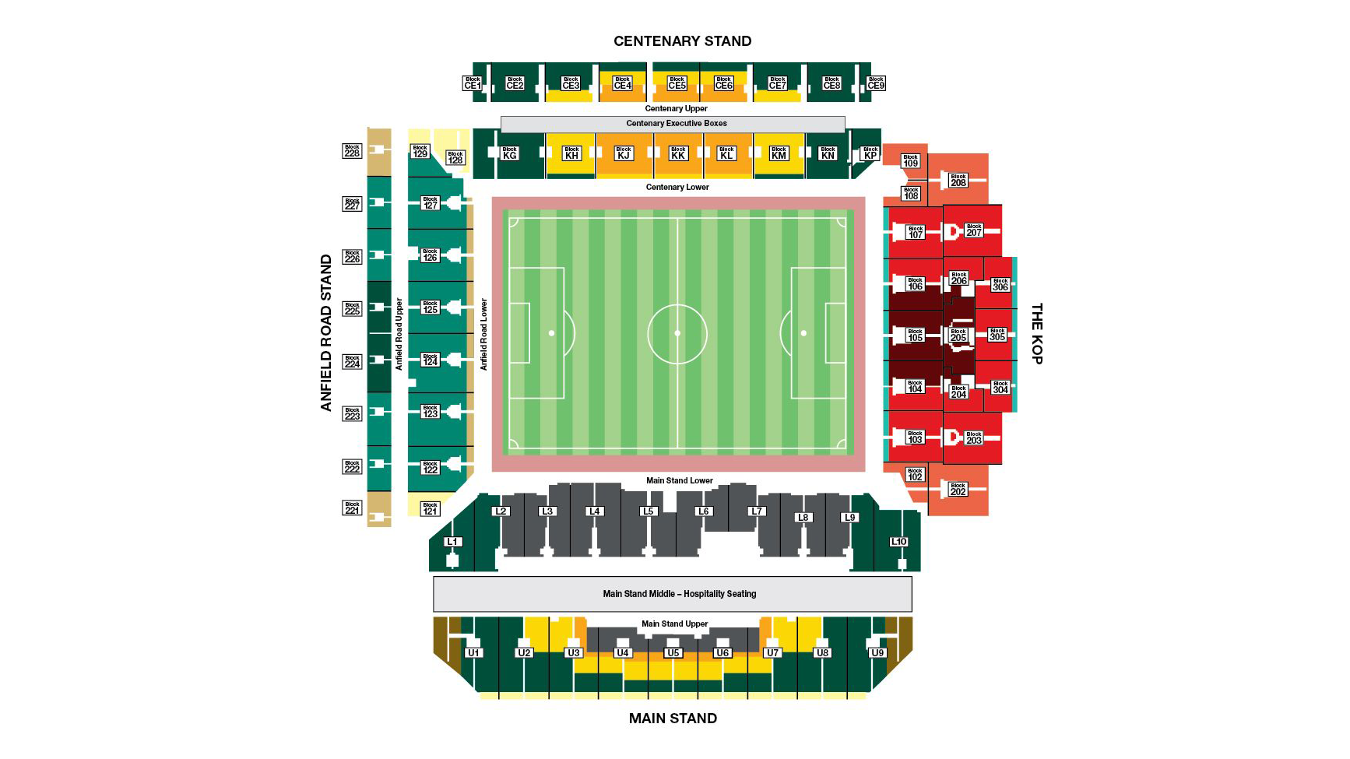 Away Friendly Pubs near Anfield
The Flat Iron pub is within 5 minutes of the ground. Though popular with home fans, visitors have reported a very friendly atmosphere.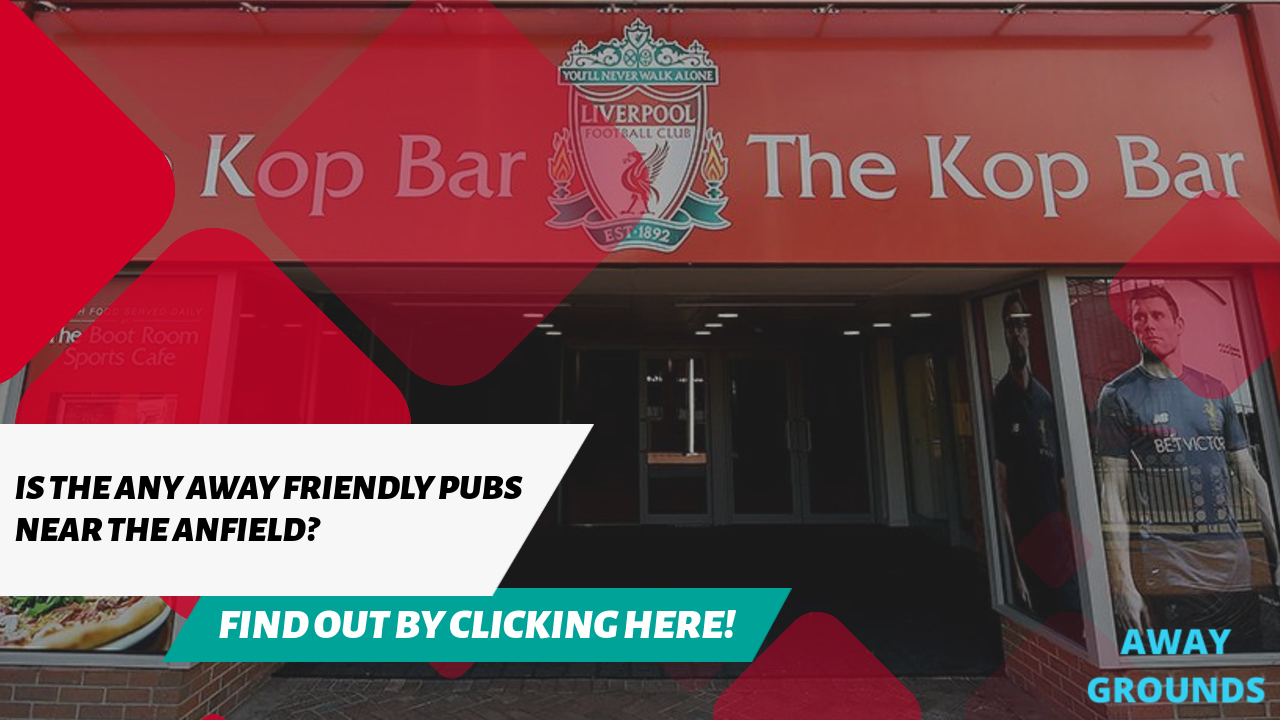 The "traditional" pub for away fans is the Arkles pub near the ground itself. However, from lunchtime onwards it can become uncomfortably overcrowded on match days.
Other away friendly pubs include the Melrose Abbey, near Kirkdale Station.
Hotels near Anfield
Liverpool Marriott Hotel City Centre, Liverpool Queen Square, Liverpool, L1 1RH is directly opposite Lime Street station. Opened in 1998, the hotel offers modern facilities including indoor swimming pool and fitness centre for those so inclined. On-site parking is available for an extra charge.
Jurys Inn Liverpool, Liverpool No. 31 Keel Wharf, Liverpool, L3 4FN is situated at Kings Waterfront, just a few minutes walk from the city centre. Featuring large spacious bedrooms, Jurys Inn Liverpool has attracted excellent reviews from visiting fans. Reasonably priced nearby parking is available.
What have other Away Fans said about their trip to Anfield?
The vast majority of fans have reported a trip to Anfield as a rewarding experience. Many have commented upon it as one of the legendary venues, steeped in footballing history, with the Bill Shankly statue and memorial gates.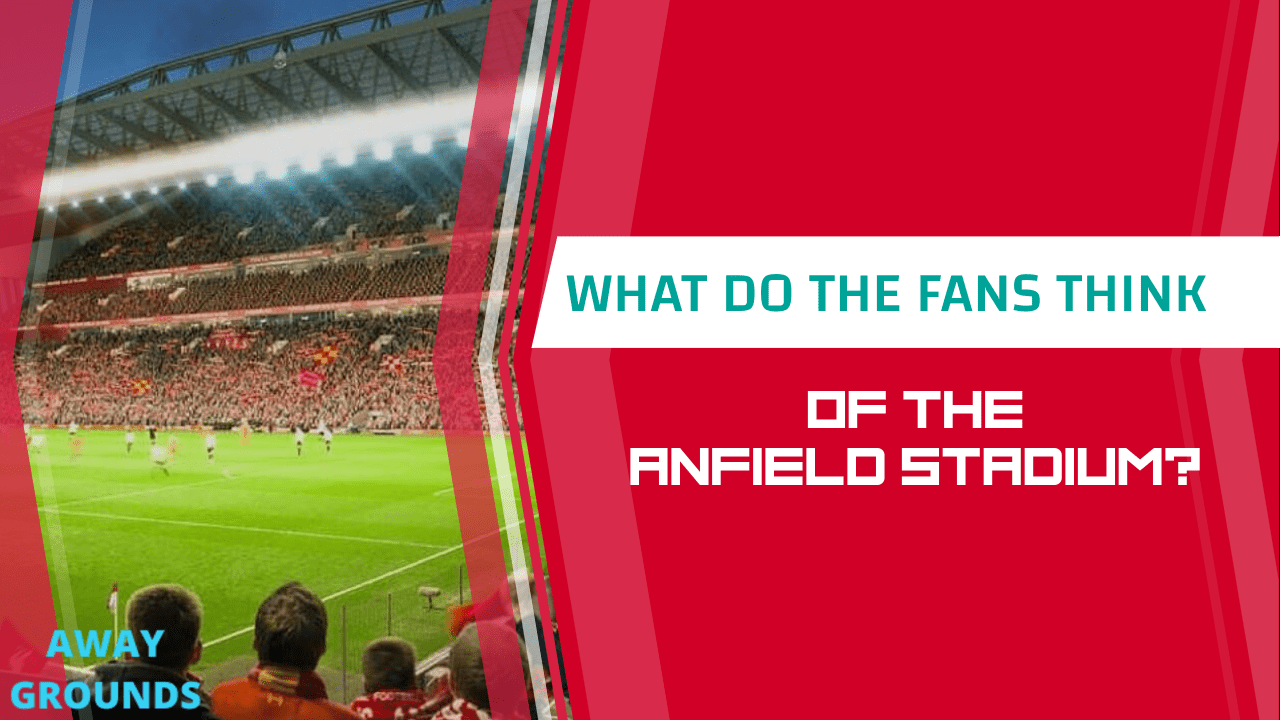 The atmosphere within the stadium is reported as being very friendly, and the proximity of the home fans in certain areas gave no feeling of intimidation. The stadium's facilities are reported adequate. A major complaint from away fans seems to be tickets sold as "restricted view," as the view of the play is very restricted, especially when those in front stand up.
Anfield Reviews
Amazing experience & I don't even like football…took my partner for his birthday & we did the tour…Staff were amazing & museum is great & shops have some fab bargains & coffee shop open upstairs in Shop…Very moving in places!…Tour guides were great! Tickets were £18 each or £18 for 2 if one disabled with carer! Tour takes around 1.5 hours & you can get a Bronze Photo Package for £15 of 1 pic with Trophies with various background images or Silver £20 with 2 pics or Gold for £25 with 3 pics & they give you a code so you can go online & download the other pics too X
My favourite, favourite location in the world! Anfield is the great fortress of the mighty reds and it is a place like no other, a place where miracles happen. At Anfield, there is plenty of activities you can do, such as: a full stadium tour, where you can take your way around Anfield and see the sights of pure, magnificent beauty; watch the Reds battle it out against other great teams in a match; go and see the Legends Museum with Steven Gerard telling you all about his perfect career. Anfield is a place like no other. Anfield can bring such inspiration into modern day football. Truly the greatest location on Earth.
Anfield History
Everton FC initially rented Anfield, which was completed in 1884. On September 28, 1884, Everton defeated Earlstown 5-0 in the ground's first match.
After a rent disagreement in 1891, Everton left Anfield, and Liverpool, which had just been created, moved in a year later. They beat Rotherham 7-1 in their debut game at Anfield.
In 1958, a match between Liverpool and Wolverhampton Wanderers drew 61,905 fans to Anfield, setting a new attendance record. The old Main Stand was removed and replaced with a new one between 1963 and 1973.
In the 1980s, work on converting the stadium to an all-seater began, and the renowned Shankly Gates were built in 1982. The stadium's most recent major alterations were in the 1990s, with the rebuilding of the two-tiered Centenary Stand, the conversion of the Kop into an all-seater stand, and the addition of a second tier to the Anfield Road Stand in 1998.
Liverpool considered leaving Anfield for a larger, more modern stadium in the late 2000s, and even received planning clearance for a proposed 60,000-seater stadium at adjacent Stanley Park. However, due to a lack of money, the plans were postponed and eventually abandoned by the club's new owners in 2012.
The ownership instead chose to renovate and extend Anfield. The Main Stand was reconstructed in the first phase, increasing capacity by 8,500 seats to a total of 54,047. The project began in January 2015 and was completed just in time for the 2016-17 season.
When there is enough demand, the Anfield Road Stand could be expanded, bringing the total capacity to around 59,000 seats.
Outside Anfield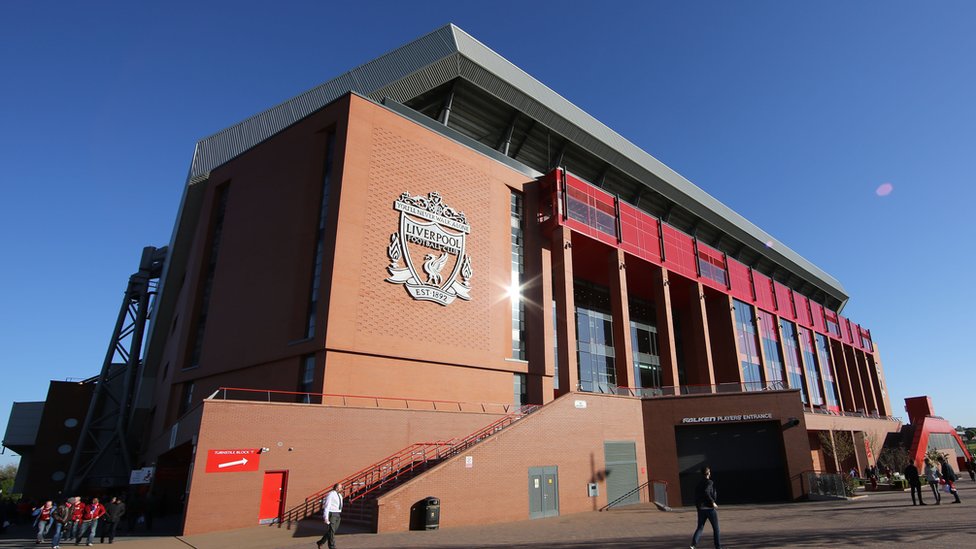 Anfield Events
Anfield doesn't only host football games but also holds some very popular concerts. Anfield has had the famous Bon Jovi, Take That and Pink to perform at their stadium, they also have Elton John and The Eagles performing in 2022.
Anfield has a diverse range of event venues, making it ideal for meetings, conferences, dinners, celebrations, and other special occasions.
A few of the event rooms have spectacular views of the famed Anfield pitch, making for a memorable background for your conference attendees. The lounges can accommodate 500 people for a corporate dinner or 700 people in a theatre setting. The rooms are designed to be adaptable to a variety of conference, meeting, and business dinner configurations.
Anfield Video Tour
Anfield Wikipedia
Anfield FAQ
Why is the stadium called Anfield?
Anfield comes from a small hill in South Africa where many soldiers from Liverpool died in the Boer War.
What is the biggest stand at Anfield?
The biggest stand at Anfield is the Main Stand with a capacity of 20,676.
Who are the owners of Anfield?
Fenway Sports Group owns Anfield Stadium.
What is Anfield away section capacity?
Anfield Stadium away section have an average allocation of 2,000 seats.
Where do away fans sit at Anfield?
The lower tier of the Anfield Road stand is reserved for visiting away fans.
Summary
Anfield is a football stadium in Anfield, Liverpool, Merseyside, England, with a seating capacity of 53,394 people, making it the country's seventh-largest. Liverpool F.C. has called it home since its establishment in 1892.
Anfield is known for an amazing atmosphere and a great day out so book your tour soon to witness it for yourself!
Other Premier League Grounds
Liverpool FC Twitter