Villa Park is the home ground of Premier League side Aston Villa.
Located in Aston, Birmingham, it is arguably the most popular football stadium in the Midlands.
Villa Park opened its doors in 1897, and over the years, it has hosted numerous historical games, both at club and international level.
The stadium has gone through several upgrades and modifications throughout its history. However, its initial cost of construction is estimated to be £16,733. Villa Park's current capacity is 42,785.
Find out more about Villa Park:
Villa Park Stadium Key Facts
| Stadium | Key Facts |
| --- | --- |
| Capacity | 42,785 |
| Address | Trinity Rd, Birmingham B6 6HE |
| Telephone | 0333 323 1874 |
| Fax | 0121 328 5575 |
| Ticket Office | 0333 323 1874* |
| Rival Club | West Bromwich Albion F.C. |
| Pitch Size | 105 by 68 metres (114.8 yd × 74.4 yd) |
| Pitch Type | Desso GrassMaster |
| Year Ground Opened | 1897 |
| Record Attendance | 76,588 |
| Club Name | Aston Villa F.C. |
| Rival Club | West Bromwich Albion F.C. |
| Official Website | https://www.avfc.co.uk/ |
| Facebook | Aston Villa Facebook |
| Club Nickname | Lions |
| Construction Cost | £25 million |
| Owner | Aston Villa FC |
| Coordinates | 52.5091° N, 1.8848° W |
How To Get To Villa Park
The ways to get to Villa Park are:
Getting To Villa Park By Road
The stadium is located at Trinity Road, Birmingham B6 6HE. Car permit holders can use the Sat Nav code B6 6HE.
The fans driving from North-West or South-West should leave the M6 at Junction 7. Follow the signs for Birmingham A34, and once, you have Alexandria Stadium, leave the main carriageway and keep in the nearside lane.
If fans are coming from North East or South East, they should use Salford Junction / Lichfield Road and leave the M6 at Junction 6, signposted A38.
Fans must note that a traffic exclusion zone (TEZ) is deployed in areas around Villa Park Stadium on match-days to ensure pedestrian safety and avoid congestion. This zone includes Witton Lane, stretching from the junction with Aston Hall Road to the traffic island at Witton Road, and Trinity Road between Nelson Road and Witton Lane. This zone becomes active about 75 minutes before kick-off and stays in effect for 30-60 minutes after the game.
Getting To Villa Park By Tube & Rail
The primary train stations serving Villa Park are Aston Station and Witton Station. The latter is the nearest to the stadium, and only 500 metres away. The station is serviced by the line from Birmingham to Walsall line, and there are frequent services via Birmingham City Centre.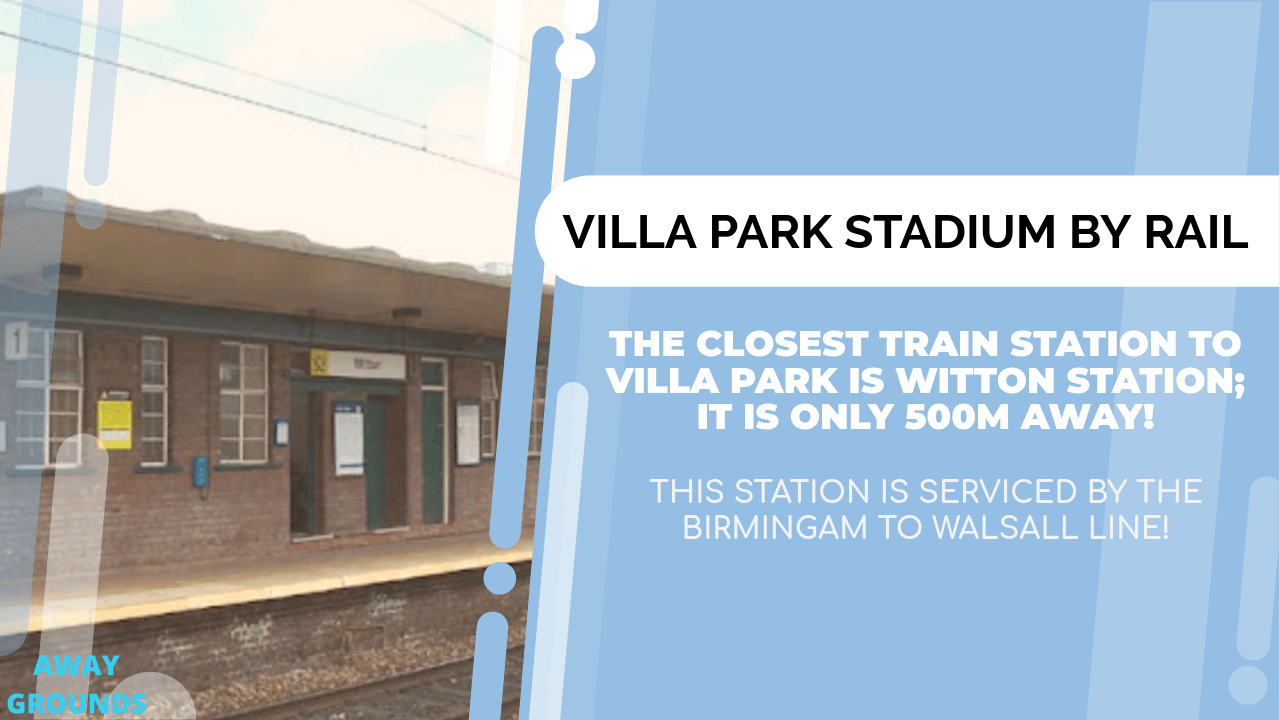 Aston Station is about 1.5 kms from stadium, and it takes about 15 minutes to cover the distance. The situation is serviced by the line from Lichfield Trent Valley to Longbridge / Redditch, via Birmingham New Street.
Getting To Villa Park By Bus
The primary bus routes serving the stadium are 7, 11A and 11C, and fans can take off at Witton Square. Alternatively, fans can also use services 65 and 67 to get to Aston Railway Station.
Getting To Villa Park By Air
Birmingham International Airport is the closest airport to the stadium. It is 20-30 minutes drive from Villa Park by a taxi. Alternatively, fans flying in watch games can use Bus or a Train to reach the stadium.
Villa Park Map
Below is a map of Aston Villa Football Club:
Where Can I Park At Villa Park?
Brookvale Road Car Park and Broadway are official parking spots on the northern side of the stadium for Villa Park matchday parking.
Powerleague Star City and Aston Social club are other designated parking spots.
If fans are travelling via Park Circus, they should leave the M6, at Junction 6, signposted A 38 (M) City Centre. Parking is available at Aston Tower School.
Furthermore, Residents' parking zones are active on matchdays. Parking your vehicle in these zones could incur a fine of £60.
Getting Tickets For Villa Park Matches
The best way to buy tickets for Villa Park is through the official Aston Villa football club website so you can't be at risk of being scammed.
Aston Villa tickets sell out quite quickly so it's best to book ahead of the gamer to avoid any disappointment.
Villa Park Seating Map
Below is the Villa Park seating map: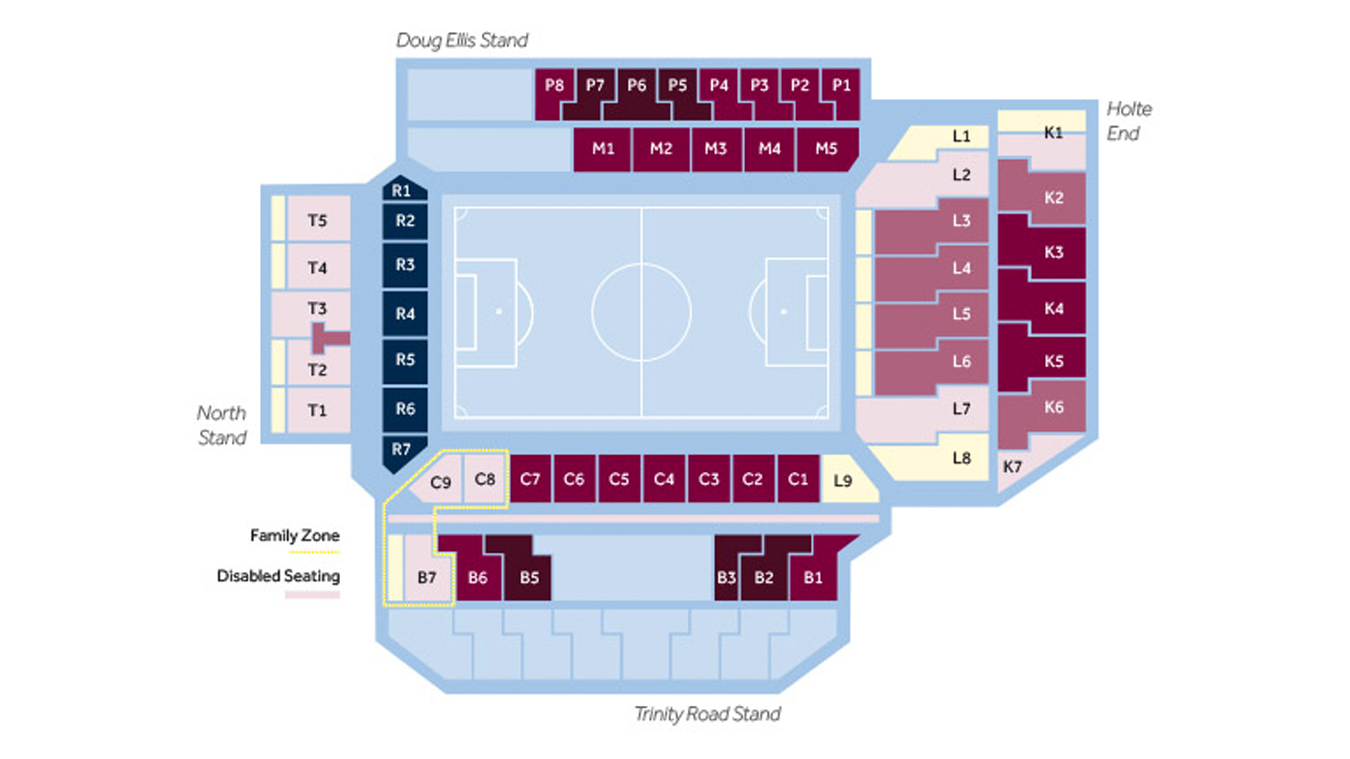 Villa Park Seating Plan
The stadium is divided into four stands and can seat 42,785 fans.
The stands are named the Holte End (south), the Trinity Road Stand (west), the Doug Ellis Stand (east), and the North Stand (north).
All stands are two-tiered, besides the Trinity Road Stand, which has three tiers.
The Holte End, in its current form, was constructed in 1994-95 and has no executive boxes.
The inside of the stand also consists of three levels of concourse and the Holte Suite. This stand is renowned for its great atmosphere and as the home of most vocal and passionate supporters of the club.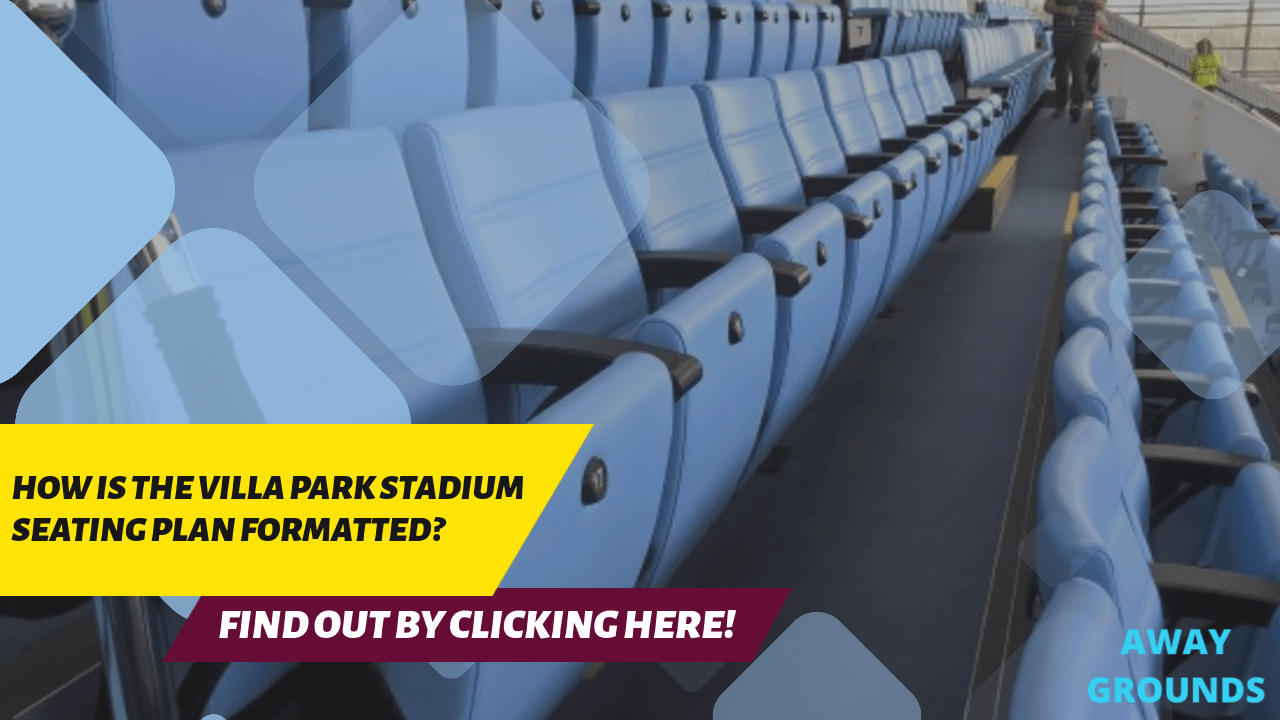 Trinity Road Stand was built in 2000, and it is the most recently completed stand in the stadium. As stated before, it's the only three-tiered stand in the stadium. This stand lies directly above the players' tunnel and the technical area. The press box and the directors' area are located in the middle tier of this stand. Trinity Road Stand also has a row of executive boxes, situated between third and second tiers.
North Stand, built in 1977, is the oldest stadium in the stadium. It was formerly known as Witton End. It contains 39 executive boxes between its two tiers.
The Doug Ellis Stand was last upgraded right before the 1996 Euro Championships. This stand also consists of a row of executive boxes between its tiers. This northern end of the stand consists of the away end, with away fans spread out across both tiers. Up to 2972 fans can sit in this section.
Things to Do around the Aston Villa's Stadium
Other things to do around Aston Villa include:
Pubs Near Villa Park
The main pub for the away fans is Witton Arms. It is located near the roundabout on Witton Lane. The pub has separate entrances and spaces for home and away fans. On the same road, Yew Tree is another pub that is popular with away fans. Aston Tavern, opposite Aston Hall, is another decent option in the vicinity of the stadium.
Fans can find a wealth of options in the city centre. Shakespeare is famous with the visiting supporters, and it is located just outside the main entrance to the New Street Station. Sun on the Hill, Briar Rose and Wellington Pub are some of the options in the Bennetts Hill Area.
Shops Near Villa Park
The official club merchandise store called Villa Store is located in the stadium. It is located in the Villa Village, behind the North Stand. The fans can also find the statue of former Villa chairman and Football League founder William McGregor outside the stadium. It was unveiled on 28th November 2009.
Hotels Near Villa Park
There are relatively few options to stay in close proximity of the stadium, and fans could look for a hotel in the city centre if they want a variety of options. The Holiday Inn Express, Campanile Birmingham, and Premier Inn are the closest hotels to the stadium.
Options in the city centre can be found on this link.
Aston Villa Park Reviews
The home of great football and entertainment. Traditionally and well established football club with some outstanding facilities and great welcoming to all people. I have had some great experiences coming here and hopefully many more to come.
Attended the Villa v Chelsea game, which was the 1st game with a limited number of fans allowed in during 2020. Well sign posted for the gate to enter. Queuing system for toilets, to ensure social distance. Seated in North stand upper with good views of the game and the famous Holte End. For only 10000 fans there was a great atmosphere. Under normal circumstances the ground has good bus and rail links from Birmingham and also options for parking. Food stalls can be found along Trinity road and North stand car car park. Inside the ground plenty of options to buy food and drink. Purity Ale is good. As expected prices are higher but affordable.
Villa Park Stadium History
Villa Park is one of the oldest stadiums in English football. However, it was not the first ground of the Midlands clubs. From 1876 until 1897, Aston Villa played their home games at Wellington Road, in the Perry Barr area. However, the club faced multiple problems such as an uneven pitch, terrible audience facilities, and excessive rents. In 1894, the club committee, in search of the club's new home, began negotiations with the owners of Aston Lower Grounds. At the time, it was the finest sports ground in the area. Initially, it was the kitchen garden of Sir Thomas Holte, owner of Aston Hall. Holte End of the stadium was named after him. The negotiations over the ground continued for almost two years with then-owner Edgar Flower. Finally, a deal was struck to rent the Lower Grounds at £300 per annum.
Before Aston Villa shifted into their new home in 1897, they had already constructed a main-stand. This was supported by terracing on the remaining three sides. In their opening game at Villa Park, the Midlands side defeated Blackburn Rovers 3-0 in a friendly game on 17th April 1897. As Villa continued to accumulate silverware, they also carried on with the development of Villa Park over the next two decades. The First World War halted these plans briefly, but the opening of the Trinity Stand in 1923 increased the capacity of Villa Park to 80000 approximately. At the time, the newly built stand was considered one of the finest in Britain, and it hosted the first restaurant in a British football ground – The Oak Room.
Witton Lane Stand was renovated in 1964 and eventually replaced by North Stand in 1976. In 1993, the Doug Ellis stand was built, and a year later, Holte End was demolished and rebuilt. In 2000, the historic and famous Trinity Road Stand was demolished and replaced by a new stand with the same name.
There have been discussions about rebuilding North Stand in the same vein as the Trinity Road Stand. In 2017, the club announced that they are considering multiple plans to increase Villa Park's capacity up to 60000.
Outside Villa Park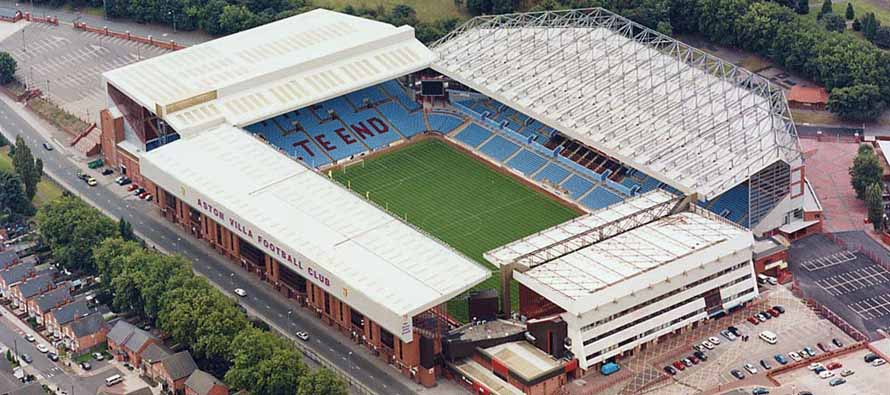 Events at Villa Park
Villa Park has hosted some significant international and club games over the years. It has the honour of being the first English stadium to host international games in three different centuries.
Villa Park hosted three fixtures in the 1966 World Cup and four during 1996 Euros. The Three Lions played their first game at Villa Park in 1989.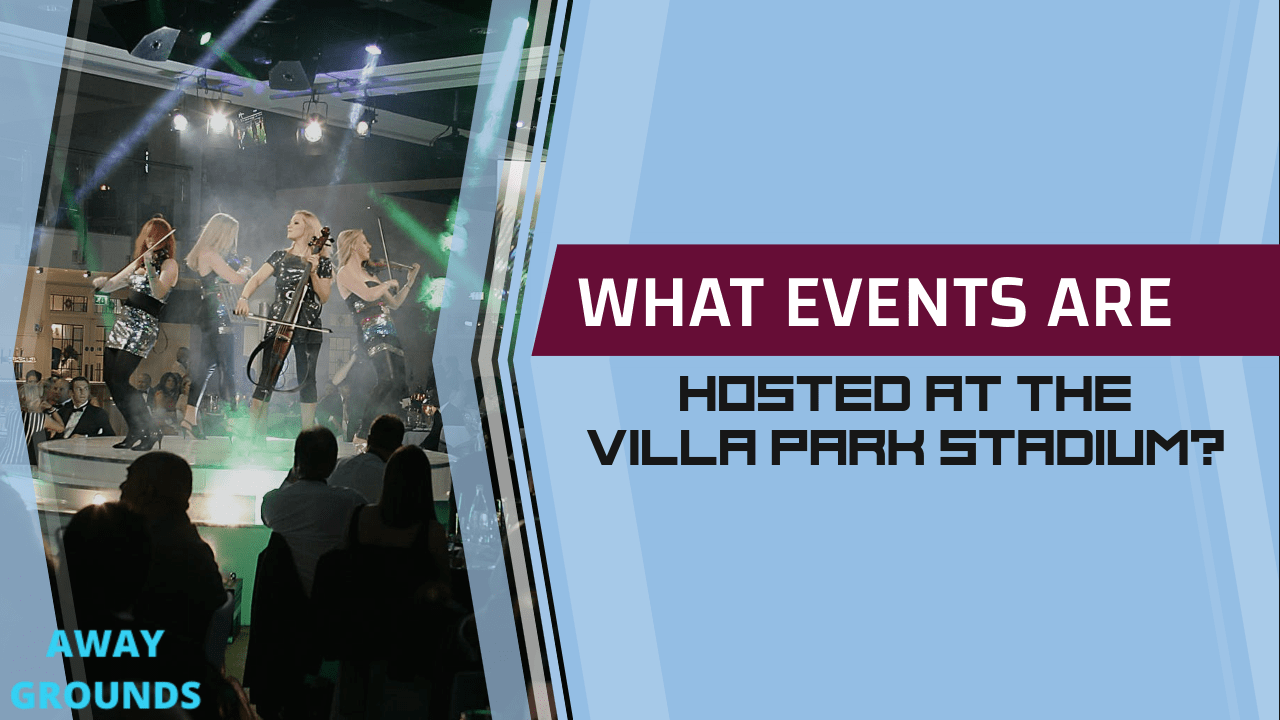 When it comes to club football, the stadium has hosted 55 FA Cup semi-finals. In 1999, it hosted the final of the last ever European Cup Winners' Cup. From 2001-2005, Villa Park handled the duties of hosting FA Cup finals as Wembley Stadium was construction.
Villa Park has also hosted other sports such as Cricket, Athletics and Cycling (before the first world war), Boxing, Rugby League etc. In 2015 Rugby World Cup, Villa Park hosted a couple of group games.
Villa Park has also been used as a venue for a numerous non-sporting events such as music concerts and preaching sermons.
Bruce Springsteen played a couple of shows at Villa Park as part of his famous Tunnel of Love tour in 1988. Duran Duran, Bon Jovi, Rod Stewart, and Belinda Carlisle are some other artists that have played at Villa Park.
Villa Park Stadium Tours
Aston Villa Football Club allow stadium tours for its fans. Currently, there are two kinds of tours available on the club's official website. The Weekday Tour is available for £15 and the Weekend Tour is available for £18 for adults.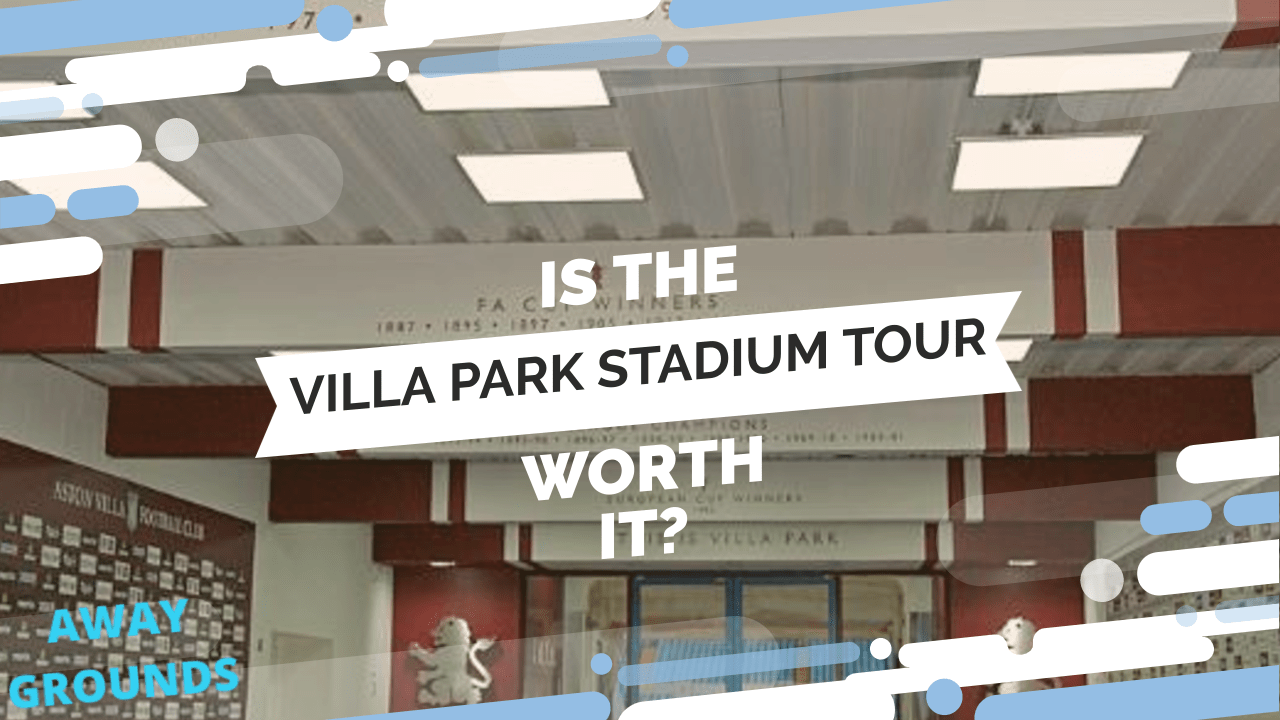 Both tours include Pitchside/Dugout Access, Backroom Access, Press Conference/ Media Centre Access, Photo Opportunities, In-store Discount (10%), and a Villa Lanyard. Fans are guided by a stadium expert on these tours.
The official website has listed Legends Tour, wherein fans would be guided by a club expert, as coming soon.
Villa Park Tour
Check out our video about Villa Park tour:
Villa Park Wikipedia
Check out the Villa Park wiki entry:
Aston Villa Twitter
Villa Park FAQ's
How many people does the Holte End seat?
The Holte End stand seats 13,472. The old Holte End stand could seat 28,000 fans until 1994 when it was reduced to 20,000 seats.
How many seats does Aston Villa have?
The capacity of Villa Park is 42,785 seats.
Where did Aston Villa play before Villa Park?
Aston Villa FC currently play at Villa Park. Prior to Villa Park the used to play at a stadium called Aston Park During the years of 1874–1876. Prior to Aston Park they played at Wellington road during the years of 1876–1897.
Why is it called the Holte End?
Holte End is named after Thomas Holte, The club sits on a piece of land originally part of the Aston Hall gardens.
How much is Villa Park Worth?
Villa Park was recently sold for £56.7m deal to the club's owners Nassef Sawiris and Wes Edens.
Which is the away end at villa park?
At Villa Park, the away fans section is at the north east corner of the Doug Ellis Stand.
What is villa park away end capacity?
Up to 2,972 fans can be accommodated in the away end at Villa Park.
Summary of Villa Park
This stunning stadium is owned by Aston Villa Football Club.
The Aston Villa Stadium gives an amazing atmosphere, fantastic match days, and incredible amenities, making it a supporter and local favourite.
You should place it on your wishlist if you haven't already; it's a brilliant opportunity.
Other Premier League Grounds
Check out the other Premier League grounds: