Selhurst Park is an all-seater stadium with a capacity of 26,300 and has been the home of Crystal Palace since August 1924.
Both ends of the ground have undergone redevelopment in recent years. At the Western end, the impressive, two-tiered Holmesdale Road Stand houses the majority of the home fans.
The Whitehorse Lane Stand, opposite, has a single tier of seating, with 2 rows of executive boxes above and a video screen on the roof. On the South side is the large, covered, single-tiered Arthur Wait stand, the Western end of which houses the away fans. Along with the single-tiered Main Stand, this stand is beginning to show its age, with wooden seating and numerous supporting pillars.
How to get to Selhurst Park
Getting To Selhurst Park By Road
The Selhurst Park stadium is situated in South Norwood, London SE25 6PU.
Drivers arriving from the North are advised to follow the M1, taking the exit towards the A40 and Wembley. Merge onto the North Circular Road and at the roundabout take the 1st exit onto Edgware Road (A5). Follow the A5 for about 5 miles before turning left at Marble Arch. Turn left into Park Lane after a further mile. At the roundabout, take the 3rd exit onto Duke of Wellington Place. Bear left at Grosvenor Place and continue on the A302 fro about ¾ of a mile. Bear left onto the A202 and follow it for about 2 miles, turning right at the A23 (Brixton Road). Make a slight left turn onto the B273 and turn left onto Woodville Road after about 2 miles. Bear left at White Horse Road and turn left at White Horse Lane.
From the South, drivers can use the M23, exiting onto the A23 (London Road North) and following it for some 7 miles. After passing through 1 roundabout, turn right at Purley Way (A232). Follow the A232, turning right at Stafford Road and left at Park lane. Selhurst Park is reportedly well signed thereafter.
Getting To Selhurst Park By Rail
Many fans report being fooled by the fact that Crystal Palace station is nowhere near the ground. The nearest railway stations are Selhurst and Thornton Heath which are all served by regular connections from London Victoria mainline station.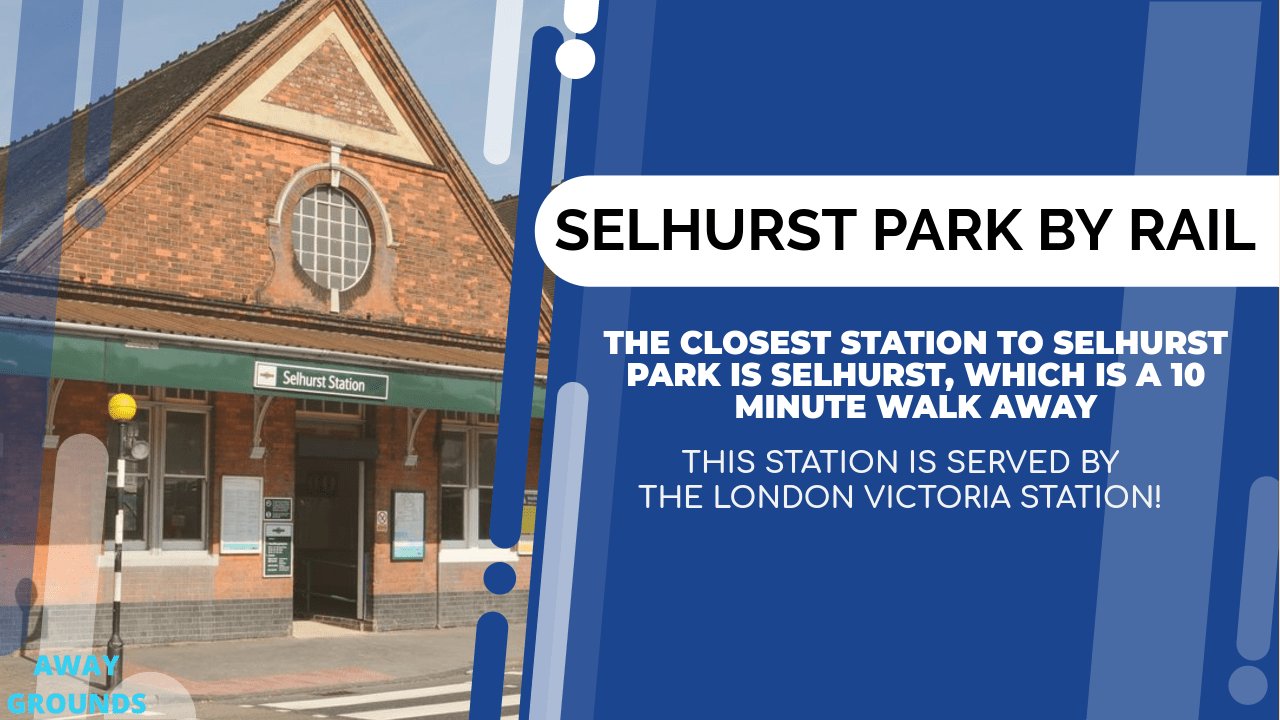 Norwood Junction, which is also within a 15 minute walk of Selhurst Park, is served by trains from East Croydon, London Bridge, Gatwick airport and a limited service from Victoria. Click here to check the current train timetables
Getting To Selhurst Park By Air
The nearest airport is Biggin Hill, about 7 miles from the ground. However, Heathrow, at a distance of about 20 miles may prove more convenient for air travellers, offering frequent rail, tube and bus links with Central London. Click here to check the current flight times
Getting To Selhurst Park Taxis
There are several taxi companies in London that can take you to and from Selhurst Park. You can always prebook a private hire taxi, or hail a black cab on any highway.
Calling all London Taxi Companies – Why not advertise your company here?.
Where to Park At Selhurst Park?
On-street parking near the ground is limited, due to residents' only parking schemes on match days and "Pay and Display" bays which have a 4-hour limit.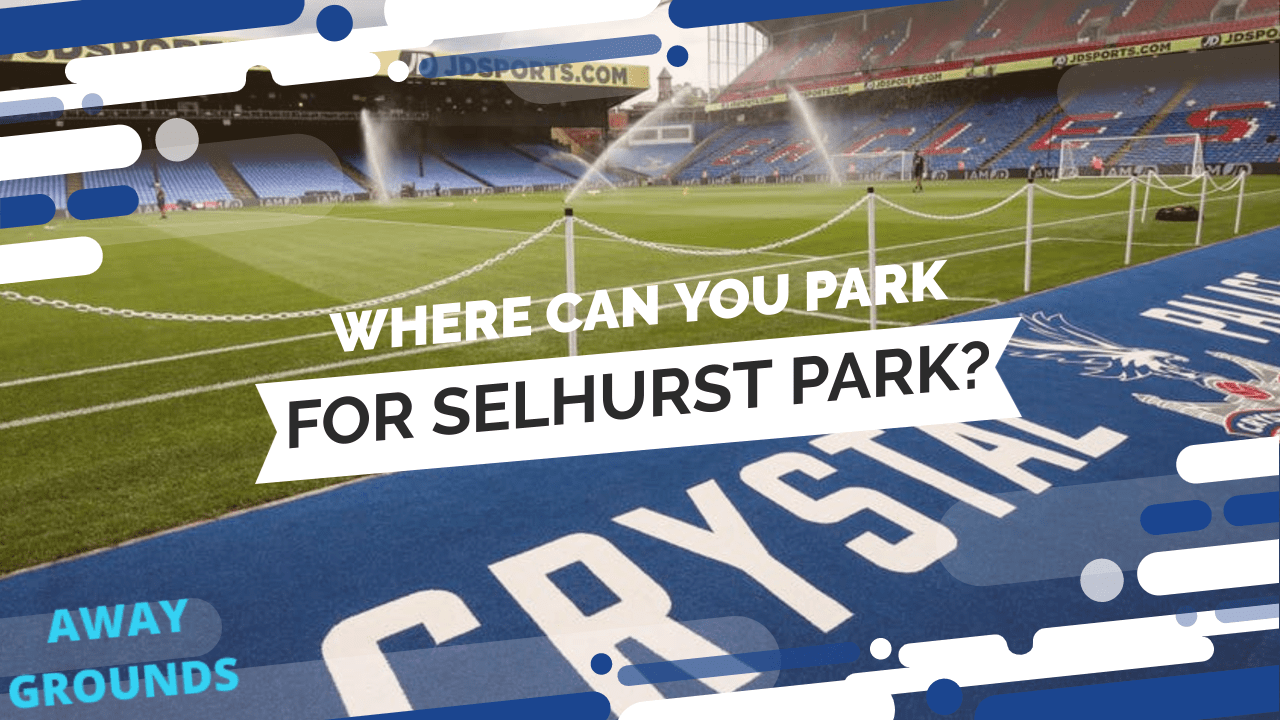 Many visiting fans have recommended parking in the Edith Road and Dagnall Park areas near Selhurst railway station. Away fans have also recommended allowing plenty of time for the journey as traffic becomes very congested.
Getting Tickets For Selhurst Park
To buy tickets for premier league games you need to be a member although the good news is that memberships start as little as £15 and come with many other benefits. Listed below are the different types of memberships and the prices:
Adult membership – £25
Junior Eagles Gold membership – £50
Junior Eagles Membership – £15
International Membership – £45
Gold membership – £60
Away Friendly Pubs near Selhurst Park
pubs near crystal palace stadiumNumerous pubs in the Selhurst Park area have been recommended by visiting fans. Rail travellers alighting at Selhurst station may like the Clifton Arms in Clifton Road or the Two Brewers in Gloucester Road. The former is a large Victorian pub with a wide range of quality ales. However, its popularity means it becomes very crowded. The latter is a comfortable, "cottage type" pub, serving excellent beer and food.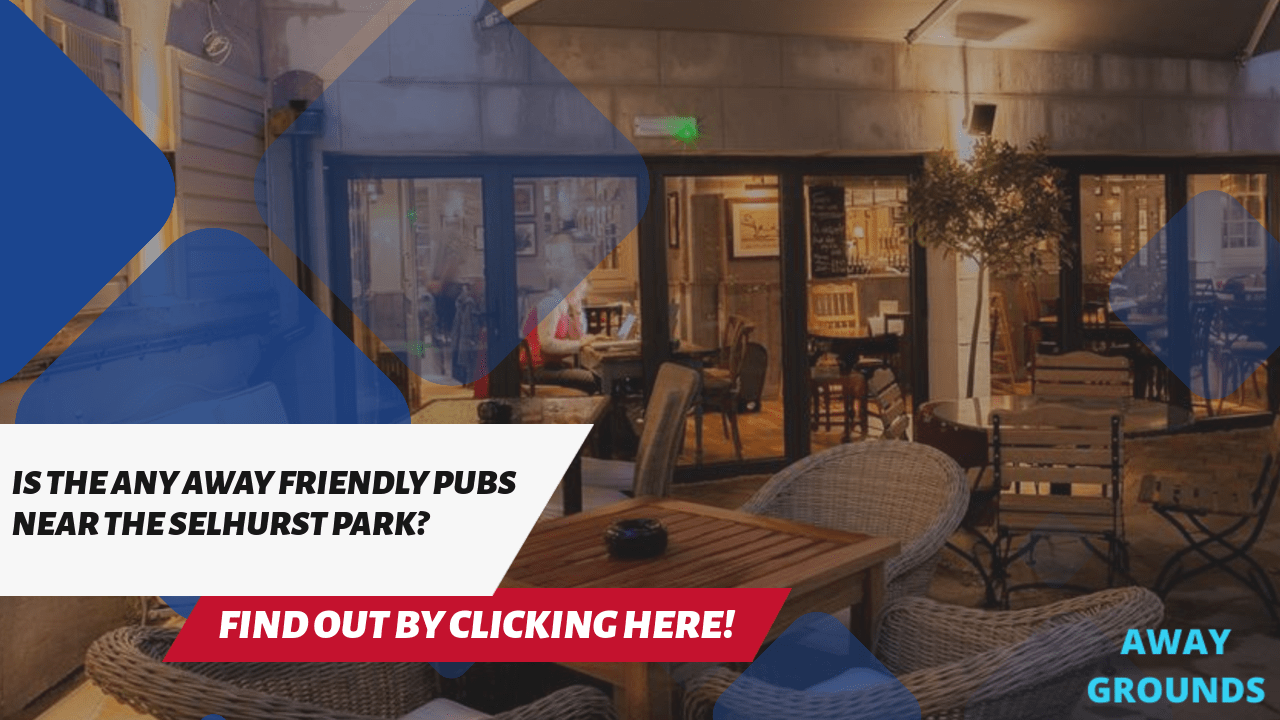 The Railway Telegraph, in Brigstock Road, near Thornton Heath station is also popular with away fans. Many fans have been impressed by the Alliance, in Station Road, near Norwood Junction station. Others have enjoyed the lively atmosphere of the Ship in South Norwood High Street, a free house with Sky TV. Alternatively alcohol is served inside the ground.
Hotels near Selhurst Park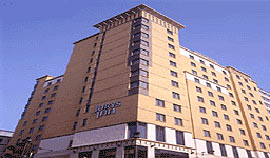 Jurys Inn Croydon, Wellesley Road, London, CRO 9XY is about 1½ miles from Selhurst Park. Most guests have complimented the hotel on cleanliness, comfort and excellent service. Nearby parking is available.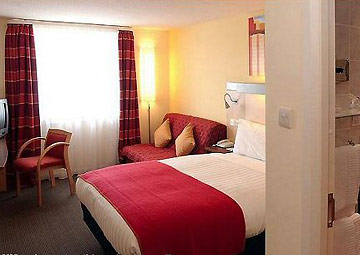 The Express By Holiday Inn London Croydon, 1 Priddy's Yard, Croydon, London CR0 1TS is centrally located, within 2 miles of Selhurst Park. It is within easy walking distance of London Victoria and East Croydon stations. Reports from visitors have been positive, commenting on cleanliness, bright décor and excellent facilities. However, no on-site parking is available.
What have other Away Fans said about their trip to Selhurst Park?
The atmosphere inside Selhurst Park has been reported as good by most visitors, though some have been intimidated by the proximity of the home supporters. Though several have remarked that the older stands give the ground character, most away fans have been disappointed by the away section.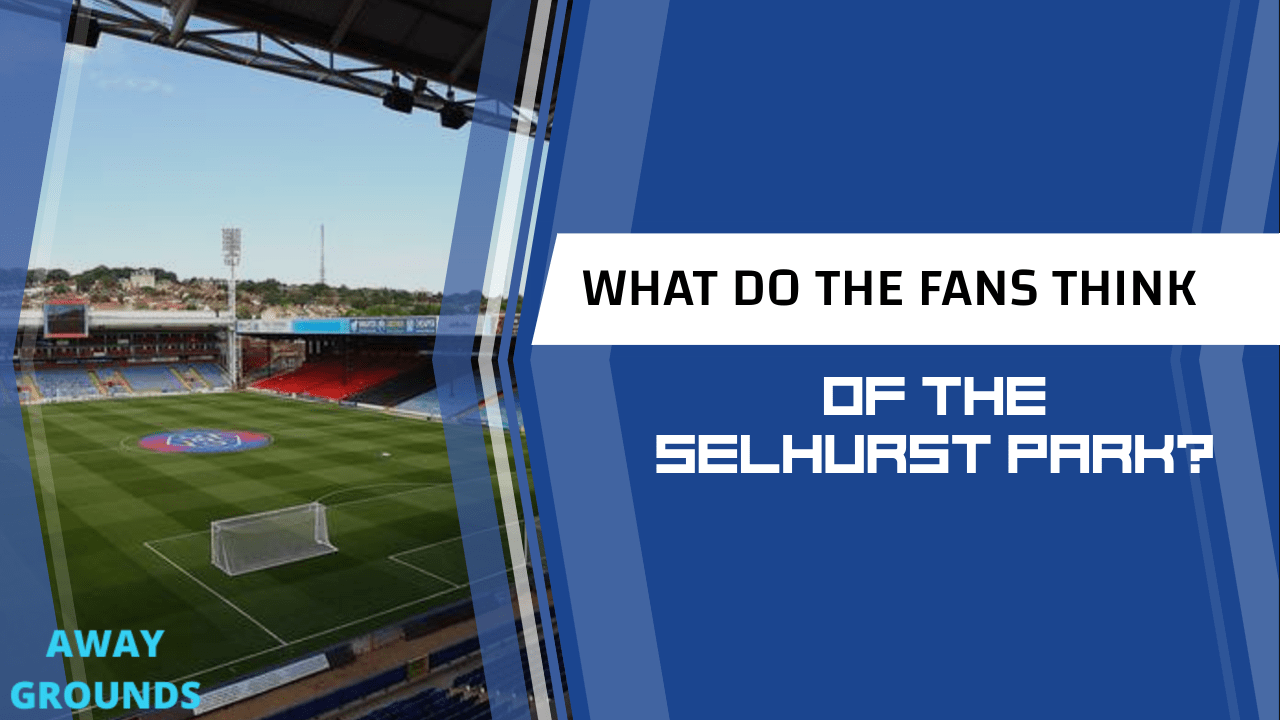 The wooden seating is very uncomfortable and supporting pillars can impede the view of play. Many fans have been pleasantly surprised by the quality of the food available inside the ground and efficient, speedy service.
Selhurst Park Review
A nice little football ground in South London. We drove to the ground and we were able to park in the Sainsbury's car park, which is part of the club, and you don't get charged for parking.
The stadium of premier league football club Crystal Palace, Great stadium in terms of atmosphere and I believe they have the best fans always drumming up noise and cheering the team on. Despite only being 23,000+ capacity it still a nice stadium for the fans, it could do with some renovations however due to its location I understand they wouldn't be able to. It great there's a sainsburys right below to get any cheap snacks before the game.
Selhurst Park History
Selhurst Park was constructed in the early 1920s after Crystal Palace purchased land from the Brighton Railway Company and commissioned architect Archibald Leitch to create the new stadium. The match between Crystal Palace and Sheffield Wednesday marked the official opening of Selhurst Park on August 30, 1924. Although the main stand was not finished in time for the opening, it had enormous terraces on earth banking on the other sides.
There were few improvements to the ground until the Arthur Wait Stand was built opposite the main stand in 1969. The record attendance at Selhurst Park was 51,801 in 1979 when Crystal Palace defeated Burnley to win the Second Division.
In order to pay off their debts, the club sold the back of the Whitehorse Lane terrace to the supermarket Sainsbury's in 1983. The rest of the stand was fitted with executive boxes and a roof a few years later. Much of the stadium had already been converted to an all-seater configuration at the time. The Homesdale terrace was removed and replaced by a two-tiered all-seater stand in 1994, marking the end of Selhurst Park's construction. At the same time, the Main Stand received a new roof.
Crystal Palace announced plans to build a new Main Stand in 2017. The additional stand, which will house 13,500 people and increase capacity to 34,000, is expected to cost £100 million. Palace hopes to begin construction on the new stand in 2018 and will be able to continue playing at Selhurst Park during the three-year renovation period.
Stadium Key Facts
| Stadium | Key Facts |
| --- | --- |
| Capacity | 25,456 |
| Address | Holmesdale Rd, London SE25 6PU |
| Telephone | 0208 768 6000 |
| Fax | 0208 771 5311 |
| Ticket Office | 0871 2000 071 |
| Rival Club | Brighton & Hove Albion F.C. |
| Pitch Size | 101 by 68 metres (110.5 yd × 74.4 yd) |
| Pitch Type | Desso GrassMaster |
| Year Ground Opened | 30 August 1924 |
| Record Attendance | 51,801 |
| Club Name | Crystal Palace F.C. |
| Rival Club | Brighton & Hove Albion F.C. |
| Official Website | https://www.cpfc.co.uk/ |
| Facebook | Crystal Palace Facebook |
| Club Nickname | Eagles |
| Construction Cost | £30,000 |
| Owner | Crystal Palace F.C. |
| Coordinates | 51.3980° N, 0.0861° W |
Selhurst Park FAQ's
Where is Selhurst Park located in?
Selhurst Park is located in London England, United Kingdom.
What is the postcode for Selhurst Park?
The Postcode for Selhurst Park is SE25 6PU.
How old is Selhurst Park?
Selhurst Park was originally built in 1924. As of 2021 it is 97 years old.
Does Crystal Palace own Selhurst Park?
Crystal Palace does not own Selhurst Park. It is still owned by Ron Noades (Previous Owner of Crystal Palace).
What is Crystal Palace away allocation?
The capacity at Selhurst Park away end is 2,000.
Which is the away end at Selhurst Park?
Away fans are located on one side of the Arthur Wait Stand, near the Whitehorse Lane End.
Selhurst Park Stadium Tour
Outside Selhurst Park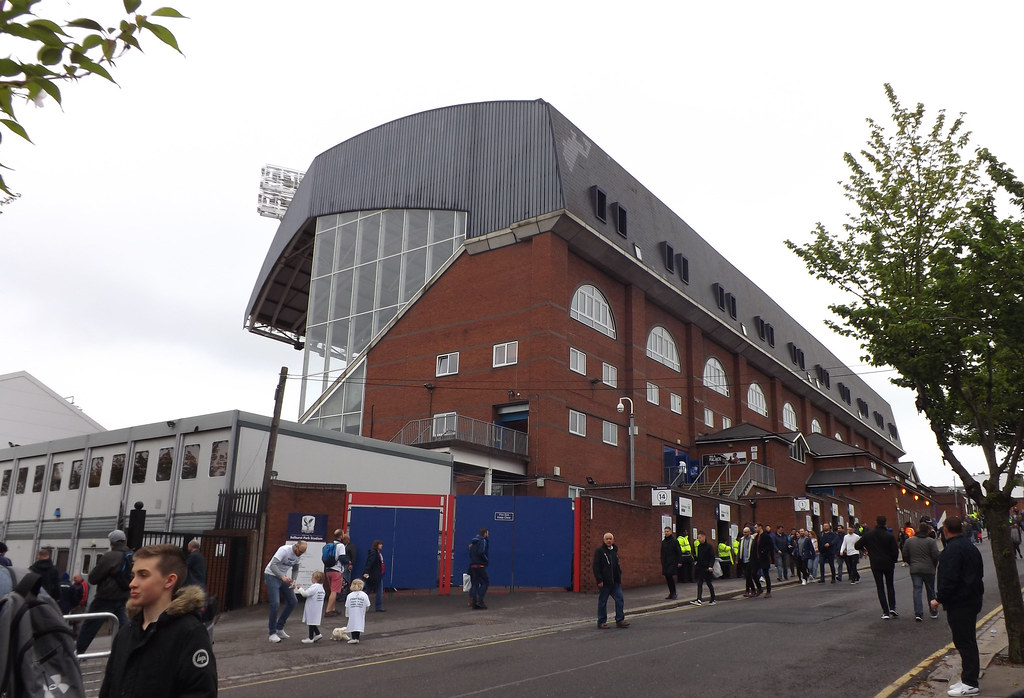 Events At Selhurst Park
Selhurst Park, one of south London's most fascinating locations, will undoubtedly meet your needs. They are fantastic for anyone searching for a location with a sporting edge, and with a variety of places to choose from, you will be able to find the appropriate backdrop for any occasion.
Selhurst Park has hosted many events before from weddings, proms, conferences and Christmas events.
Selhurst Park Seating Map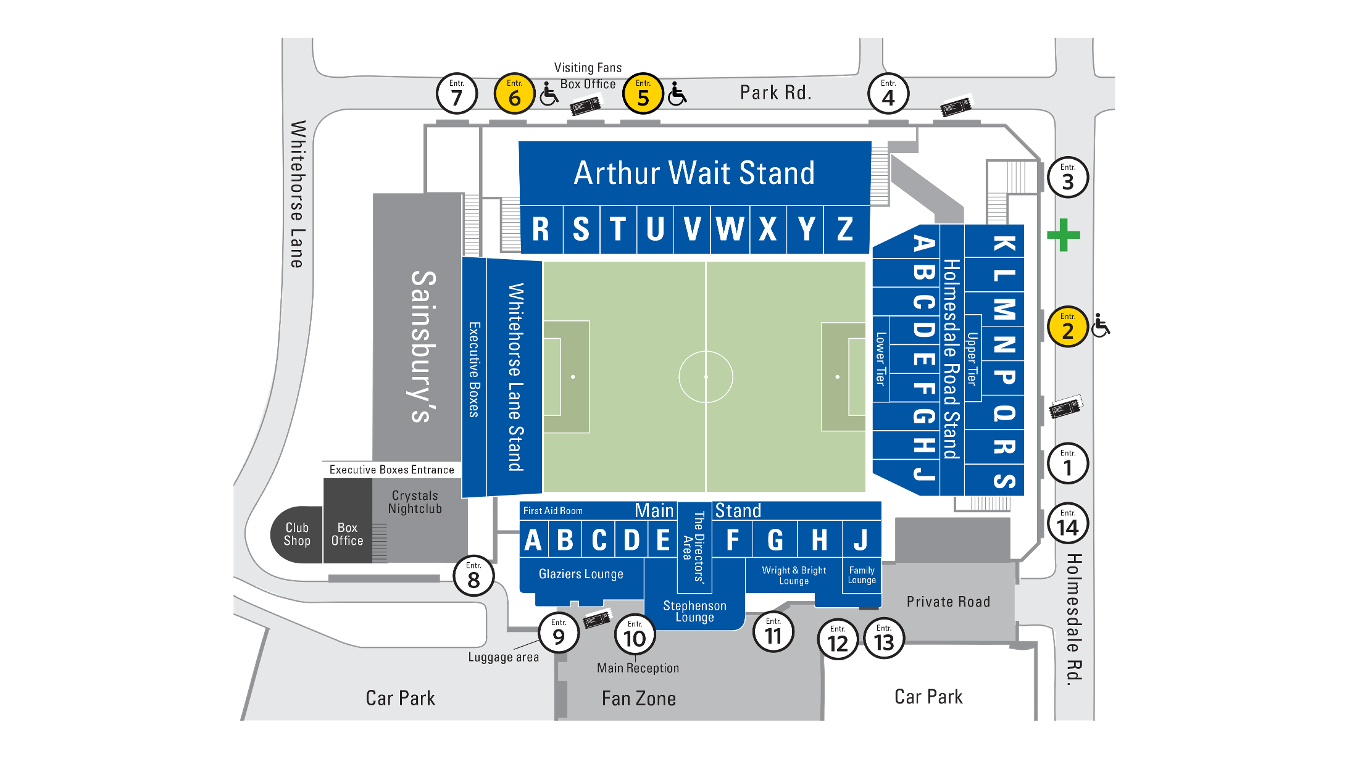 Selhurst Park Directions
Crystal Palace Twitter
Summary
This magnificent and thrilling stadium is owned by Crystal Palace Football Club.
Selhurst Park is an amazing venue for events such as weddings, Christmas parties, conferences, and many more.
Whether you are a Crystal Palace fan or just a football fan in general then the Selhurst Park Stadium tour should definitely be added to your to-do list.
Selhurst Park Wikipedia
Other Premier League Grounds