Craven Cottage is an all-seater stadium, with a capacity approaching 26,500, making it one of the Premiership's smallest grounds.
When Fulham reached the Premiership for the 2001-02 season, they still had terraced areas in the ground, running contrary to Football League regulations that stadia in the top two divisions of the English pyramid system must be all seater. By April 2002 no improvements had been made, resulting in a move to Loftus Road, home of local rivals QPR.
Partial redevelopment of the stadium enabled the club to return to their "spiritual home" for the 2004-05 season. The Putney End is the southernmost stand in the ground. Away fans are generally allocated part of this stand, though for matches against better supported sides, the whole Putney End is allocated to visiting fans.
One side of the Putney End, adjacent to the away fans section, is an area for "neutral" fans, which contains a cosmopolitan mix of home, away and neutral fans. Overlooking the ground from one corner, between the Johnny Haynes Stand and Putney End, is the unique Cottage Pavilion building, though the original cottage was demolished many years ago. The original Cottage resulted from an oversight by architect Archibald Leitch, who omitted to include changing rooms in his final plans.
Stadium Key Facts
| Stadium | Key Facts |
| --- | --- |
| Capacity | 25,700 |
| Address | Stevenage Rd, London SW6 6HH |
| Telephone | 0843 208 1222 |
| Fax | 0207 384 4715 |
| Ticket Office | 0203 871 0810 |
| Rival Club | Chelsea F.C |
| Pitch Size | 100 by 65 metres (109.4 yd × 71.1 yd) |
| Pitch Type | Grass (Fibrelastic) |
| Year Ground Opened | 10 October 1896 |
| Record Attendance | 49,335 |
| Club Name | Fulham F.C. |
| Rival Club | Chelsea F.C |
| Official Website | https://www.fulhamfc.com/ |
| Facebook | Fulham Facebook |
| Club Nickname | The Cottagers |
| Construction Cost | £100 million |
| Owner | Fulham F.C. |
| Coordinates | 51.4749° N, 0.2218° W |
How to get to Craven Cottage
Getting To Craven Cottage By Road
The Craven Cottage stadium is located in Stevenage Road, London SW6 6H, next to Bishops Park on the banks of the Thames.
Drivers arriving from the North are advised to follow the A1/M1 as far as the A406 North Circular Road. Thereafter, follow signage for Harlesdon / A404, following the A219 to Hammersmith. Upon reaching Hammersmith Broadway, follow signage for Fulham, turning right after a mile into Harboard Street. A left turn at its end leads to Craven Cottage.
From the South and East, the South Circular (A205) route is recommended, following signage for Putney Bridge (A219), crossing the bridge and following signs for Hammersmith for ½ mile, turning left into Bishops Park Road, then right at its end. Drivers arriving from the West can follow the M4 as far as the A4, branching left after 2 miles onto Hammersmith Broadway, following signage for Fulham, turning right into Harboard Street after a mile, then left at its end. The following map can provide directions from all UK locations and may well prove useful in locating parking and recommended pubs.
Getting To Craven Cottage By Rail
The nearest tube station is Putney Bridge on the District Line, a 15-minute walk from Craven Cottage.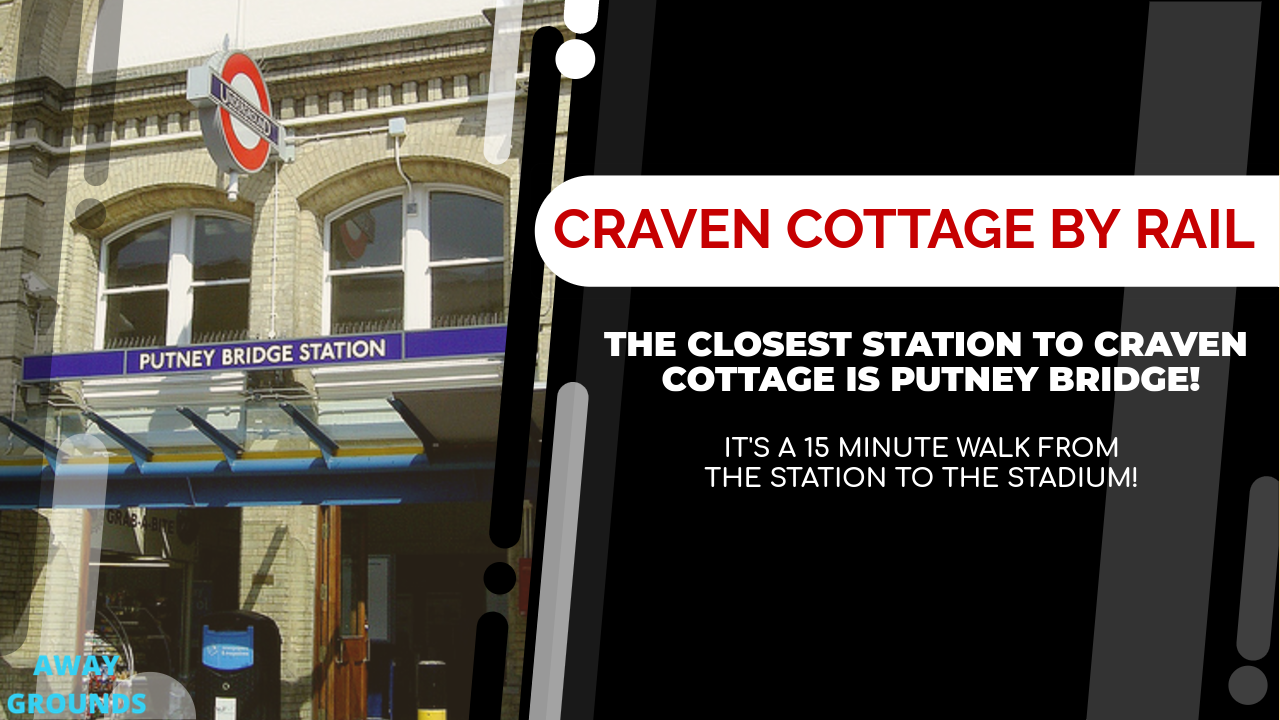 Putney Bridge station has regular connections to all London's mainline stations. Click here to check the current train timetables
Getting To Craven Cottage By Air
Heathrow is the nearest airport, some 14 miles from Craven Cottage. At the Heathrow tube station, take a Piccadilly Line connection towards Cockfosters. Change at Earl's Court, heading for Wimbledon and disembarking at Putney Bridge. The total journey time is less than an hour. Click here to check the current flight times
Getting To Craven Cottage By Taxis
There are several taxi companies in London that can take you to and from the stadium. You can always prebook a private hire taxi, or hail a black cab on any highway.
Calling all London Taxi Companies – Why not advertise your company here?.
Craven Cottage Directions
Where to Park At Craven Cottage?
Craven Cottage on-street parking near Craven Cottage is restricted to just one hour on match days and thus unsuitable for visiting fans. Some on-street parking is available, to early arrivals, on the far side of Fulham Palace Road.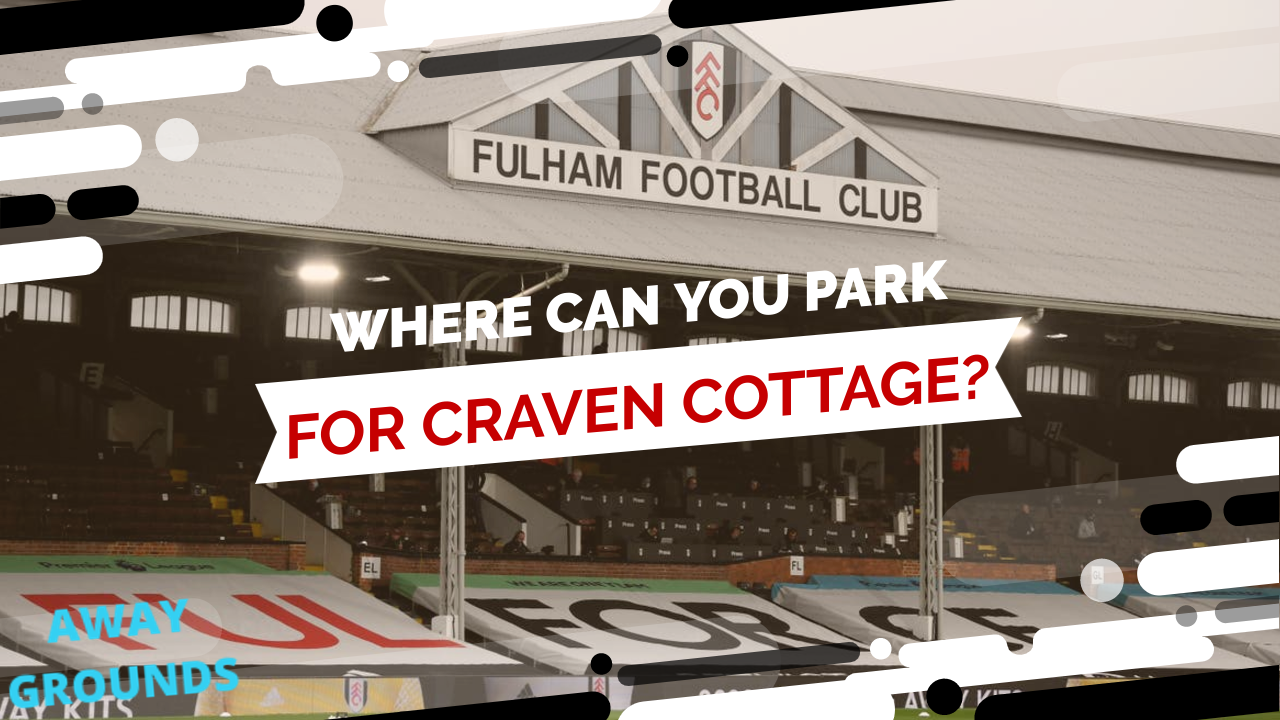 However, these areas are controlled by Local Authority parking meters and the vast majority of visiting fans have advised the use of public transport to get to Craven Cottage.
Getting Tickets For Fulham
Tickets for Fulham can be purchased online via the official Fulham Football Club site or fans can phone 0203 871 0810 (Mon-Fri, 9 am-5 pm).
Tickets for Fulham football games are likely to sell out so make sure to buy your tickets in advance to avoid disappointment.
Craven Cottage Seating Plan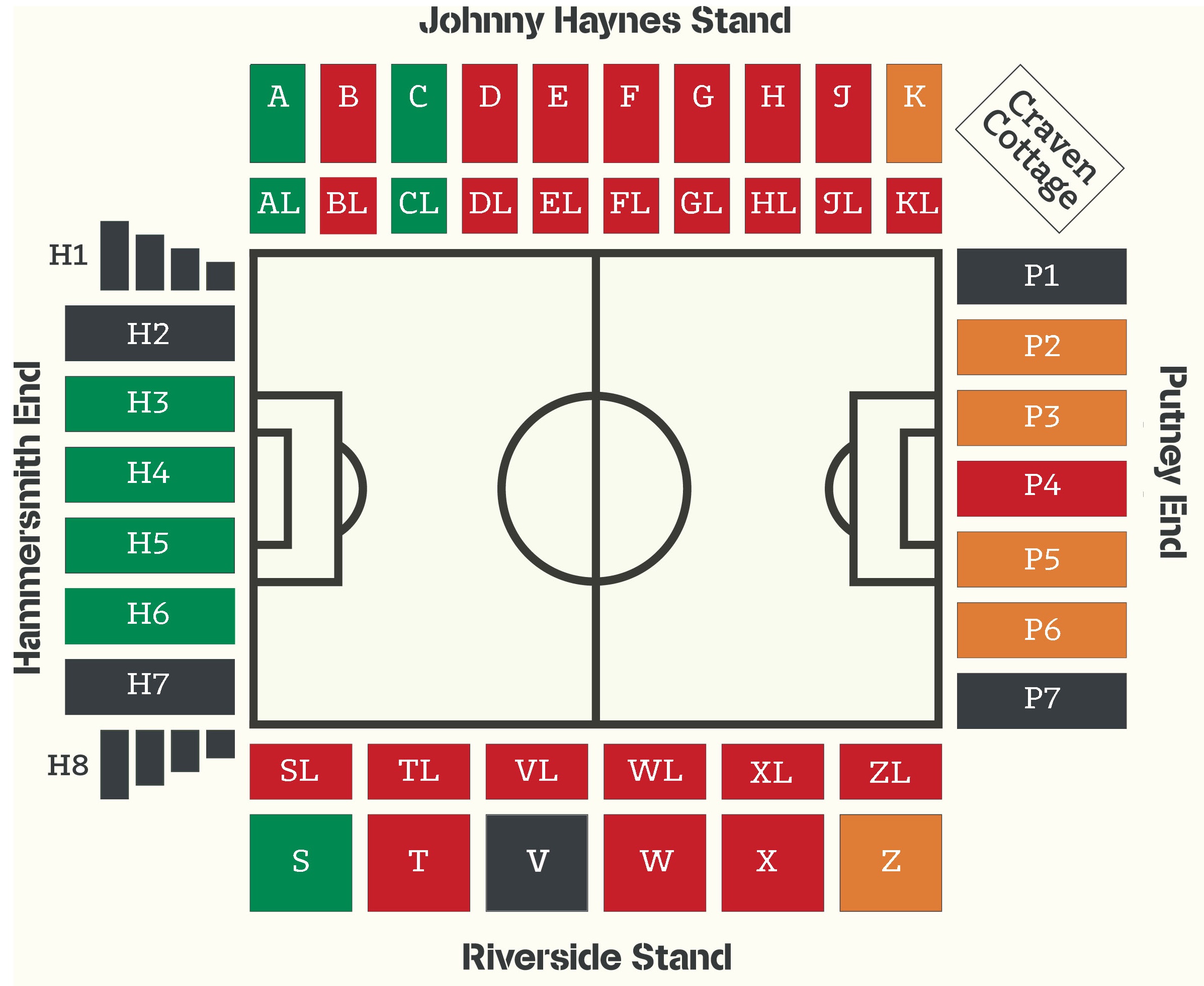 Away Friendly Pubs near Craven Cottage
Some of the pubs near the ground have been designated home supporters only and visiting fans have advised caution in selecting a pub for a pre-match drink. Near the stadium, The Zulu Bar, on Fulham High Street has received several good reviews from visiting fans. The Eight Bells, near Putney Bridge tube station, is also recommended, as is The Larrik, a little further along Fulham High Street.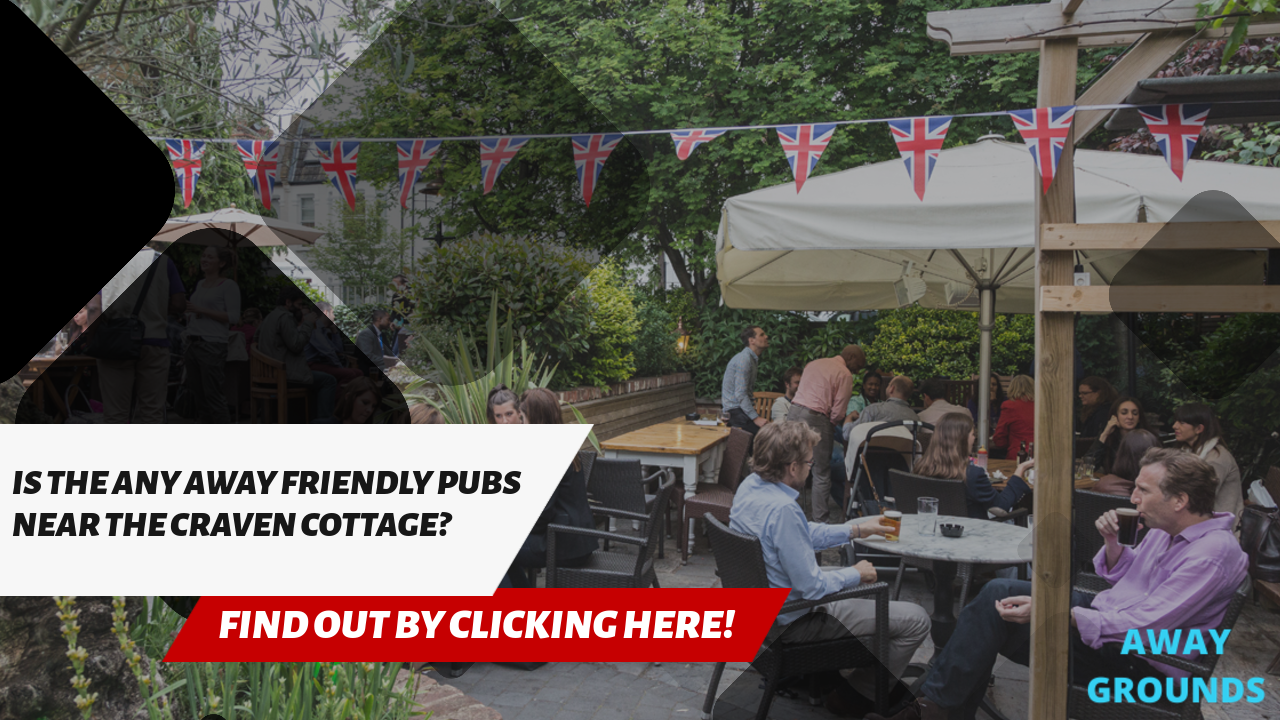 Several pubs to the South of the Thames, in Putney, have also been recommended. The Dukes Head, in Lower Richmond Road, is recommended, providing excellent food and offering views over the Thames. The Bricklayers Arms, in Waterman Street, offers excellent real ales. However, pubs on this side of the river are a good 20-minute walk from the ground.
Hotels near Craven Cottage
The 3-star Best Western Lodge, 52-54 Upper Richmond Road, Putney SW15 2RN is just over a mile from Craven Cottage and has received consistently excellent guest reviews. It is expensive but ideally located in South-West London, with excellent nearby transport links. Free on-site parking is provided.
The Ibis London Earls Court, 47 Lillie Road, London SW6 1UD charges by the room, rather than guest and may prove a better alternative from a financial perspective. Within a 5-minute walk of Earls Court tube station on the District and Piccadilly Lines, just an 8-minute ride from Putney Bridge station. Undercover parking is available at a reasonable charge.
What have other Away Fans said about their trip to Craven Cottage?
Many visiting fans have remarked that the redeveloped Craven Cottage has a pleasing blend of new and old features, conferring individuality and character. The majority of away fans have found that adequate facilities and pleasant surroundings make Craven Cottage a good day out.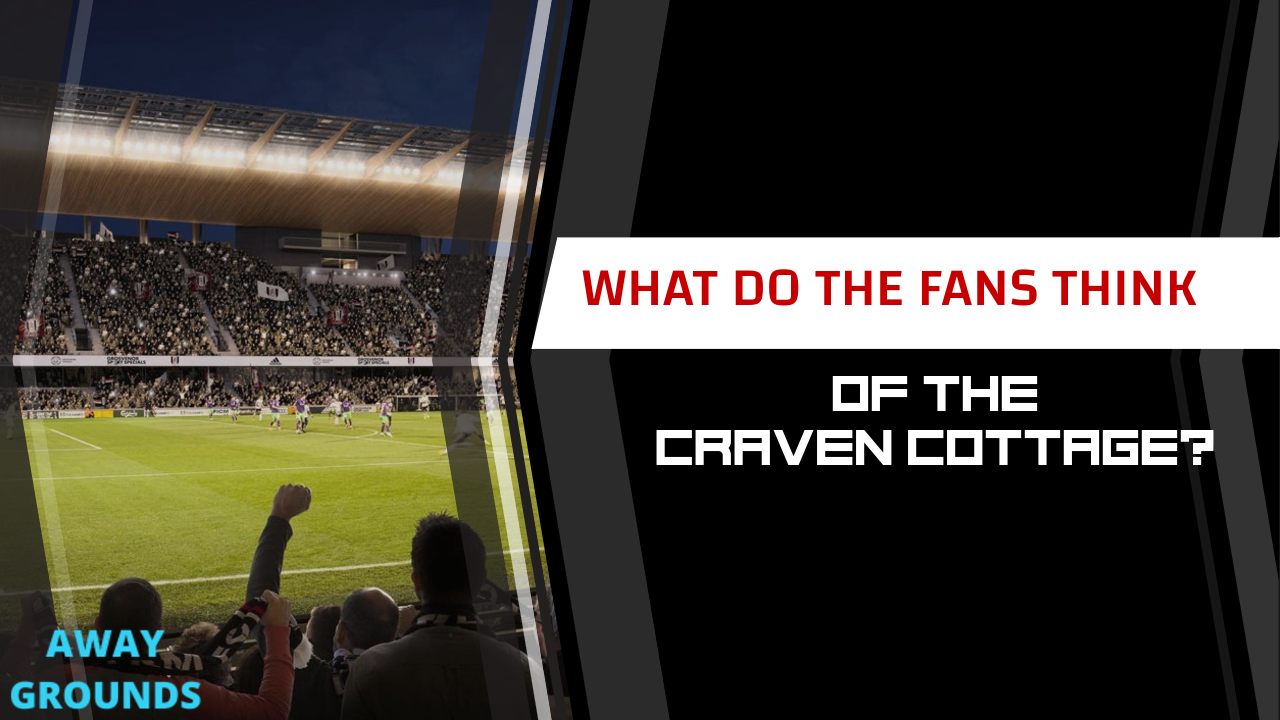 Many visitors have noted the pleasant atmosphere within the ground, with home and away fans mixing freely at the Putney End. On the downside, supporting pillars impede the view of the play from certain areas of the away end. Visitors have also remarked upon an overly large presence of mounted police and dog handlers around the ground, despite no signs of any trouble whatsoever.
Craven Cottage Reviews
Beautiful place.. heaped in history. The football is good and the fans friendly. I first attended a match here in 1978 and it has a proper old school feel. The ground has been upgraded to all seater with 4 covered stands. It is set right by the River Thames which gives great views . You can have the opportunity to watch the annual Boat Race from here. It gives an amazing view. This is my favourite place in the whole well… my church.. my home.
Well I have to say I do love my footy team Fulham
Fulham is a great team to go and see and very family oriented. The price of beer is not to bad at £4 a pint but I did have a pie and beer that was £8:50 and I was very disappointed in the pie the top was mash but it was rock solid ??? But the beer was good
Craven Cottage History
Craven Cottage was purchased by the Club (church) in 1894, and it took two years to prepare. Before constructing a clubhouse changing room facility, volunteers assisted in clearing a dilapidated house and cleaning the surrounding area.
On 10 October 1896, Fulham defeated Minerva 4-0 in the Middlesex Senior Cup at Craven Cottage for the first time.
During the 1903/04 season, the stadium was upgraded, which coincided with an increase in crowds. The Rabbit Hutch was a wooden stand built by Walham Green's Robert Iles with a seating capacity for 1,200 spectators. The stand stood where the modern Johnny Haynes Stand now stands, but it was condemned as an unsafe building by the local county government and had to be demolished around 18 months later.
In May 1905, construction on a new stand on Stevenage Road began. The Clyde Structural Iron Company was engaged to furnish the steelwork, and Scottish architect Archibald Leitch was hired to design and build the new stand.
For the first match of the 1905/06 season, the 5,000-seat stand was constructed. £15,000 was spent on the refurbishment. W. Hayes Fisher, a serving MP and Fulham President, officially opened the new ground on September 2, 1905, before a goalless draw between Fulham and Portsmouth in front of 20,000 fans.
In 1962, floodlights and an electronic scoreboard were placed on the Riverside terrace. Following an extension of the terracing in 1961, the terrace at the Hammersmith End was given a roof in 1965.
Today the stadium can fit up to 25,700 fans.
Outside Craven Cottage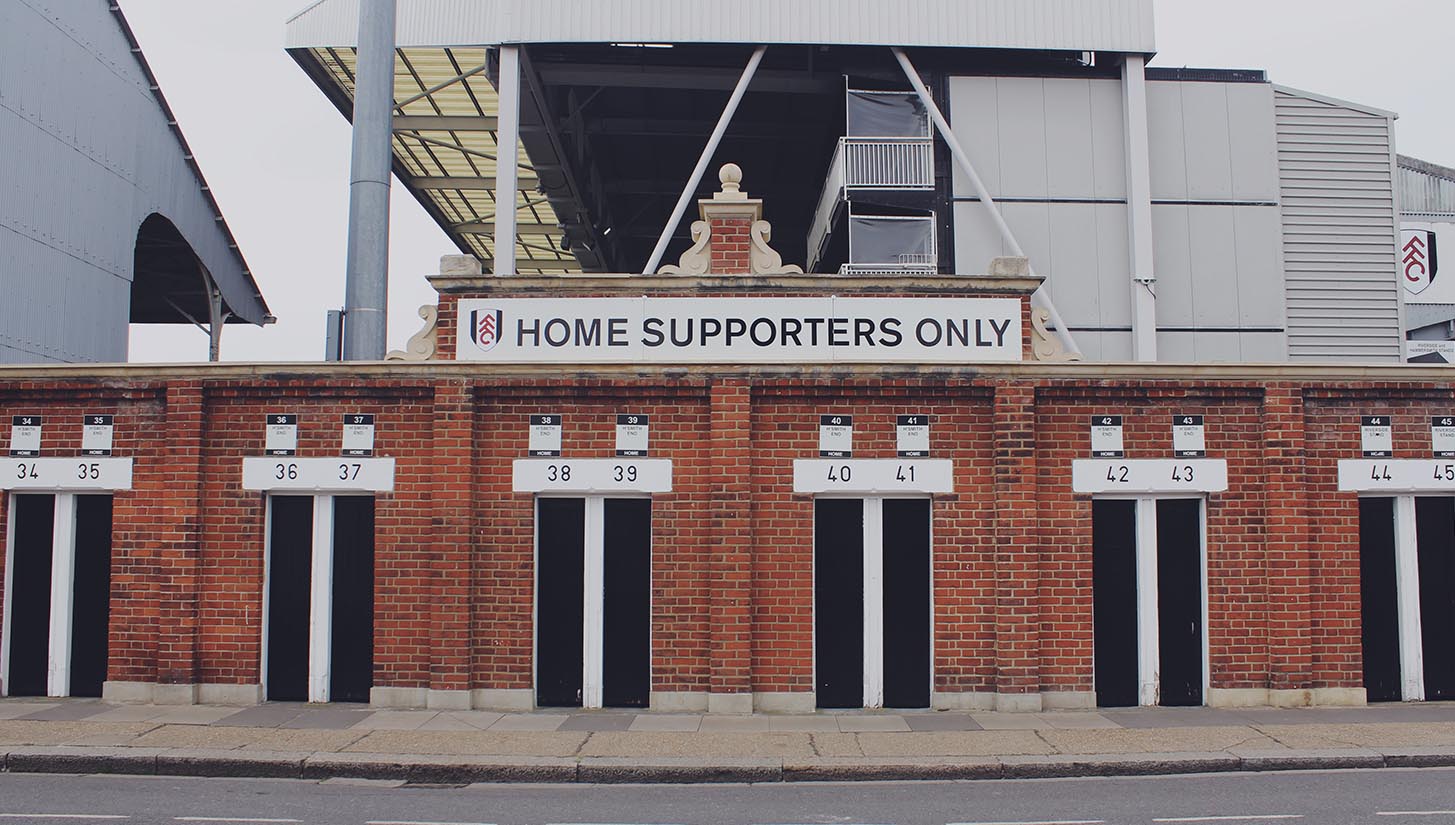 Craven Cottage Events
Craven Cottage is one of London's most distinctive meeting and events venues, even on non-matchdays, thanks to a tangible sense of expectation and excitement.
Hold your event alongside the River Thames, and it will definitely be memorable, owing to the amazing facilities, and the brilliant atmosphere.
Craven Cottage can host meetings & conferences, dining & celebrations and pitch hire.
Craven Cottage FAQ's
Is Craven Cottage being redeveloped?
Riverside Development are working on increasing the seating capacity of Craven Cottage adding an additional 3,900 seats to a total of 29,600.
How old is the cottage at Craven Cottage?
Craven Cottage was initially built back in 1896.
Where in London is Craven Cottage?
Craven Cottage is located in Stevenage Road, London SW6 6H. Near the Thames.
What is Craven Cottage away end capacity?
The Fulham away allocation is around 3,000 seats, which accounts for around half of the Putney End Stand.
Which is the away end at Craven Cottage?
Away fans attending Craven Cottage are located in the Putney End Stand on one side.
What is the Craven Cottage postcode?
The postcode for the Craven Cottage Stadium is SW6 6H.
Craven Cottage Video Stadium Tour
Craven Cottage Tours
Red Letter Days offer a tour of Craven Cottage, including a three-course lunch. The tour is a must for all Fulham fans, and worthwhile for early arrivals and visiting supporters too with the opportunity to go behind the scenes, visiting the dressing rooms, dugouts, the cottage balcony, corporate hospitality areas and press facilities. After the tour, you'll enjoy a delicious three-course lunch served in the George Cohen restaurant.
At the time of writing, the tour cost £45 and lasted approximately 2 and a half hours.
Craven Cottage Wikipedia
Fulham FC Twitter
Summary
Craven Cottage, London's oldest football stadium, sits on the banks of the Thames and is a must-see for every visitor or football lover passing through the city.
There's always something going on at Craven Cottage – take in the atmosphere on matchday or join one of the fascinating Cottage Tours to learn more about the areas that are usually only accessible to players and staff.
Other Premier League Grounds