Turf Moor has been the home of Burnley since 1883.
Until 1995, a covered terrace, known as the "Longside" occupied the North side of the ground, opposite the original main stand. Further covered terraces occupied the East and West side of the ground.
A good deal of redevelopment took place in the mid-1990s, with the large, double-tiered James Hargreaves Stand replacing the Longside Terrace in 1996. This is now the main stand at Turf Moor. The similar Jimmy McIlroy Stand, at the East end of the ground, was opened in late 1996 as part of the reconstruction programme.
However, the West Stand, which is allocated to away fans, was built in 1969 and is in need of updating. With this in mind the club have announced a further £20 million redevelopment scheme, which will include the David Fishwick (West) Stand being replaced by a single-tiered new stand, costing some £10 million. Other elements include an hotel and multiplex cinema, although it was initially hoped that work would be completed in time for the 2010-11 season, these plans are now on-hold due to the current economic climate.
Stadium Key Facts
| Stadium | Key Facts |
| --- | --- |
| Capacity | 21,944 |
| Address | Turf Moor, 52-56 Harry Potts Way, Burnley BB10 4BX |
| Telephone | 01282 446 800 |
| Fax | 01282 700 014 |
| Ticket Office | 0844 807 1882 |
| Rival Club | Blackburn FC & Preston FC |
| Pitch Size | 105 by 68 metres (114.8 yd × 74.4 yd) |
| Pitch Type | Desso GrassMaster |
| Year Ground Opened | 17 February 1883 |
| Record Attendance | 54,775 |
| Club Name | Burnley F.C. |
| Rival Club | Blackburn FC & Preston FC |
| Official Website | https://www.burnleyfootballclub.com/ |
| Facebook | Burnley Facebook |
| Club Nickname | The Clarets |
| Construction Cost | N/A |
| Owner | Burnley F.C. |
| Coordinates | 53.7887° N, 2.2303° W |
How to get to Turf Moor
Turf Moor Stadium is situated in Harry Potts Way, Burnley BB10 4BX.
Getting To Turf Moor By Road
Southbound drivers are advised to follow the M6 as far as junction 30, exiting onto the M61, following signage for the M65. Exit the M61 at junction 9, onto the M65 towards Blackburn / Burnley, as far as junction 10. Take the A671 exit and at the roundabout take the 5th exit onto Cavalry Way (A671). At the next roundabout, take the 2nd exit onto Barracks Road (B6239), turning right after about ½ a mile into Trafalgar Street (B6240). At the next roundabout, take the 2nd exit onto Centenary Way (A682), followed by the 3rd exit at the subsequent roundabout, onto Yorkshire Street (A671). This leads into Harry Potts Way, with the ground on the left.
Drivers arriving from the South should follow the M6 as far as junction 21a, exiting onto the M62, towards Leeds and Bolton. Exit at junction 12, following the M60, again towards Leeds and Bolton. Leave the M60 at junction 18, following signage for Burnley. Merge onto the M66 and continue on the A56 through one roundabout. At the next roundabout, take the 3rd exit, signed Skipton / Burnley, merging onto the M65. Leave the A56 at junction 10, taking the A671 exit. Directions to the ground are then as above.
Getting To Turf Moor By Rail
Turf Moor is located within a 5-minute walk of Burnley town centre, 1½ miles from Burnley Central and within a mile of Burnley Manchester Road station.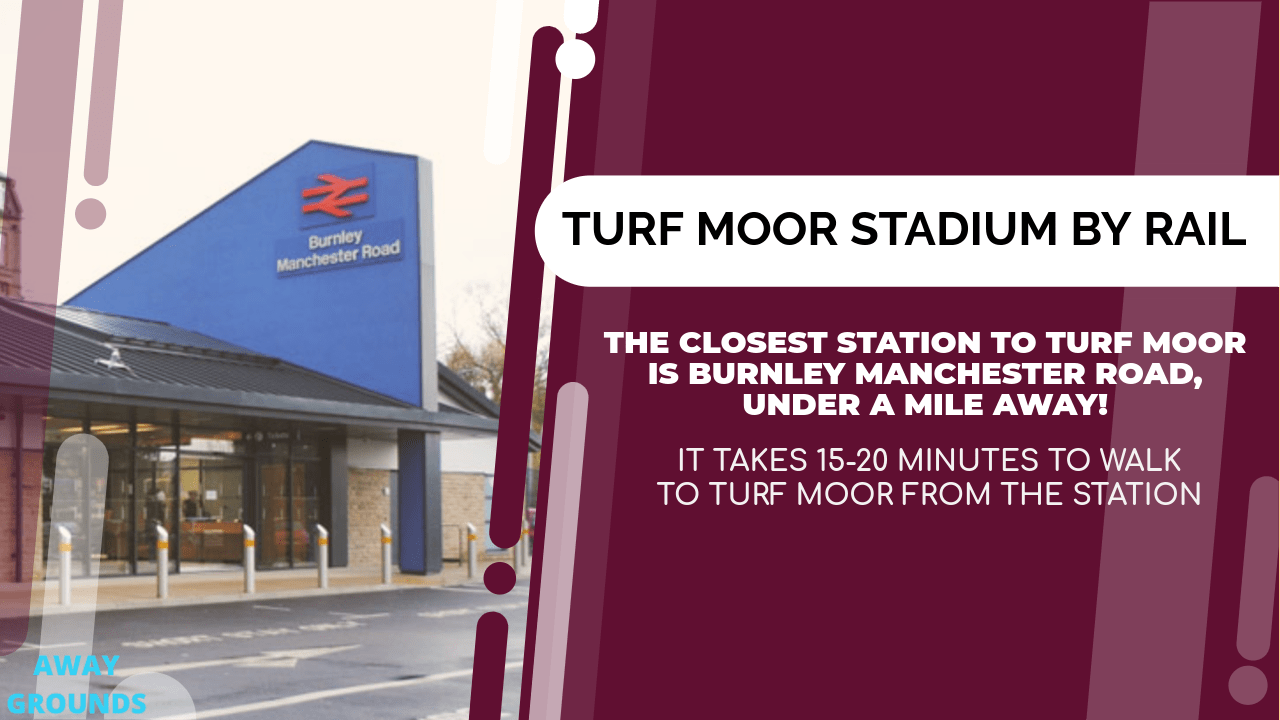 Both are within a 15-20 minute walk to the ground. Click here to check the current train timetables
Getting To Turf Moor By Air
Manchester International is the nearest airport, some 35 miles from Turf Moor. It offers excellent public transport links, with a total journey time of under 2 hours. Click here to check the current flight times
Getting To Turf Moor Taxis
There are several taxi companies in Burnley that can take you to and from Turf Moor. You can always prebook a private hire taxi, or hail a black cab on any highway.
Calling all Burnley Taxi Companies – Why not advertise your company here?.
Turf Moor Directions
Where to Park At Turf Moor?
A substantial amount of on-street parking is available within comfortable walking distance of the ground.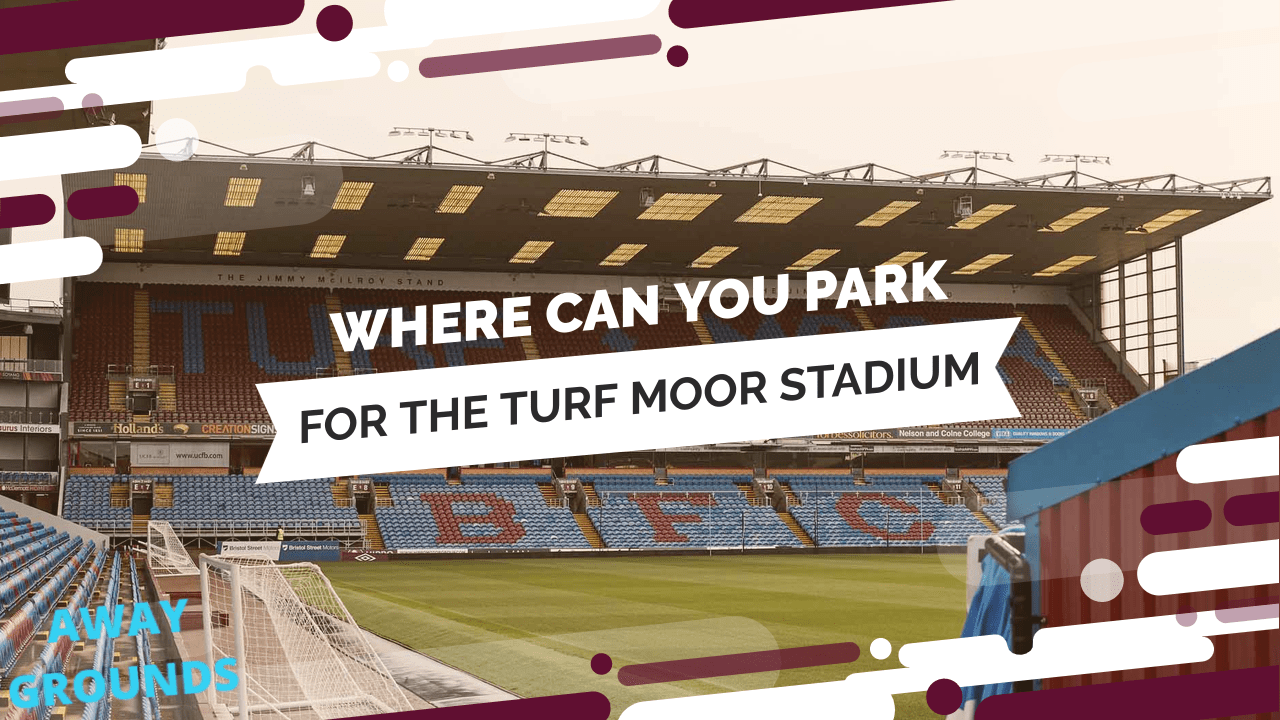 Many visitors have advised using the car park at the adjacent cricket ground, which offers reasonably-priced parking. However, many away fans have complained of lengthy delays in exiting this car park after the match.
Getting Tickets For Turf Moor Matches
The club's official website is the best place to go if you want to get tickets for Burnley games. If you want, you can purchase tickets over the phone, and there is a box office at the stadium where you can pick up your tickets.
Burnley fans are given first priority for tickets to Premier League games at Turf Moor.
During the season, certain high-profile matches may be given first to season ticket holders and members for a priority period. All remaining tickets will be made available for regular sale once the priority period has ended.
Turf Moor Seating Map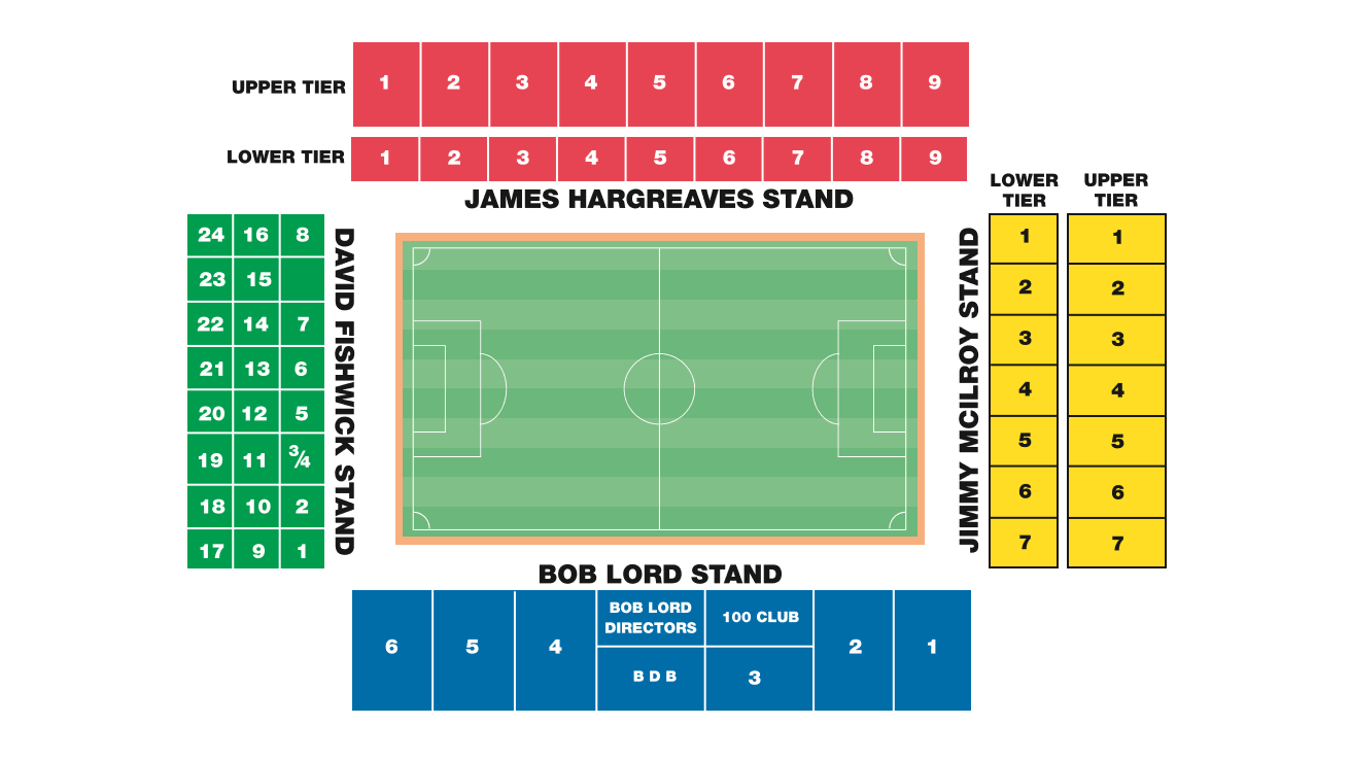 Hotels near Turf Moor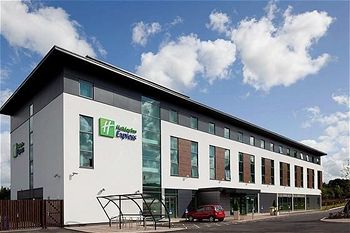 The Holiday Inn Express Burnley, 55 Pendle Way, Burnley BB12 0TJ is centrally-located, within 2 miles of the Turf Moor Stadium. This new hotel has received excellent guest review with regard to facilities, comfort and value. All rooms are air-conditioned with satellite TV and free, secure parking is provided. Some of the better hotels are located some distance from Turf Moor and are probably best suited to guests with their own transport.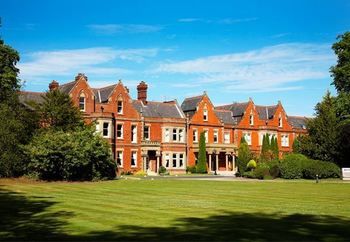 These include the 4-star Marriott Preston, 418 Garstang Road, Broughton, Preston PR3 5JB, a converted Victorian manor house some 20 miles from the Burnley ground. Although expensive, it has attracted exemplary reviews from visitors. The hotel is fully air-conditioned (including public areas) and all rooms have satellite TV, Internet access and a mini bar. Bathrobes, slippers and designer toiletries are provided and facilities include an indoor pool. Complimentary secure parking is available
Away Friendly Pubs near Turf Moor
Visiting fans have generally advised the avoidance of pubs in the town centre. Several away fans have enjoyed a pre-match drink in The Bridge, in Bank Parade, about a 10-minute walk from Turf Moor, which reportedly has an excellent atmosphere, serving good beer and food. Real Ale fans will enjoy The Ministry Of Ale on Trafalgar Street.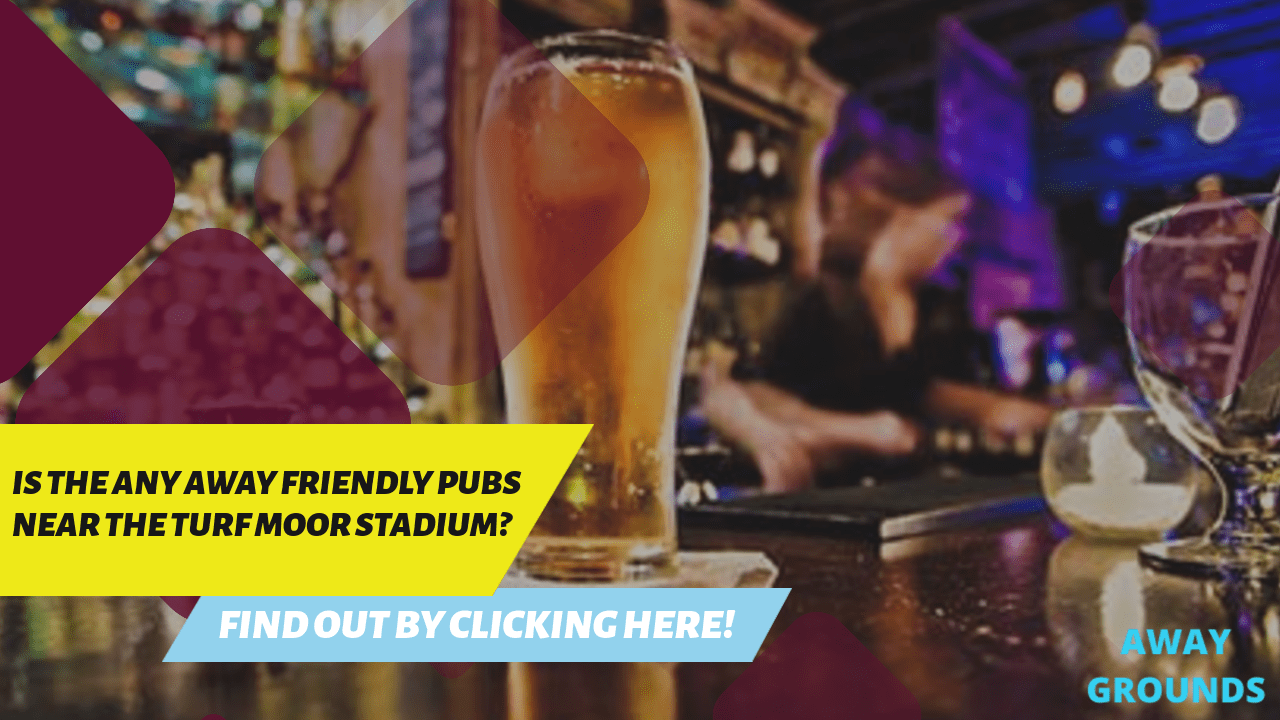 Another recommended venue is the Queen Victoria on the road of the same name, a similar distance from Turf Moor. Close to the ground, the 110 Club, a private members' club on Yorkshire Street admits away fans for a nominal fee, serves reasonably-price food and welcomes children. The Cricket Club, adjacent to the ground, also welcomes visiting fans.
Turf Moor Reviews
What a great traditional football stadium in a beautiful town. The views from the stands are great. Good view on the pitch. The pies are average. In the distance you see the hills and chimneys of the old industrial plants and the thatched houses. Next to this ground is a cricket field that you can see from your seat if you're high up. They say this ground was originally built for cricket. Before the match there was a possibility to drink some beers at the beer garden. They put up a big screen as well. Good atmosphere. Nice fan shop with good offers. We parked the rental car a few minutes walk from the stadium that only cost us a few quid.
First visit to Turf Moor was with Northampton Town FC back in FOOTBALL LEAGUE DIV 2 in Nov-97 when we got beat 2-1 by The Clarets. What we remember most from back then was that we had to march around the stadium [on a dirt track] to get to the away end which was all wooden seats.

Clearly they've upgraded the whole Turf Moor experience since then and made it more safe for the supporters. Burnley FC is one of the few clubs in the top two tiers who are British-owned. Every director at the club is locally born, a Claret supporter and none of them are getting paid. As of 2019–20, the club is debt-free. Well done indeed!
What have other Away Fans said about their trip to Turf Moor?
Most visitors have remarked that the atmosphere within Turf Moor is generally good, but caution should be exercised around the ground and in the town centre. The standard of seating and facilities has been a cause for complaint for many visiting fans.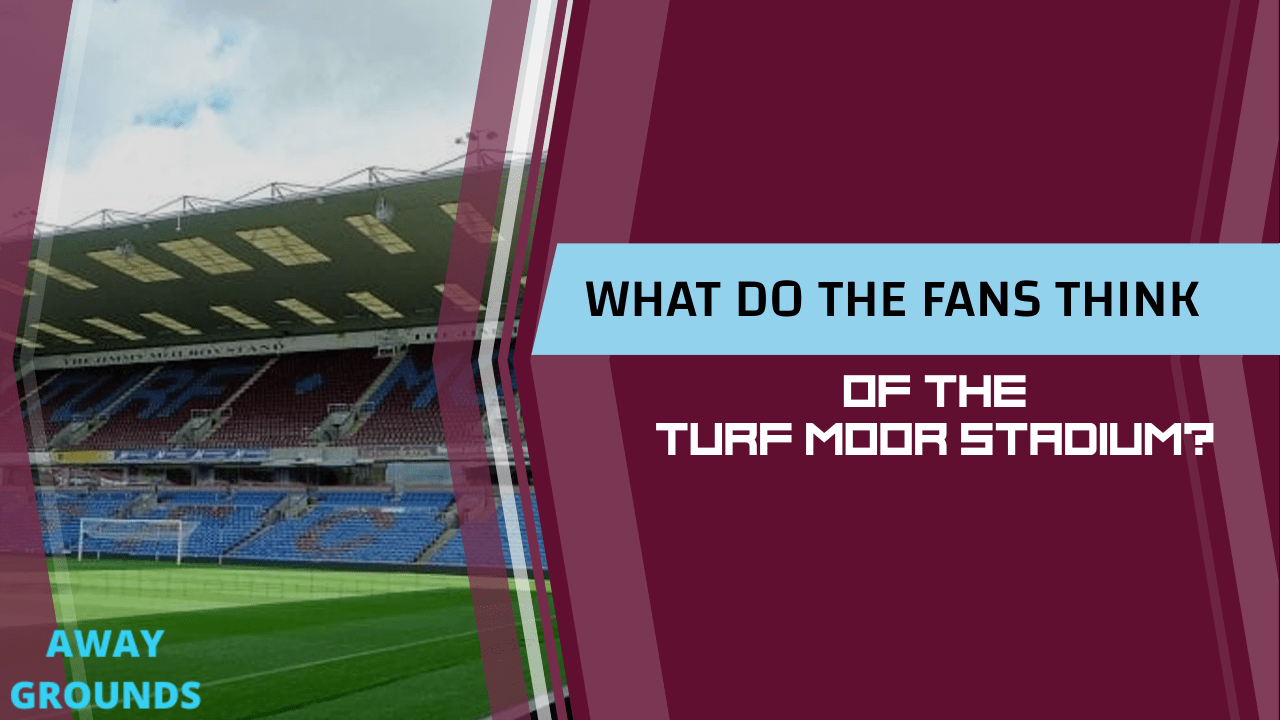 Seats in the current away section are old and wooden and supporting pillars obscure the view of play. There appear to be too few catering outlets and toilets, with many away fans complaining of lengthy queues for toilets and refreshments.
Turf Moor FAQ's
When did Burnley FC move to Turf Moor
Burnley FC moved to Turf Moor in 1883.
Who plays at Turf Moor?
Burnley FC play at Turf Moor Stadium.
Why is it called Turf Moor?
The reason why Turf Moor is called Turf Moor is because it used to be a horse racing track this is the reason for the "Turf" in Turf Moore.
What is Turf Moor away end capacity?
The away fans at Turf Moor are located in a stand with around 2,500 seats.
Which is the away end at Turf Moor?
Away supporters at Turf Moor are seated in the covered Ladbrokes Stand, which is located at one end of the stadium.
Turf Moor History
Turf Moor is a stadium rooted in history. On the 17th of February 1883, Burnley played their first match there, losing 6-3 to a local team called Rawtenstall. When Prince Albert Victor opened a nearby hospital in 1886, the stadium was also the first football ground visited by a member of the British Royal family.
Burnley Football Club has called Turf Moor home since it first established in 1883. Harry Potts Way, the ground's address, is named after the club's longest-serving manager. It had a little claim to fame in that it was one of the last facilities in England to have a player's tunnel and dressing room behind one of the goals until the 2014-2015 season, when the club was promoted to the Premier League, and they had to be covered in seating.
There were no stands when Turf Moor was first created, and it was just a ground that people congregated around. It wasn't until 1885 that the first stand was constructed. Turf Moor was completely renovated following World War II, at which time four stands were created. In the 1990s, when the Taylor Report mandated that football stadiums be all-seated affairs, the ground was further redeveloped.
Outside Turf Moor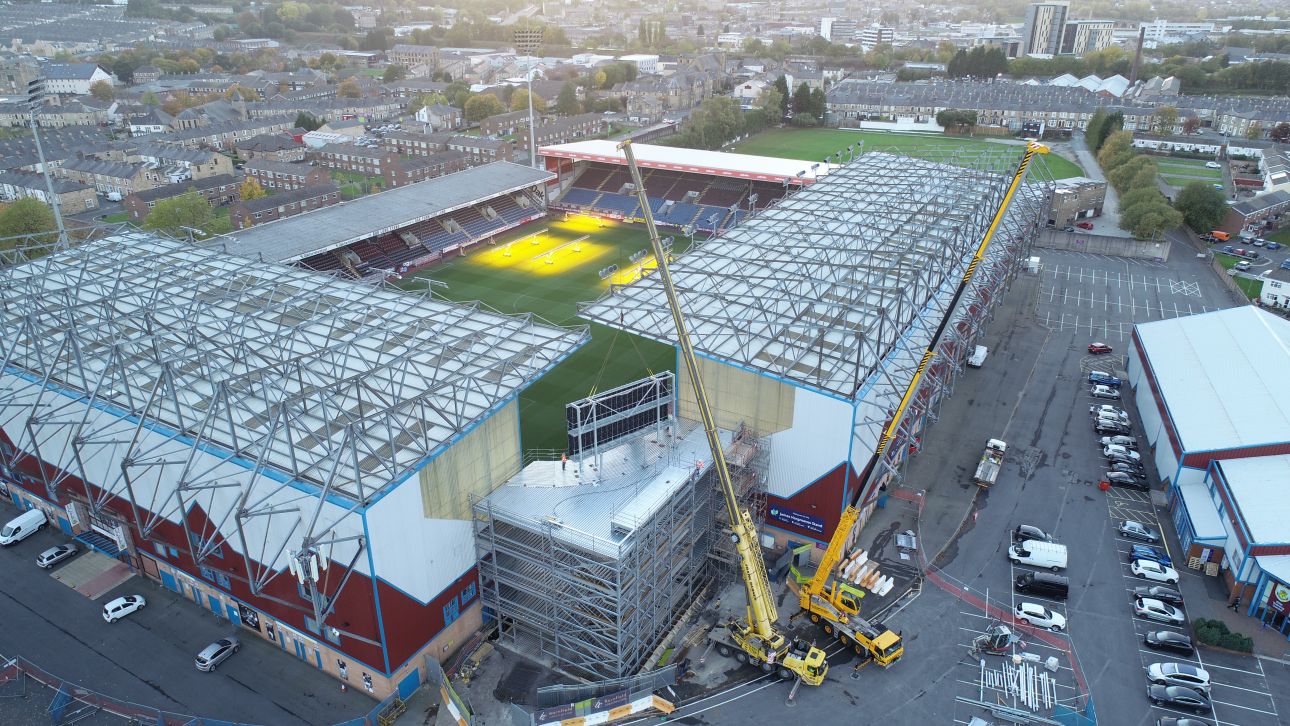 Turf Moor Events
Not only does Turf Moor have some amazing match days but Turf Moor can accommodate an intimate dinner party for ten guests, a formal dinner night for roughly 150 people, or a huge celebration for up to 550 people. The ground can accommodate any type of function that you may expect, including business meetings and, more excitingly, weddings. Why not celebrate your special day with a view of the Turf Moor pitch if you're a passionate Burnley fan?
Turf Moor Stadium Tour Video
Turf Moor Wikipedia
Summary Of Turf Moor
Burnley Football Club owns Turf Moor. This stadium holds a great atmosphere for fans on match days, although this doesn't mean you need to be a Burnley fan to visit this stadium.
Turf moor offers an amazing tour to let everybody experience the brilliant feeling when being stood in the stands. This is definitely something else to add to your bucket list.
Burnley Twitter
Other Premier League Grounds