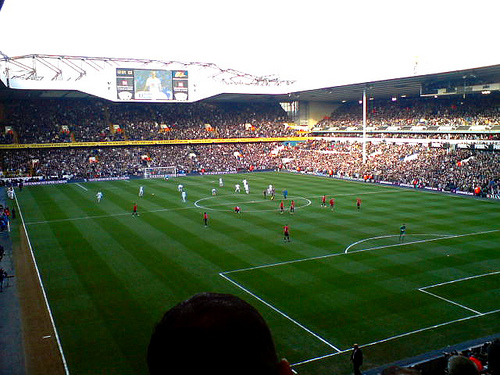 White Hart Lane is an all-seater stadium, with a capacity of just over 36,000. It is the home ground of Tottenham Hotspur (or Spurs as they are commonly known).
The old West Stand was demolished in November 1980 and the present West Stand officially opened on February 6, 1982. 1989 saw the refurbishment of the East Stand, with floodlight pylons replaced by spotlights on East and West Stands.
The lower terraces of East and South Stands were replaced by seats in 1992 and the lower North terrace soon after. A South Stand re-development was completed in March 1995, increasing the capacity of the stadium to just over 33,000.
A new upper tier was added to the Paxton Road Members Stand at the end of the 1997/8 season. This increased ground capacity to approximately 36,240. Away fans are housed in one corner of the ground, in both upper and lower tiers of the South (Park Lane) & West Stands. A copper cockerel (the club mascot) keeps an eye on proceedings from the roof of the East Stand. A unique feature of the ground is the two Jumbotron video screens, built into the stadium roof above each penalty area.
Find out more about White Hart Lane:
Tottenham Stadium Key Facts
| Stadium | Key Facts |
| --- | --- |
| Capacity | 36,284 |
| Address | 782 High Rd, London N17 0BX |
| Telephone | 0844 499 5000 |
| Fax | 020 8365 5005 |
| Ticket Office | 0344 844 0102* |
| Rival Club | Arsenal FC |
| Pitch Size | 100 × 67 metres |
| Pitch Type | Desso GrassMaster |
| Year Ground Opened | 4 September 1899 |
| Record Attendance | 75,038 |
| Club Name | Tottenham Hotspur F.C. |
| Rival Club | Arsenal FC |
| Official Website | https://www.tottenhamhotspur.com/ |
| Facebook | Tottenham Facebook |
| Club Nickname | Spurs |
| Construction Cost | £100,050 |
| Owner | Tottenham Hotspur F.C. |
| Coordinates | 51.6032° N, 0.0657° W |
How to Get to White Hart Lane
The ways to get to White Hart Lane are:
Getting To White Hart Lane By Road
The White Hart Lane Stadium is situated in Bill Nicholson Way, 748 High Road, Tottenham, London N17 0AP.
Fans driving from the North should follow the M6, merging onto the M1. Exit the M1 at junction 6a, onto the M25 towards Dartford. Leave the M25 at junction 25, taking the A10 towards Hatfield / Enfield. Take the third exit at the roundabout onto Great Cambridge Road, towards Enfield / London (C) / London (N). Follow the A10 for a further 6 miles before turning left into White Hart Lane. Take the second exit (Creighton Road) at the roundabout, turning right onto the A1010 after some 300 yards. Bill Nicholson Way is an immediate left turn.
From the South, the M23 is recommended. Exit at junction 8, taking the M25 exit towards M4 / M1. Follow signage for Westerham / Dartford / Maidstone, merging onto the M25. Exit at junction 5, towards Bromley. Re-merge with the M25, following signage for Dagenham / A282. Exit at junction 27 onto the M11 towards London (N.E.). Take the N Circular / A406 (W) exit towards A10 / A12 / A13 / A1 / A503. Merge onto the A406 and take the Edmonton / A1010 / Tottenham exit. Merge onto Sterling Way, turning left at Fore Street. Bill Nicholson Way is on the left.
Getting To White Hart Lane By Rail
White Hart Lane station, which is five minutes walk from the stadium, joins the Victoria Line tube service via Seven Sisters. Both Seven Sisters and Tottenham Hale station, also on the Victoria Line, are within a 20 minute walk or short taxi ride of White Hart Lane.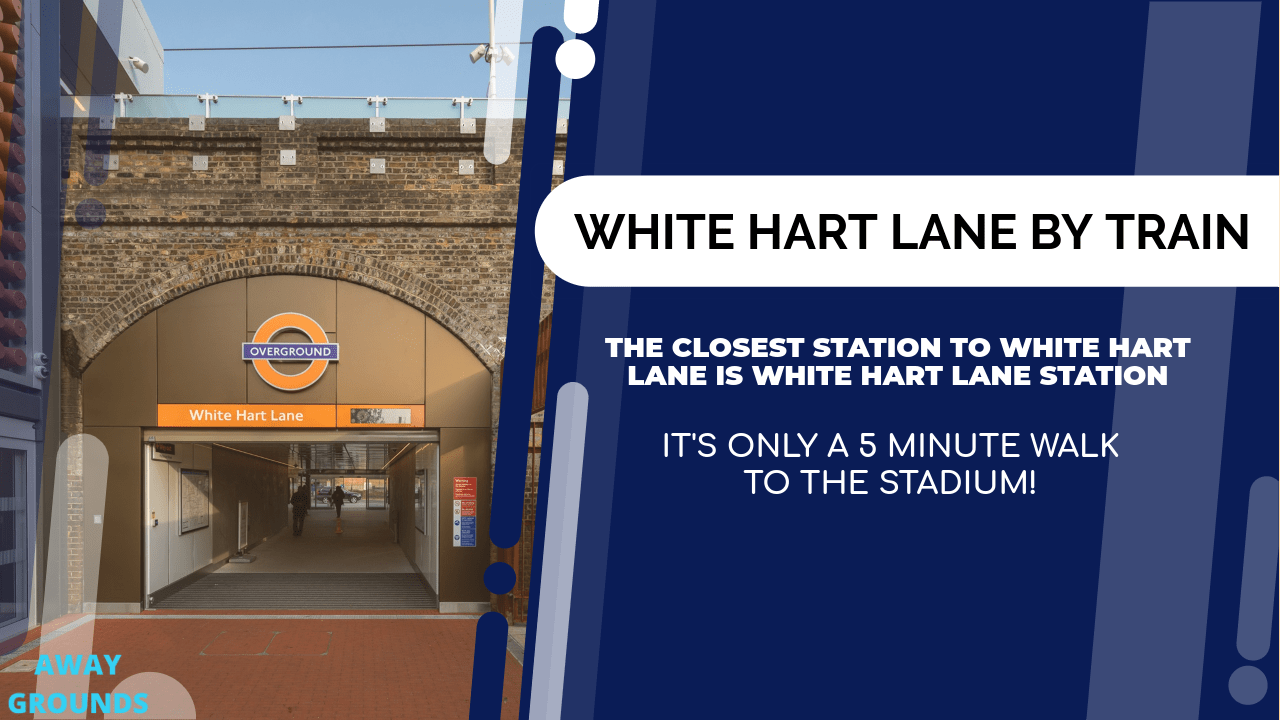 Both stations connect with Liverpool Street station. Click here to check the current train timetables
Getting To White Hart Lane By Air
Stansted Airport is within a 30-minute train journey of Tottenham Hale. There are several taxi companies in London that can take you to and from the stadium. You can always prebook a private hire taxi, or hail a black cab on any highway.
Calling all London Taxi Companies – Why not advertise your company here?.
White Hart Lane Map
Below is a map of White Hart Lane:
Where to Park at White Hart Lane?
Matchday parking regulations operate near White Hart Lane preventing on-street parking in the controlled zone for non-residents from noon to 16.30 at weekends and 17.00 to 20.30 on weekdays. Some local schools offer reasonably priced parking until 18.00. A recommended alternative is to leave the North Circular Road at junction 10, heading towards London. Turn left at the traffic lights, passing the hospital.
For later arrivals, parking near the hospital is OK, otherwise, turn right into Pretario Road and park before reaching the large Halls furniture factory on the right. This area, which is about a 10-minute walk to the stadium is in the Borough of Enfield, hence parking restrictions do not apply.
Getting White Hart Lane Tickets
Getting tickets for football games can become stressful after trying to find a legit website to purchase them off. The safest option which we recommend is to buy your tickets from the official Spurs website.
Click here to find the match tickets you are looking for.
White Hart Lane Seating Map
Below is a Tottenham Hotspur stadium seating plan: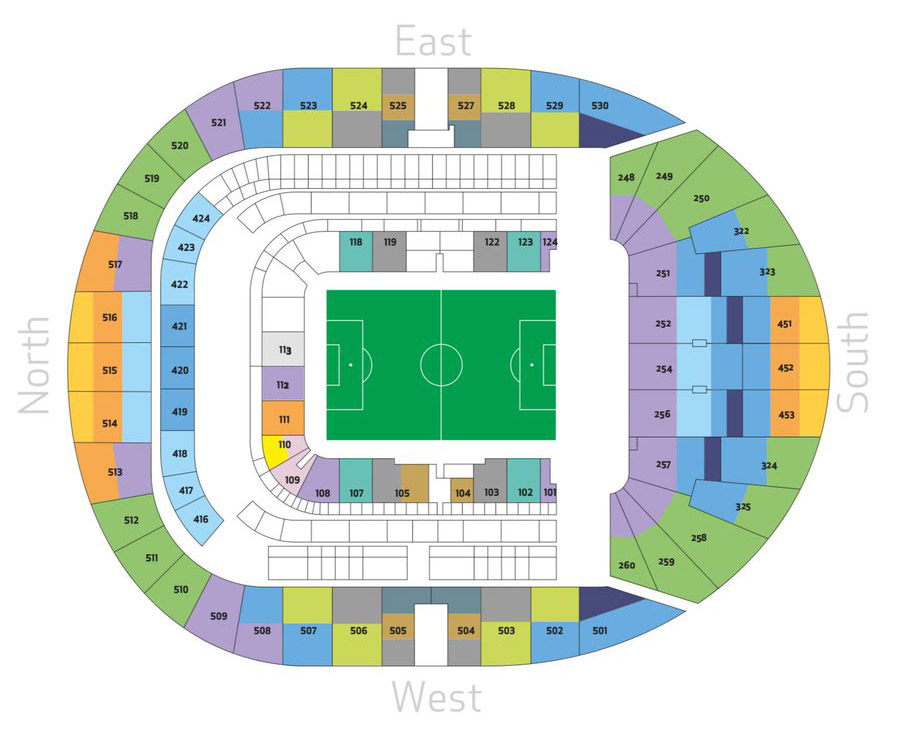 Away Friendly Pubs near White Hart Lane
The choice of pubs for away fans near White Hart Lane is somewhat limited. Favourite Tottenham away pub options include The Haringey Irish club on Pretoria Road, opposite White Hart Lane station, which has been recommended by a number of visiting fans, as has the Three Compasses, located to the rear of Middlesex University and within a 5-minute walk of the ground.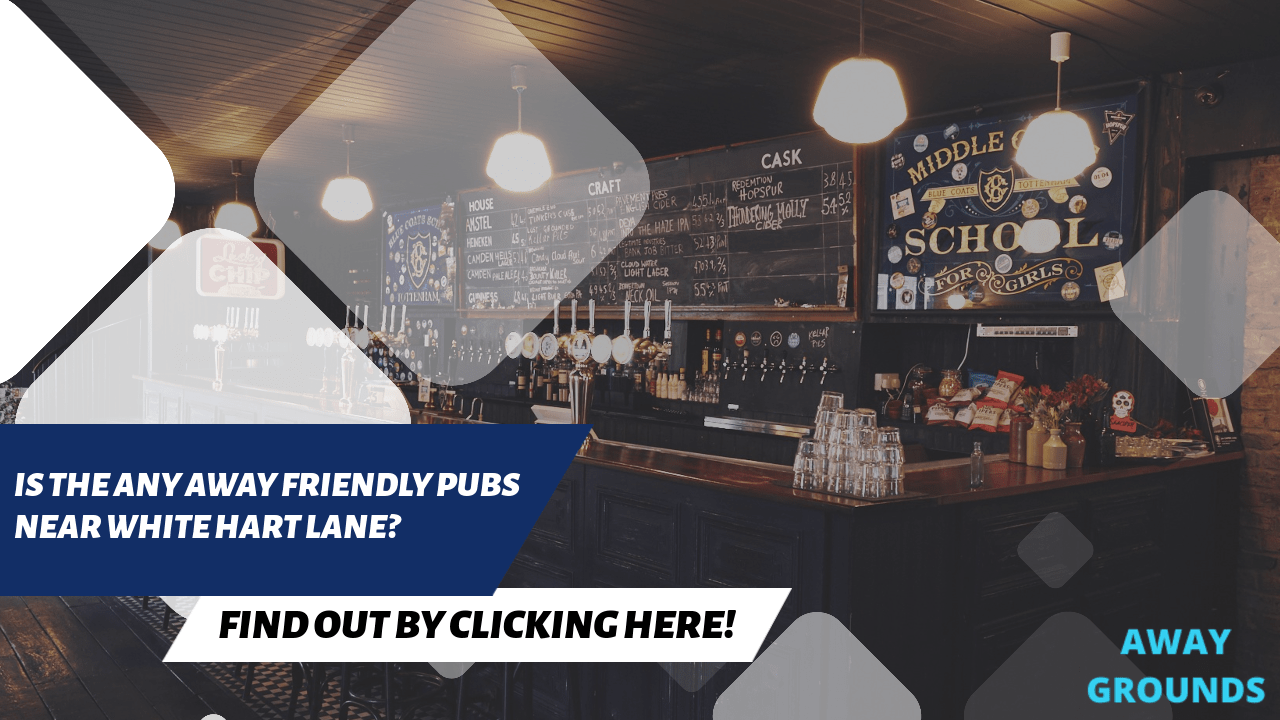 A recommended alternative is a drink in Central London, followed by a train ride to White Hart Lane station. There is a Wetherspoons at Liverpool Street Station. For those undertaking the walk from Seven Sisters tube station, there are a number of away friendly pubs en route to the stadium.
Hotels near White Hart Lane
Hotels in the White Hart Lane area which have received favourable guest reviews seem a little limited. However, the Express By Holiday Inn London, Chingford, Walthamstow Avenue, Waltham Forest, London E4 8ST has received improved reviews from visiting fans of late. A modern hotel, with air-conditioned rooms, it provides a warm welcome, value-for-money and is just over 2 miles from White Hart Lane. Free on-site parking is available.
A little further afield, some 7 miles from White Hart Lane, is the Marriott West India Quay Hotel, 22 Hertsmere Road, London, E14 4ED. It is a 5-star hotel and charges accordingly but has received rave reviews from visiting guests with regard to quality and available facilities. Situated in the vibrant Canary Wharf district, it provides easy access to excellent transport links.
What have other Away Fans said about their trip to White Hart Lane?
The atmosphere inside the White Hart Lane stadium is reported as generally good, though several visiting fans have advised caution around the ground, keeping colours covered. Fans with tickets for the upper tiers have complained of the arduous climb required to reach the away section. However, there have been no complaints as to the quality of the seats, with plenty of legroom and an excellent view of play.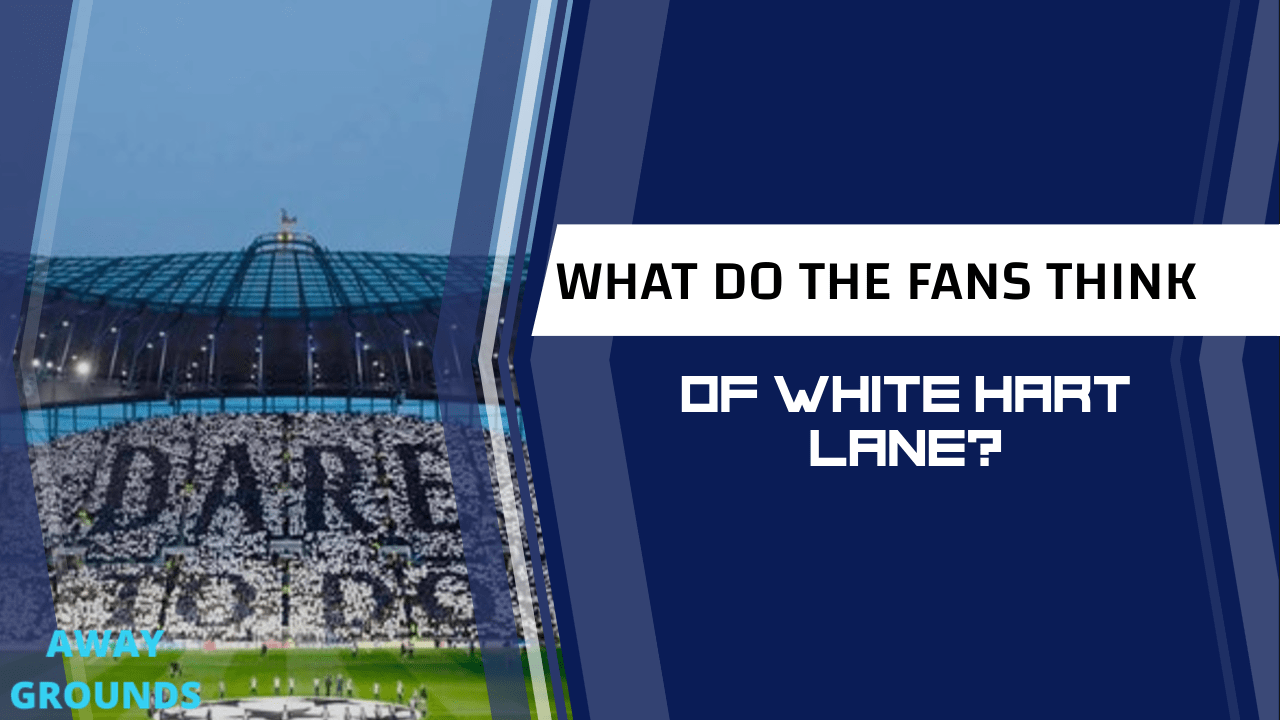 Generally, facilities are reported as above average. Another reported downside is little space between rival fans. There is plenty of banter between the two, but this can escalate to unpleasant exchanges and the stewards take a tough line with away fans.
Tottenham Hotspur Stadium Reviews
Quite possibly the best football stadium at the moment. I took the tour and the infrastructure is immaculate. Everything is awesome, maybe except Tottenham's roster, but that's another story.
Highly recommended for fans of football and modern architecture.
The stadium tour was fantastic. I went with my 8 year old son and we both had a great time. Ryan who hosted our tour was very knowledgable and gave us enough time to look and take photos. Well worth a trip for any Spurs fan. Great to see other parts of the stadium that you don't get to see on match day including changing rooms, directors box etc.
White Hart Lane History
Tottenham Hotspur's home for 118 years was White Hart Lane, which was demolished in 2017 to make way for a brand new stadium.
Spurs moved to White Hart Lane in 1899 after outgrowing their previous home. They rented the new location from a brewery and transported a few portable stands from the previous location.
Spurs and Notts County played in the first match at White Hart Lane on September 4, 1899. (4-1).
In the six years that followed, the stadium was rapidly enlarged, first with a covered main stand and later with wooden and banked terraces, with a capacity of around 40,000 by 1905.
In the following decade, redevelopments began with the hiring of Archibald Leitch to design a new main stand, followed by the construction of a new covered East Stand a few years later. The stadium's rectangular shape was achieved as a result of this, and its capacity was expanded to around 50,000 people.
Two new covered terraces were built at both ends of White Hart Lane in the early 1920s, considerably expanding the street. The East Stand was expanded and renovated in 1934, giving it a capacity of 80,000 people.
For the next few decades, the stadium remained virtually untouched. From the 1960s onwards, capacity began to decrease as parts of the terraces were converted into seating spaces, while additional seats were produced by connecting the West Stand to both ends.
In 1980, the old West End was removed, and in 1982, a new all-seater stand was built in its stead. In 1989, the East Stand was completely restored, followed by additional renovations and the conversion of the stadium to an all-seater in the early 1990s.
The stadium's latest major renovation occurred in 1998 when a second layer was added to the Paxton Road Members Stand.
Spurs began looking into several options to establish a larger home, including enlarging White Hart Lane, building a new stadium in its place, and even moving to the London Olympic Stadium, but White Hart Lane remained a relatively tiny ground.
In the end, the club decided to replace White Hart Lane with a new 62,000-seater stadium. The plans for the new arena were first proposed in 2008, but due to several delays, construction did not begin until 2016.
Spurs moved into their new stadium near the end of the 2018-19 season, after spending more than a season at Wembley Stadium.
Outside White Hart Lane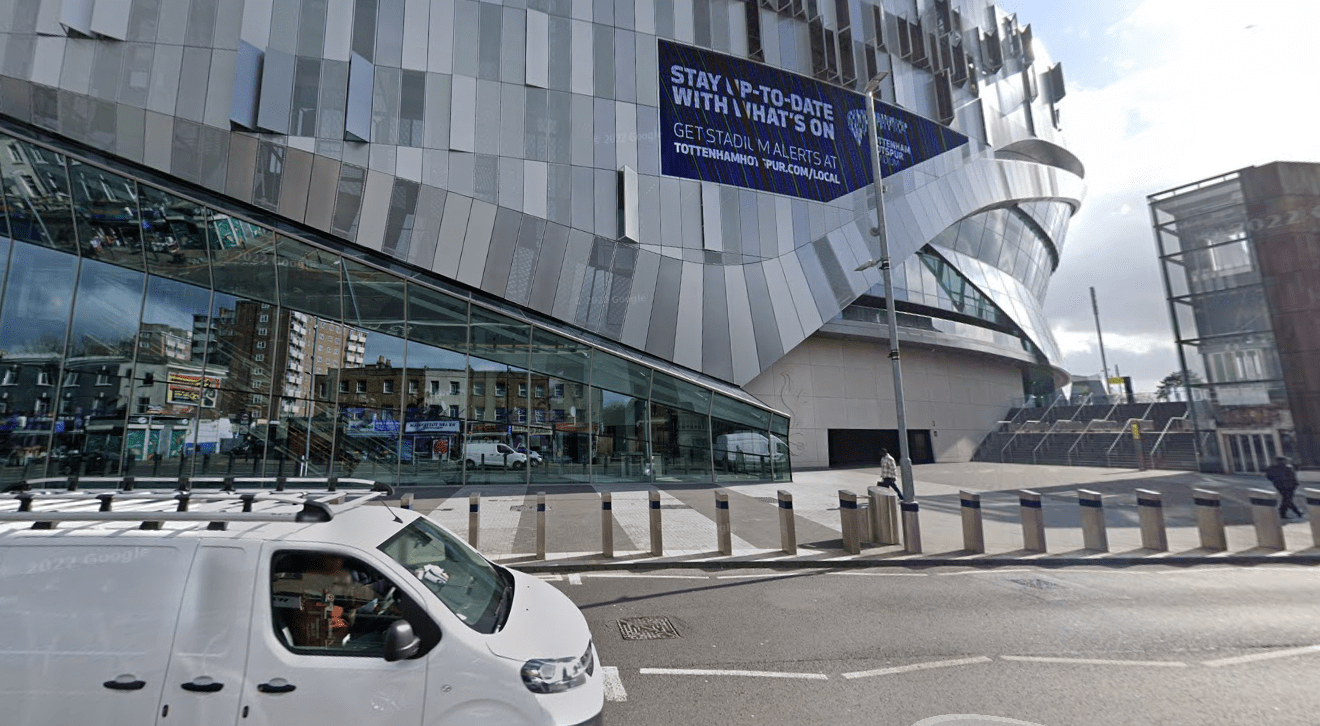 Tottenham Hotspur Stadium Events
The stadium will be used for a variety of purposes other than association football, including hosting NFL games and other events.
It has the capacity to accommodate up to 16 non-association football events per year, with at least two of those being NFL games, as well as up to six music concerts.
Tottenham Hotspur Stadium Tour
Below is a video of a Tottenham Hotspur tour:
Tottenham Hotspurs Wikipedia
Below is the Tottenham wiki page:
Tottenham Hotspurs Twitter
Check out Spurs Twitter feed:
Tottenham Hotspur Stadium FAQ's
How long does Spurs stadium tour take?
The Spurs Stadium tour lasts about 90 minutes.
When did the Tottenham Hotspur Stadium open?
The Tottenham Hotspur Stadium opened on the 3rd of April 2019.
What is the capacity of the Tottenham Hotspur Stadium?
The capacity of Tottenham Hotspur Stadium is 62,850.
What is White Hart Lane away end capacity?
The Tottenham Hotspur Stadium has a capacity of roughly 3000 away fans.
Which is the away end at White Hart Lane?
Away spectators are situated in the bottom tier in the North-East corner of the Tottenham Hotspur Stadium.
Summary of White Hart Lane
Tottenham Hotspur Stadium is England's third-biggest football stadium and London's largest club stadium.
The multi-award-winning Tottenham Hotspur Stadium is a new milestone in global stadium construction, providing one of the best fan experiences in the world.
For both Tottenham and London, the stadium has become a major landmark.
You should visit the stadium soon to be a part of the amazing experience.
Other Premier League Grounds