As one of the most popular UK-based betting exchanges, Smarkets has drawn thousands of players to its site. The platform claims to offer high-quality odds, several payment methods, resources for education on gambling, and a range of sports categories, including football, basketball, baseball, horse racing, hockey, and more.
In addition, thanks to Smarkets' commitment to transparency and safety, your information and money should be secure on the site. In fact, the betting exchange has all the necessary licensing to prove that it is operating legally and with your best interests in mind.
However, if you are still not sure whether you should try your luck with your hard-earned money on Smarkets, our review will help you make up your mind. With all the information about the platform at your fingertips, you should be able to make an informed decision.
What is Smarkets?
Smarkets is a betting exchange platform based in the UK that allows punters to place and lay bets against each other in major sports markets. Whether it is Smarkets football, basketball, tennis, horse racing, golf, or any other sport, the site offers high-quality odds, numerous betting options, and an excellent Smarkets bonus upon signing up.
And since the platform hosts exchange betting, all the odds are set up by you and your fellow players rather than a bookie. That gives them more authenticity and also offers room for numerous betting strategies that would not be possible otherwise.
Is Smarkets Sports Safe?
With licences from both the UK Gambling Commission and Malta Gaming Authority, Smarkets is undoubtedly a safe betting exchange platform. In fact, since its inception in 2008, the betting site has processed over £5 billion in bets.
In addition, it has received backing from large European investors such as Passion Capital, Deutsche Telekom, and Stefan Glaezner of lastfm. That provides additional assurance that the online betting site is legitimate.
To obtain the necessary licences and build its good reputation, Smarkets betting exchange had to prove that it has no criminal connections and that it is able to provide the offered services. What is more, Smarkets guarantees that it keeps player funds separate from operating funds and encourages only responsible gambling.
Additionally, all transactions made on the site are protected by the Secure Socket Layer and Transport Layer Security, and UK punters can elect to use two-factor authentication for extra security.
Smarkets Sign Up Offer
Smarkets betting exchange offers a £10 bonus to all first-time players upon signing up. However, there are a few conditions you must meet before you can qualify.
Smarkets Football 0% COMMISSION UNTIL 2024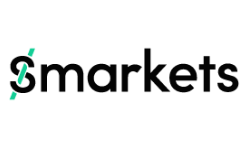 Use code COMMFREE to trade with 0% commission until Dec 31st 2023. Min. £10/€10 first deposit using Debit Card or Instant Banking. Full T&Cs apply.18+. BeGambleAware.org.
Full T&C's Apply
First of all, you must make a qualifying deposit of £20 or more as your first deposit after registration. Then, if you happen to lose one of your first five wagers, you will be reimbursed up to £10 on the loss. Since the bonus is valid for losses of five wagers, you could make up to £50, which you can use on other bets within your first three months.
Once your Smarkets bonus has been deposited into your account, you can use it in any market of your choosing, whether it is sports, politics, or current affairs. That is left entirely to your discretion.
Keep in mind that you will not receive the bonus if you win all your bets. However, in that case, you will be able to collect profits on your winning bets anyway, so there is nothing to worry about.
There is one more condition to consider — deposits made by PayPal, Skrill, Neteller, or a prepaid card are not eligible for winning the bonus. So, make sure to use one of the supported methods of payment to take advantage of the £10 bonus. Also, remember that the offer is limited to one per individual, email address, family, shared computer, and same payment account number.
Ongoing Promotions at Smarkets
Aside from the sign-up bonus explained above, Smarkets has another special offer for newcomers who enter promo code COMMFREE during registration. Eligible accounts will then be able to take advantage of a 0% commission rate on the bets settled within 60 days from the first deposit. For more information on this offer and its terms and conditions, visit the official Smarkets page.
For other ongoing promotions at Smarkets, make sure to keep up with the Bonus & Promotions page. Smarkets frequently update it with new offers, giving you a chance to win betting credit, vouchers, and lower commission rates. Eligibility rules for each offer differ, so do not forget to thoroughly read the listed terms and conditions too.
Smarkets Sports Expert Analysis
To improve its users' chances of a positive outcome, Smarkets has introduced a news section on its website. There, experts on football, horse racing betting, golf, and more, gather to share their insights about the market, betting tips, previews, and other key data.
In addition to well-known industry experts, Smarkets professionals also share their opinions in this section. So, to improve your odds and gain a deeper understanding of the market, make sure to regularly check the site for new articles.
Which Sports Can I Bet on at Smarkets?
Smarkets' main selling point is the number of available sports betting options. Naturally, football betting is the most popular type, but fans of more niche sports are also welcome. Currently, Smarkets allows players to bet on the following categories:
American football
Tennis
Horse racing
Table tennis
Ice hockey
Rugby
Handball
Golf
Cycling
Cricket
Volleyball
Baseball
Basketball
Boxing
Darts
Aside from the sports categories, punters can place their bets on events from the world of news and politics and current affairs. That is precisely what makes it one of the most popular betting markets out there.
Smarkets Betting Odds
As a betting exchange platform, Smarkets does not have a traditional bookmaker to set the odds. Instead, it is a peer-to-peer exchange where players bet against each other, creating their own odds driven by supply and demand. As a result, you will find more competitive odds than those you would encounter on websites with bookies.
Like most betting exchanges, Smarkets allows customers to place a back bet or lay bet. In both cases, the current odds will be displayed in a blue box, and you can choose the betting amount.
To analyse the market and determine your best odds and betting options, examine graphs and statistics Smarkets presents to each user. They can be adjusted to show decimals or percentages, according to your preference.
It is important to note that the platform charges a commission of 2% on net winnings, which is considered an industry low. The commission is lower for Pro Tier players, sitting at 1%. However, to qualify for Pro Tier, you must stake over £1,000,000 a month or place 1,500 bets.
Bet Limits
Although there are no specific betting limits on the Smarkets site, the platform promotes responsible gambling, allowing the customers to set their own deposit limits as soon as they make the account. A set deposit limit can be increased, but only after a buffer period of a week has passed.
UK punters who have registered after 28th February 2023 should keep in mind that a monthly deposit limit of £4999.99 will automatically be applied to their account. The only exception is those who have set a lower limit by themselves.
In addition to the deposit limit, players can set loss and stake limits to control their spending further. To encourage responsibility and safety on the betting exchange platform, Smarkets recommends that each player takes a self-assessment test periodically.
In-Play Betting
Smarkets customers can place bets ahead of time, but they can also use the in-play betting feature. In-play bets are placed during a game as the players observe each team and how their situations unfold.
Then, they can make a more informed betting strategy and increase their chances of winning. And even if they have already placed a bet beforehand, punters can alter or lay off bets. This feature gives room for much greater flexibility while betting.
Additional Features
In addition to regular and in-play betting, you can take advantage of several different betting features available on the website. That way, you can customise your betting strategy to maximise profit and minimise potential losses. Explore some of the following features Smarkets has to offer:
Lay betting — instead of backing whoever you think will win, play the role of a traditional bookmaker and lay bets on the teams or players you believe will lose. As there can be only one winner, your chances of making a profit are higher.
Spread betting — place bets based on the score (depending on the sport, it can be expressed in points, goals, or runs) rather than a simple win or lose outcome. Spread betting allows for greater strategy customisation and better odds.
Accumulator bets — a bet with multiple selections, all of which must be won in order to get a return. This type of betting is one of the most popular betting options, as it is exciting and comes with the highest returns.
Betting on current affairs — although sports betting is the most popular type, Smarkets betting platform does not limit its UK punters to only one market. Instead, you can place bets on current affairs, such as the candidate you expect to win the next election or your favourite Eurovision or X-Factor contestant.
Deposit and Withdrawal Options
Smarkets offers a wide range of payment options to the players, allowing them to deposit and withdraw money as it suits them. You can choose to use bank transfers, credit and debit cards, as well as several eWallets. Regardless of the method you choose, your experience on the platform is sure to be smooth and satisfying. Still, there are some minor differences between the available options, in particular when it comes to the maximum and minimum deposit amounts.
The minimum deposit amount on Smarkets for each of the available payment methods is the following:
Bank transfer: £10
Visa and Mastercard debit and credit cards: £10
Maestro card: £10
Neteller and Skrill: £10
PayPal: £20
Trustly: £40
When it comes to maximum deposit amounts, it is important to note that some payment methods do not have any limits. However, here are the amounts for those that do:
Neteller and Skrill: £5,000 a day
PayPal: £200 a day
As a punter, you should also be aware of the minimum, and maximum withdrawal amounts for different payment options. You will find everything you need to know about Smarkets withdrawals below:
Bank transfer: minimum £10 for instant, minimum £20 for regular, no maximum
Visa, Mastercard, and Maestro credit and debit cards: minimum £10, no maximum
Neteller and Skrill: minimum £10, no maximum
PayPal: minimum £10, maximum £5,500
Customer Service
Smarkets betting exchange provides excellent customer support, available 24/7 through an online live chat. For longer queries, you can contact Smarkets using the official email ([email protected]) or call +44 207 617 7413 to speak to a representative between 9 am and 12 am (GMT). Additionally, Smarkets can easily be reached via Twitter (@SmarketsTech), making it one of the most customer-friendly sports betting sites out there, with the staff always on hand to help with any issues you might be experiencing.
How to Get Started at Smarkets Sports Betting Exchange
To start betting on the Smarkets trade website and acquire your first winning bet on a football match, horse racing, or basketball, you must open and set up your account. Luckily, Smarkets is one of the betting sites where that is pretty simple to do, as long as you follow the few simple steps outlined below.
Step 1: Visit the Smarkets Website and Sign Up
To get started with Smarkets betting exchange, you need to create an account on the official website. Visit the sign-up page and enter your email, password, country of residence, and the currency you wish to use. If you have a promotion code, use it here before you continue on to the personal details section.
In the next section, you will have to input your first and last name, as well as your currency and address. You may also choose to enter your phone number, although you are not required to do so in order to proceed.
Once you complete all the forms, your Smarkets account will be created, and you will be able to make your first deposit. If you choose to do so, choose your preferred payment method and enter the required details. Otherwise, you can skip this step and come back later when you are done setting up your account.
Step 2: Verify Your Email Address
Upon creating your account on the betting exchange platform, you will receive a welcoming email with a verification link. Click on it and log into your account to complete the verification and become part of the Smarkets betting community.
Step 3: Verify Your Account
To ensure safety on the platform, Smarkets verifies the identity and address of each account holder before allowing them to place bets. When possible, Smarkets performs these checks electronically. Otherwise, customer support contacts the players via email to ask for proof of address and photo ID.
The following documents classify as proof of ID:
Diving licence with a photo
National ID
Passport
As proof of address, you can submit the following:
Utility bill
Local authority tax bill
Residency certificate issued within last three months
Bank statement issued within last three months
Once your account is verified, you can start making deposits and betting.
Step 4: Make Your First Deposit
To make a deposit, you need to first select one of the available payment methods. If you have not done that when creating your account, click on your Balance, then select Deposit. The available payment methods will be listed, and once you pick your preferred one, follow the on-screen instructions to complete your first deposit.
If you would like to control your spending, setting deposit limits might be a good option. To do that, navigate to Settings and select Limits. On this page, you will be able to set a daily, weekly, or monthly deposit limit and also change an existing one.
If you lower your current limit, the change will be applied immediately. However, if you attempt to increase it, you will be asked to wait for a week and confirm the change once again before it is put into effect.
Smarkets Review FAQs
Why doesn't Smarkets accept eWallets?
Smarkets accepts several eWallets, including PayPal, Skrill, and Neteller. However, keep in mind that you might not be eligible for the sign-up offer or several bonuses on the platform if you use eWallets as your preferred payment method.
How come I can use a credit card for Smarkets betting exchanges?
As any experienced bettor knows, attempting to use credit cards for online gambling can be a hit or a miss. Many online sports markets do not allow credit cards, while some others may include them as one of the viable payment methods, but still have trouble processing payments and withdrawals.
However, you should not run into such problems when betting on Smarkets sportsbook, as the platform is verified, licensed, and completely secure. Currently, the betting site accepts Visa and Mastercard credit cards.
I bet £1 on a spread bet at Smarkets and lost £3! How come?
When betting on a spread, you could lose more than you stake based on the ratio of how much you were wrong. Although spread betting can be a great way to make a profit, it is also a high-risk way of betting.
What is a 'stop loss'?
'Stop loss' is the type of limit you can impose on yourself when gambling to prevent excess spending. Typically, it becomes effective once your losses reach a predetermined amount in a gambling session. Afterwards, you will not be able to bet until the self-imposed restriction is lifted. To activate a 'stop loss' limit, visit your Settings and navigate to Limits, then input the desired amount and confirm the action.
Is Smarkets licensed?
Yes, Smarkets has licences from Malta Gaming Authority and UK Gambling Commission, ensuring the betting platform is safe and compliant with all online gambling regulations.
What is Malta Gaming Authority?
Malta Gaming Authority is a regulatory body that ensures both online and brick-and-mortar sectors of the betting exchange industry operate fairly, legally, and transparently. In addition, it works to prevent corruption, crime, and money laundering and promotes responsibility and the protection of minors.
What are matched bets?
Matched bets involve double betting using free bets and incentives offered by the bookmakers. In simple terms, a player makes an account with two betting exchanges and takes advantage of free bets to back a certain team from one account. Then, on the other betting exchange, the punter needs to lay bet against that same team. In theory, no matter which team wins, the bettor makes a profit, as they have placed a bet free of charge.
Does Smarkets have mobile apps?
The Smarkets app can be downloaded on Android and iOS, allowing the players to quickly and easily access their bets, follow real-time prices, and stay in tune with current sporting events, such as football or horse racing. In other words, the Smarkets app is as functional as the website, the difference being that it can be used on the go.
Is Smarkets user-friendly?
Smarkets offers a user-friendly experience with its sleek website offering statistics, overviews, and upcoming events in top markets. The website comes in three languages — English, Swedish, and Portuguese — and has both light and dark themes. The dark theme is the default and preferred by most players, as its black and green colour scheme is modern and easy on the eyes.
On the left-hand side, players can find a list of betting categories, including various sports events (football, horse racing, basketball, baseball), current affairs, and gaming. Clicking on the desired category takes the users to a related page, allowing them to review the ongoing and future matches and place their bets.
And if you encounter any issues or have questions, you can easily navigate to help resources by clicking on the question mark in the top sidebar. Smarkets has compiled and answered many of the commonly asked questions, giving players access to a wealth of information about the platform, betting types, payment methods, and more. All the articles are neatly organised according to their topics, so you should have no trouble finding precisely the answers you need.
Is Smarkets secure for payments?
As a licensed and verified betting exchange platform with several layers of security in place, Smarkets is perfectly secure for payments. Currently, available payment options include:
Direct bank transfer
Visa credit and debit card
Debit and credit Mastercard
Maestro card
Neteller
Skrill
PayPal
Trustly
Is Smarkets reliable for customer support?
Yes, Smarkets' customer support team is on standby 24/7, ready to answer questions and resolve issues. Aside from the live chat, there are several other avenues players can use for their enquiries. The official email and telephone number are excellent ways to get in touch, or you can contact the company using its Twitter account.
How long does it take to receive the money from Smarkets?
Although Smarkets processes all withdrawals instantly, the money will not be deposited into your account or eWallet immediately. That is because each of the payment methods has its own processing time that largely impacts the withdrawal. Here are the withdrawal periods for each of the available options:
Instant bank transfer: 12 hours
Debit and credit cards of all kinds: 1-6 business days
Neteller, Skrill, Trustly, and PayPal: 1-2 business days
Bank transfer: 5-10 business days
Additionally, if you attempt to withdraw funds more than four times in a week using an available eWallet option, the fourth and following withdrawals will need 24 hours to process.
Is Smarkets legal or a scam?
Verified by the UK Gambling Commission and Malta Gaming Authority, Smarkets is certainly not a scam, and your information and payments will be safe on the website.
Smarkets Summary
Having assessed Smarkets in-depth, we can confidently say it is not a surprise it ranks high among available betting exchanges. The platform's commitment to transparency, superb customer support, sleek website design, and simple interface make it an attractive option for both veteran punters and beginners.
In addition, a variety of offered categories would please any bettor, whether their preference lies in football, horse racing, basketball, baseball, or other, more niche sports. Even if you are not a sports fan, politics and current affairs are great alternatives that are guaranteed to bring you a few bet wins.
There are, of course, areas to be improved — such as the somewhat lacking offer when it comes to bonuses and promotions. However, thanks to the platform's otherwise stellar performance, we can still highly recommend it despite its flaws. Besides, Smarkets seems to be working on this front, too, as new offers are starting to pop up periodically.
Other Spread Betting Sites
If you have enjoyed our Smarkets review you should also check out these other spread betting websites that we also recommend: