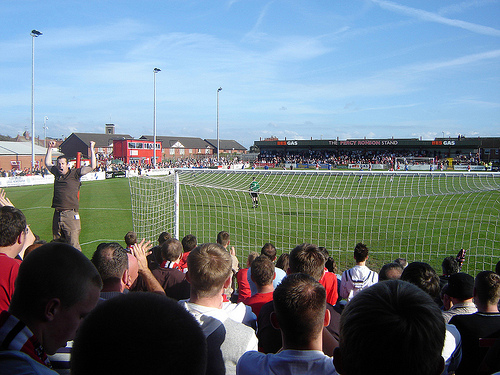 Highbury Stadium has a capacity of 5,000, with seating for 2,500 and is the home ground to Fleetwood Town FC. It has been entirely reconstructed since 2007, to keep pace with the Cod Army's spectacular achievements, resulting in 5 successful promotion campaigns in 7 seasons. The most recent addition (March 2011) is the attractive Parkside Stand, a single-tiered, all-seater affair, with a capacity of 2,000 and a build cost of some £4 million.
On the opposite side of the pitch, the small Highbury Stand, dating from 2008, offers seating for about 500 fans. At the home end, the Memorial Stand is a covered terrace with a capacity for nearly 1,500 fans. The covered Percy Ronson terrace, at the opposite end of the ground, can house some 800 visiting supporters. As a relatively recent construction (2007) it is devoid of supporting pillars and offers an excellent view of play. Given sufficient demand, 300+ seats in the Parkside Stand may be given over to traveling supporters. The facilities are superior to those of the terrace, with alcoholic drinks available and large-screen TVs showing Sky Sports.
Find out more about Highbury Stadium:
Stadium Key Facts
| Stadium | Key Facts |
| --- | --- |
| Capacity | 5,327 |
| Address | Park Ave, Fleetwood FY7 6SP |
| Telephone | 01253 775080 |
| Fax | 01253 775081 |
| Ticket Office | 01253 775080 |
| Rival Club | Fylde Coast Derby |
| Pitch Size | 115 × 71 yards |
| Pitch Type | Grass |
| Year Ground Opened | 1939 |
| Record Attendance | 6,150 |
| Club Name | Fleetwood Town F.C. |
| Official Website | https://www.fleetwoodtownfc.com/ |
| Facebook Page | Facebook |
| Club Nickname | The Cod Army |
| Construction Cost | 2 Million |
| Owner | Wyre Borough Council |
| Coordinates | 53.9167° N, 3.0248° W |
How to Get to Highbury Stadium
The ways to get to Highbury Stadium:
Getting To Highbury Stadium By Road
The Highbury Stadium location is Highbury Stadium, Park Avenue, Fleetwood, FY7 6TX.
Take the M55 towards Blackpool after exiting the M6 at Junction 32. Then exit the M55 at Junction 3 and merge onto the A585 in the direction of Fleetwood. Continue straight ahead, but take the first left after the roundabout into Copse Road. After passing Fleetwood Fire Station, make a left on to Radcliffe Road, as if returning to your starting point. Take the next right onto Stanley Road, and the stadium will be on the left at the bottom of the road.
Getting To Highbury Stadium By Rail
Blackpool North is the most convenient mainline station. Because the station is 7.5 miles from the football stadium, you'll need to include one of the other options to finish your journey.
Getting To Highbury Stadium By Tram
Every 20 minutes, trams run north to Fleetwood, passing near to the stadium and costing £2.50. The journey takes about 40 minutes.
Getting To Highbury Stadium By Taxis
For around £18 you can get a black cab from Blackpool Station to the ground, which can hold up to six passengers. Travel time is approximately 25 minutes.
Some popular taxi firms in Fleetwood are listed below:
Fleetwood Cabs Ltd
Fleetwood Taxis Ltf
Fleetwood Private Hire
Highbury Stadium Map
Below is a map of Highbury Stadium:
Where to Park At Highbury Stadium?
There is no car park at Highbury Stadium, although there is plenty of on-street parking around the area however this isn't something to rely on for match days as it gets very busy.
We advise that you book a space in one of the car parks local to the stadium. To do this, click here.
Tickets For Highbury Stadium
Fleetwood Town FC uses a ticket entry system that requires payment on the day of the event. As a result, we recommend that you check the club's website for complete ticket information prior to each Highbury match you plan to attend.
You can also order over the phone and pick them up or have them delivered by calling 01253 775080.
Highbury Stadium Seating Plan
Below is the Highbury Stadium seating plan: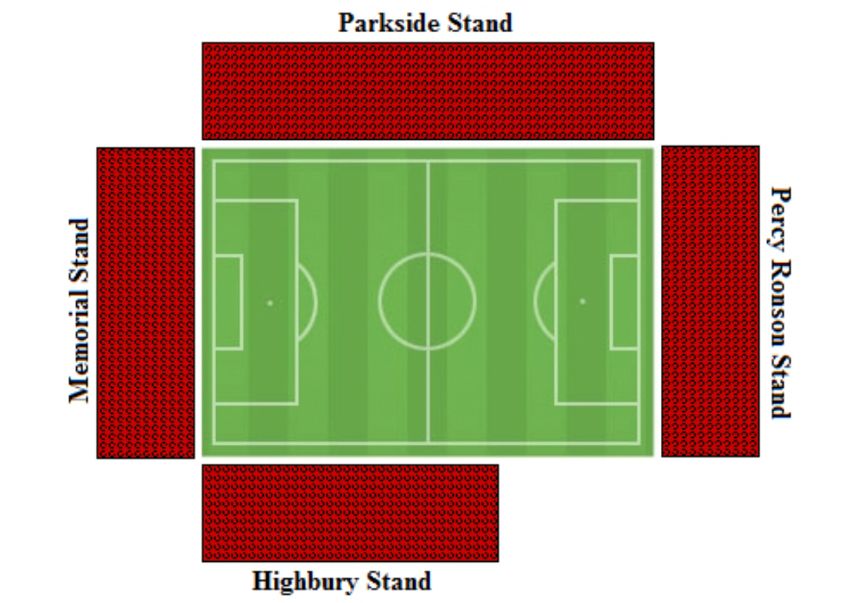 Away Friendly Pubs Near Highbury Stadium
The Strawberry Gardens is a fine example of a classic pub in Fleetwood, whereas The Thomas Drummond symbolises the local Wetherspoon. Both pubs are only a 10-15 minute walk from the ground.
There are many more away friendly pubs near the stadium although these are the closest and best rated.
Hotels Near Highbury Stadium
Briardene Hotel is the top-rated hotel near Fleetwood Town's Highbury Stadium. The hotel is about 250 yards from Cleveleys Beach, and most of the rooms have beautiful views of the Irish Sea.
Briardene Hotel is 3.1 miles from the Stadium which isn't the closest but also not the furthest.
If the biggest advantage you want from the hotel is the distance to the stadium then the New Shades Hotel is the place for you.
This hotel is only a 9-minute walk to the Stadium and has excellent reviews.
Highbury Stadium FAQ's
Why is Fleetwood Town's ground called Highbury?
Fleetwood Town's stadium takes its name from nearby Highbury Avenue, where it is located.
What league are Fleetwood Town FC in?
Fleetwood Town FC are in the EFL League 1.
What is Fleetwood Town FC's nickname?
The nickname for Fleetwood Town FC is 'The Cod Army' from Lancashire's coastal town's fishing industry.
What is the away end capacity at Highbury Stadium Fleetwood?
The maximum amount of away fans that can be seated in the Highbury Stadium in Fleetwood is 831.
What Have Other Away Fans said About Their Trip to Highbury Stadium?
The majority of away supporters enjoyed their visit to Highbury Stadium. Many have commented on the positive environment within the stadium. A lot of visiting fans were impressed by the stadium's general appearance, both exterior and within, praising its clean appearance.
Where do away fans sit at Highbury Stadium?
Away fans visiting Highbury are usually housed on the Percy Ronson terrace, which sits 831 people at one end of the stadium. This covered terrace, which was built-in 2007, is free from supporting pillars and provides a good view of the game.
Highbury Stadium History
Highbury Stadium hosted its first football match in 1939, although due to the outbreak of World War II and the subsequent stoppage of all football, it took seven years for the stadium to host its second match.
After the war, the stadium hosted speedway races on a regular basis, which was later seen in the enormous gap between the Main Stand and the pitch.
Highbury Stadium has remained a modest stadium over the years, with a small Main Stand covering roughly a third of the side and small terraces on the other sides.
In 2007, Fleetwood Town began a major rehabilitation project that included the construction of four new stands. New stands were added behind the goals and on one of the sides in 2007 and 2008.
The refurbishment was completed in 2011 with the completion of a new 2,000-seater main stand.
Highbury Stadium Reviews
Below are the reviews for Highbury Stadium:
We had our work Christmas do here and it was a brilliant night. Food was superb and the atmosphere was fantastic. Would highly recommend.
Great food and amazing service, would highly recommend for you families. It was an added to see that children could use the football pitch and park to play
Highbury Stadium Events
Highbury Stadium is known for its popular party evenings, which are held in the luxurious Parkside Suite at Highbury Stadium. Throughout the year, the Club offers themed party night packages, including their famous Christmas party nights.
Make your wedding day at Highbury extra memorable with one of their wedding packages. Every element of your special day will be attended to by a dedicated experienced event manager. Throughout the year, all-inclusive packages are offered.
Are you eager to host an event? To discuss your next occasion, call 01253 775080 option 3 or send an email to [email protected].
Highbury Stadium Tour Video
Highbury Stadium Wikipedia
Outside Highbury Stadium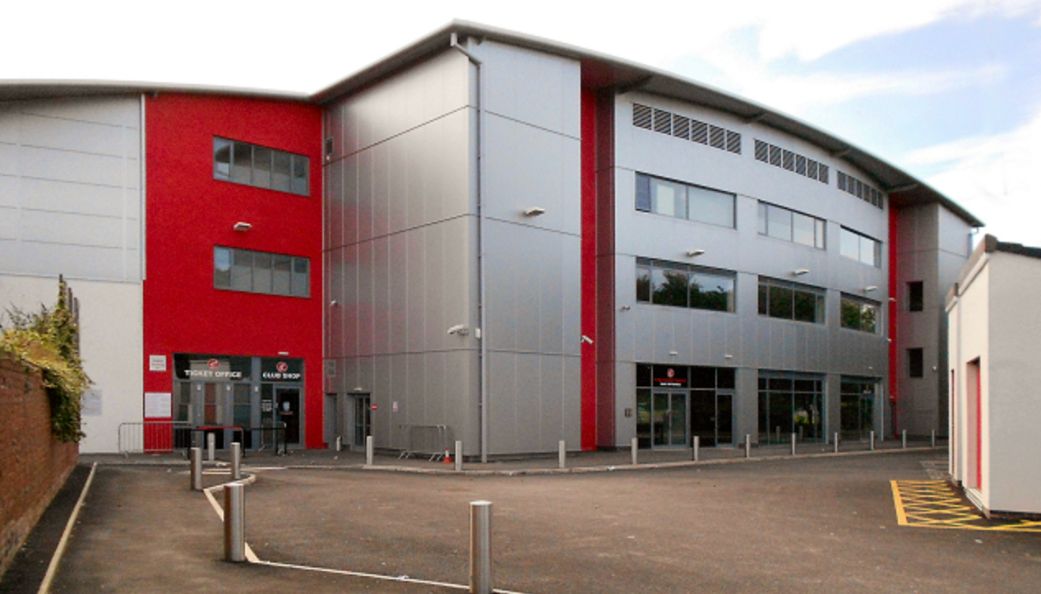 Fleetwood Town FC Twitter
Summary of Highbury Stadium
Wyre District owns this beautiful and unique stadium. Fleetwood Town Football Club's home ground. It first opened in September 1939 and has a seating capacity of 5,327 people.
Due to its fascinating history, Highbury Stadium is a popular choice for events such as weddings and Christmas parties.