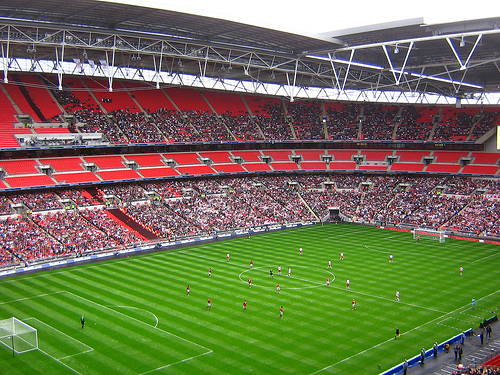 Wembley is the home of the England national team, as well as the venue for the finals of domestic cup competitions and League playoffs.
The new stadium was due to open in August 2005, but various delays meant it was not completed until March 2007, costing £737 million to construct. The most striking external feature of the stadium is "The Arch," towering some 133 metres above it. Actually a load-bearing frame for the stands' roofs, constructed of white tubular steel, it can be seen right across London and is particularly spectacular at night when lit.
bobby moore statue wembleyThe stadium is a totally enclosed, three-tiered structure with the sides being slightly larger than the ends. These sides are semi-circular in construction. The side stands have large upper and lower tiers. A smaller middle tier overhangs the lower tier, with executive boxes at its rear. The stadium has an all-seater capacity of 90,000. One-third of the roof is moveable to protect spectators in inclement weather.
A bronze statue of (thus far) Englands only World Cup winning skipper, Bobby Moore, overlooks Wembley Way.
How to get to Wembley Stadium
By Road
Wembley Stadium is located in Empire Way, Wembley, Middlesex HA9 0DS.
The stadium is just off the A406 North Circular Road and is well signed from both the M1 and M40 motorways. However, Wembley is definitely a "public transport" venue, due to the large volumes of traffic in the area (see Where to Park? below).
By Rail
Wembley Park tube station, which is served by both the Jubilee and Metropolitan Lines, is about a 10-minute walk from the stadium.
Wembley Central station is slightly further from the stadium, but is served by both tube (Bakerloo Line) and overland trains (from London Euston). Click here to check the current train timetables
By Air
Heathrow International is the most convenient airport. Air travellers should take the Heathrow Express to London Paddington, catch a Bakerloo Line tube to Baker Street and a Metropolitan Line tube to Wembley Park. Total journey time is just under an hour. Click here to check the current flight times
Taxis
There are several taxi companies in Wembley that can take you to and from Wembley Stadium. You can always prebook a private hire taxi, or hail a black cab on any highway.
Calling all Wembley Taxi Companies – Why not advertise your company here?.
Where to Park?
There is very limited parking available at the stadium and a residents' only parking scheme operates in the surrounding roads. Visiting fans have recommended parking at one of the tube stations on the Jubilee Line (Stanmore) or Metropolitan Line (Hillingdon, Ruislip or Uxbridge) and catching the tube to Wembley Park.
Pubs near Wembley Stadium

Pubs near the stadium become uncomfortably overcrowded on match days. Visiting fans advise that a pre-match drink in Central London may be advisable before travelling to the stadium. Pubs near Harrow on the Hill tube station (3 stops from Wembley Park) also appear popular with visitors.
A short walk away is The Green Man pub, set on a hill overlooking Wembley. They offer reasonably priced drinks and during reasonable weather also fire up a BBQ for fans to enjoy. There is a good atmosphere leading up to the game, however, it can get crowded inside therefore taking a while to get served.
Hotels near Wembley Stadium
The Quality Hotel Wembley, Empire Way, Wembley, Brent, London HA9 0NH is conveniently located just a few minutes walk from Wembley Stadium and a short walk away from Wembley Park tube station. Easily accessible from the M1 and M40, the hotel is also convenient for drivers, as free car parking is available on-site to guests. All rooms have air conditioning and are equipped with en suite bathrooms and standard 3-star facilities.
The Wembley Plaza, Empire Way, Wembley, Brent, London HA9 8DS offers a unique location next door to the Wembley Stadium and Arena. It is only a few minutes drive from the North Circular (A406) and just 10 minutes from the M1. All major routes including the M25, M4, M3, A40 and A10 are easily accessible. Central London is only 7 minutes' train ride away and Heathrow Airport a 20-minute drive.
The Express By Holiday Inn London Park Royal, Victoria Road, North Acton, Ealing, London W3 6UP is located outside the congestion charging zone, 2 minutes' walk from North Acton London Underground station, which offers direct access to the centre of London in 15 minutes. Heathrow Airport is only 15 miles (24 km) away. The M40, M1, M4 and A4 motorways are within easy reach. Guest reviews note an excellent location and helpful staff.
What have other Fans said about their trip?
The vast majority of fans have been extremely impressed by Wembley Stadium, both in terms of looks and the facilities offered. All seats in the stadium reportedly offer excellent views of play. The top tier is particularly steep, but the angle ensures that the spectators feel close to the action. Concourses are spacious, with flat-screen TVs, merchandise outlets and betting facilities. Strategically positioned lighting helps to provide a modern, stylish environment.
The only reported downside is that the choice of food and drink is limited for such a prestigious venue and the products offered are very expensive.